Leave it TW-dramas to allow the drama leading lady an official reason to grope her abtastic leading man's bare chest in broad daylight. The look on Puff Guo's face as she's stripping off Liu Yi Hao's shirt? That's the natural expression from all ladies who appreciate a nicely rendered gorgeous male form, even Lene Lai is all like "can I touchy touchy, too?" The cast of the hit Friday night SETTV drama Pleasantly Surprised (Love Myself or You) gathered for a fanservice celebration after last week's episode 4 broke 2 in ratings as the fantastic and easy-to-watch drama raked in the audience. It's already gotten higher ratings that its Sunday night cousin Fall in Love with Me with Aaron Yan and Tia Li which is a rare feat indeed since the Sunday night time slot is the most coveted and always gets higher ratings since more people are watching TV that night in general.
I adore Pleasantly Surprised but have conceded that it's not a drama that makes me want to write about it every week, hence my lack of impetus to recap it. What makes PS lovely is the synergy of everything working: leads Puff Guo and Liu Yi Hao have sweet chemistry and their characters are wonderfully constructed, the script is simple without being dumb, the directing feels effortless and pretty, and the eye candy cast has everyone doing their jobs without any bad acting stray weed sticking out. When I say eye candy cast, I really mean it and you'll believe me when you check out the pictures below which includes one where all the male leads are shirtless and the amount of handsome faces and taut abs on display will curl your toes. The cast enjoyed a water fight outside of SETTV studios last week to celebrate the great ratings and give the fans some leggy ladies and buff guys to drool over. Thank you SETTV!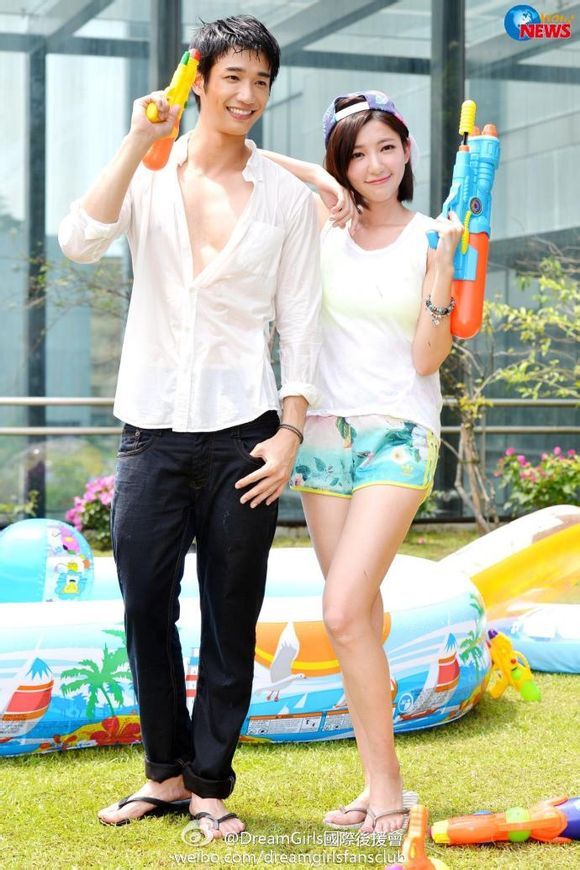 As the drama progresses I have to keep pinching myself over how lucky it was that two leads I like were cast in one of the best constructed OTP set ups in ages. Neither Puff nor Liu Yi Hao are enough to elevate the coupling if the characters of Kai Qi and Ah Jie (Louis) weren't so wonderful, and similarly two great characters will fall flat in the hands of bad acting or lackluster chemistry. Here it's the best of both worlds and such a treat to watch. They are each other's equals in professional skill so that the opposite's attract set up occurs on an even playing field without the usual rich/poor or successful/hapless dichotomy.
Kai Qi gradually warming up to Ah Jie is to be expected but she's not the type to turn all warm and sappy just because she's got a super sweet guy worming his way into her heart. Ah Jie is almost too perfect but that's okay because he's also down to earth and very relaxing to watch. Their pairing also comes with the usual first love trope but it's more like first friends rather than some ridiculous childhood fixation leading to adult romance. It's actually Kai Qi's past history in college with second male lead Cheng Hao Wei that has all the hallmarks of a thwarted romance due to misunderstanding that could be rekindled.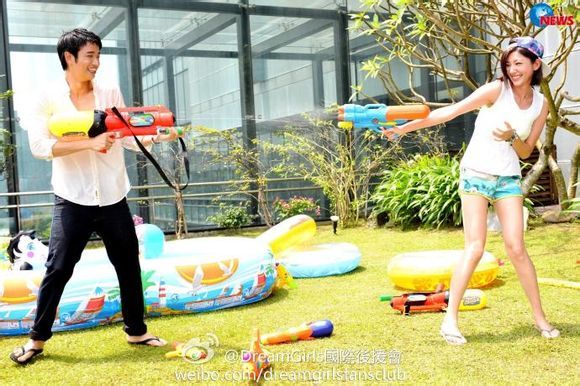 What makes Pleasantly Surprised such a decent drama is the noticeable lack of extreme characters and situations. None of the leads have overwhelming personality quirks and each comes across as people with their own backgrounds and likes/dislikes that are understandable. Puff plays the cold serious Du Kai Qi perfectly, a girl who is so over forming new relationships because she sees feelings as fleeting and unreliable. She would rather rely on herself. Liu Yi Ha's Ah Jie is a walking ball of sunshine that never comes off too cloying and his care for Kai Qi goes down sweet and smooth without too much hanging on the line. He sees an old friend and first love that is so closed off that he wants to reach out to her and show that he cares without any further ulterior motives.
Lene Lai's Cheng Le Xuan is a capable and beautiful sous chef that bristles under the assumption that she's a flower vase with no culinary skills. Her rivalry with Kai Qi is both bitchy and serious, both girls want to prove they are the best at what they do. It's a competition not over a man but over a job and professional accomplishment. That's so rare in drama land these days to have two female characters get the job-related plot line. Jolin's second male lead currently hasn't gotten a lot of air time but he's immediately memorable, I loved his college flashbacks with Kai Qi and his return to her life will allow both of them to address what went wrong in the past.
In addition to dimpled sweetheart Liu Yi Hao leading the male harem in this drama, there is smoldering Jolin Jian as Puff's college maybe ex-boyfriend, unexpectedly funny Sean Lee as the smarmy head chef, chiseled poker face Yorke Sun as the tough chef de aide with a super crush on Puff's character, cute comic relief Stanley Mei as a fellow chef's assistant, and Deyn Lee as the lunky waiter. Not to mention Lene Lai is playing the best second female lead I've ever seen from her as Puff's rival sous chef, in a performance that isn't bad at all considering how awful she was in King Flower. This drama is both a treat for the eyes and the heart much like the water fight is pure unapologetic eye candy.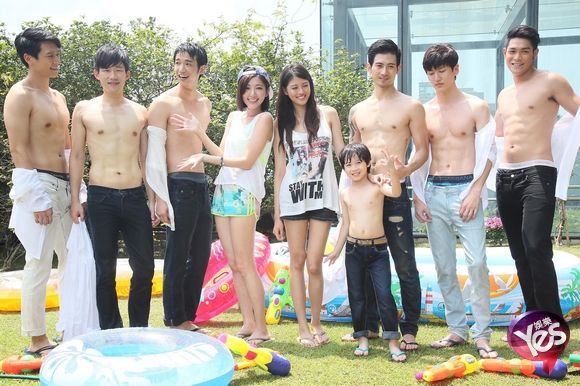 Puff and Lene are totally like kids in a candy shop in the picture above, though they are also delivering the sexy girl fanservice with their short shorts to show off their leggy gams for the male fans out there. I love how they got the little child actor playing Xiao Yi to take his shirt off too LOL. I also love that his character is named Xiao Yi and that's the same character name of Aaron's character in Just You with Puff. Sly SETTV.
As an FYI, three of the male actors in PS are part of a foursome male idol group called 4ever. It includes Jolin (as Puff's ex and Lene's older brother), Yorke (as the white knight chef's aide who likes Puff), and Deyn (playing the hunky waiter). The fourth member of 4ever isn't in this drama but everyone who watched In Time with You will know him – he's David Shu (nickname 拿铁 Latte) who memorably played baby-faced boy toy Nic who made a play for Ariel's character in the beginning of the drama but ended up being a gay guy trying to climb the corporate ladder by hitting on noonas. Unlike the Lollipop or JPM groups foray into acting, I actually like all four of these good looking boys and think each can act so yay for PS showcasing talented new male entertainers.