Now that the torrents of frustration and/or vitriol towards Dr. Stranger has been unleashed, I'm rather curious to hear from folks who actually enjoyed the drama. I honestly have no jeers for anyone who liked it, the enjoyment of media entertainment is subjective and everyone's got a guilty pleasure or ten in a hidden away in a video folder titled "old tax documents". I clearly found DS intriguing enough to keep on recapping it and have plenty to say, even if the intrigue it elicited from me was mostly valid angry critiques. But DS beats plenty of dramas I've yawned my way through or dropped after the first two episodes. A frustrating drama for me is > than a forgettable one. DS did gangbusters in the Chinese video streaming portals and a Chinese entertainment company offered to partner with the K-production to repackage the drama into a two hour movie exclusively for domestic Chinese audiences. The movie will be dubbed into Chinese (LOL I can't wait to experience the aural displacement) and will be excised of any North Korea references since the Chinese government has close ties with North Korea.
The middle section will be left intact and condensed, while the four leads are gathered for an extra few days next week to film additional scenes for the beginning and end of the movie. Included will be scenes about Park Hoon and Jae Hee's growing up together, and it will be described as merely in a foreign land and not specifically referenced as North Korea. Chinese model-actor Zhang Liang, who had a cameo as Jae Joon's friend Mr. Zhang, will also be participating in the additional filming and his scenes will be with both Park Hae Jin and Kang Sora. Jin Se Yeon initially didn't need to do any extra filming but in the end the production called her in to film as well. The initial reports that Jin Se Yeon didn't need to do additional filming reignited the shipping wars in the C-forums again as Soo Hyun fans immediately posited that the movie ending will be different and Hoon will end up with Soo Hyun. Not sure why the shipping wars in this drama can't just DIE ALREADY since the drama has ended and it's clear who is with Hoon. Like it or not, the movie is the same deal with just tweaks to the details.
Spoilers: Comrade Cha will not be a North Korea officer and agent and will instead be a mob boss. Song Jae Hee is his woman but she and Hoon grew up together and are in love. Jae Hee has an incurable illness that Hoon is able to cure with surgery. Their Budapest escape is not to escape North Korea but because Hoon is running away with Mob Boss Cha's woman. The whole South Korean PM Jang heart surgery conspiracy is left intact but just without the North Korean side involvement. Someone will need to peel me off the floor after I watch this insane repackaging actually become a reality.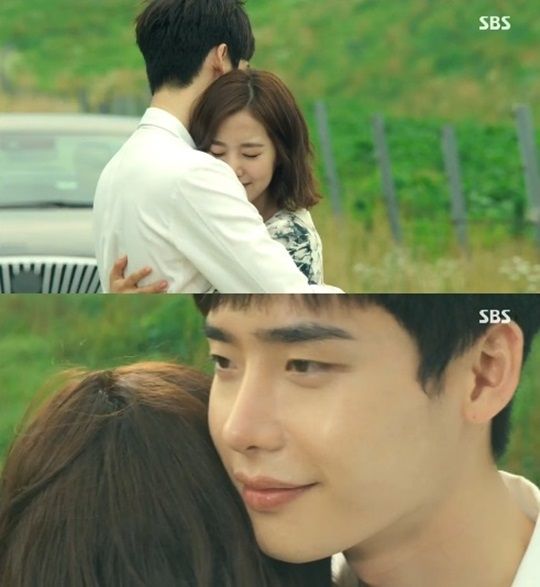 I think it's fascinating the path of DS as a drama, especially how it'll be the first of its kind to actually be repackaged as a movie for the Chinese audiences. It's totally the K-pop method of releasing different mixes of tracks to get fans to shell out money for what is essentially the exact same song. I don't have a righteous indignation against this practice, it may seem shameless but there is an actual target audience who ponies up for it so who am I to cast stones. It's like legalized prostitution, there is a client and a service provider and money changes hands. What's to stop You From Another Star to be released as C-movie with additional ending scenes showing Song Yi and Min Joon as a couple, or an Heirs movie with more Tan stalking and grabbing Eun Sang.
Don't tell me fans of those drama wouldn't pay $10 bucks to catch maybe 10 extra minutes of new footage if it was of their favorite K-drama. The problem with this experiment being started by DS is that it's such a bad drama in terms of quality and logic, I don't know if there is any fanbase even in Chinese willing to pay money for more of the crazy. I suppose that's why the production is throwing in more Park Hae Jin and Lee Jong Seok (super popular in China) and adding scenes of Chinese actor Zhang Liang. Might as well blatantly fanservice in the case of requiring viewers to buy a ticket to watch this baby. I'll keep an eye on how this DS-as-a-Chinese-movie experiment comes along because it might signal a long term sea change ahead.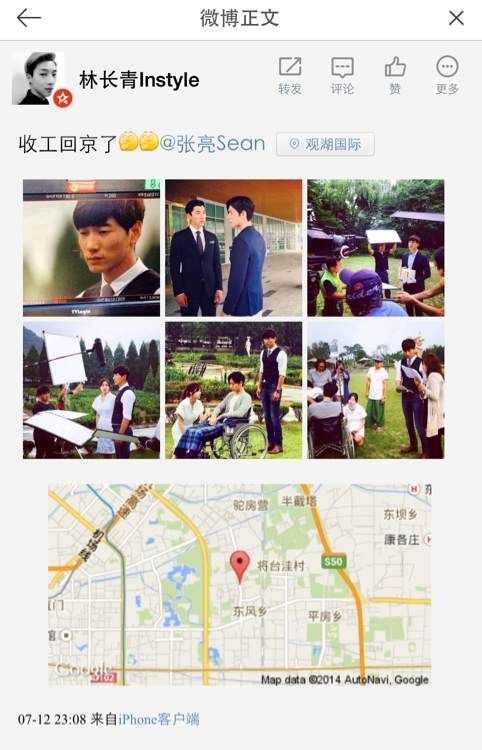 Zhang Liang finished his two days of filming in Korea and above is his weibo post with some spoilery pictures. I don't know why Jae Joon is in a wheelchair and why Zhang Liang is holding someone's ashes. I sure hope Jae Joon doesn't die in the movie which just adds more WTF-ery. Kang Sora's neck brace in one of the pics is NOT for the movie, she recently was in a minor car accident so is wearing the brace in real life.