I'm not a fan of heavily photo-shopped posters whether it's making edits to the person or editing different people onto the same shot. That's why the first official poster for Three Musketeers is a thumbs down for me in style. It would have been more effective in this particular shot to have all four posing in the same frame trying to capture the synergy since the whole tag line is "All for One, One for All". The two second leads Yang Dong Gun and Jung Hae In continue their understated and effective push to steal the show from the two leads Lee Jin Wook and Jung Yong Hwa, at least when it comes to promotional materials. Yang Dong Gun's expression in the poster is just fantastic, immediately showcasing his character's confident joie de vivre. I can't say Jung Hae In has a particularly great shot above, but I will say he's insanely cute and so easy on the eyes.
Jung Yong Hwa and Lee Jin Wook continue to be slightly underwhelming for me, nothing that detracts from the poster or anything but I wish I got more oomph from both of them. Please be better in action, boys! It's a nice touch to have them all drawing their swords as if about to engage in battle since they are all musketeers and what not. Visually the removal of the portrait border would have made this poster pop better even with all the photo-shopping going on. The four leads are also featured in the August issue of Vogue Korea and the first peeks are out below. It's way better than the stills and drama poster from the production so maybe tvN should have paid the Vogue photographer to shoot the drama posters for TM? The Vogue pictures have this European vibe that is a nice homage to the origin of the source material.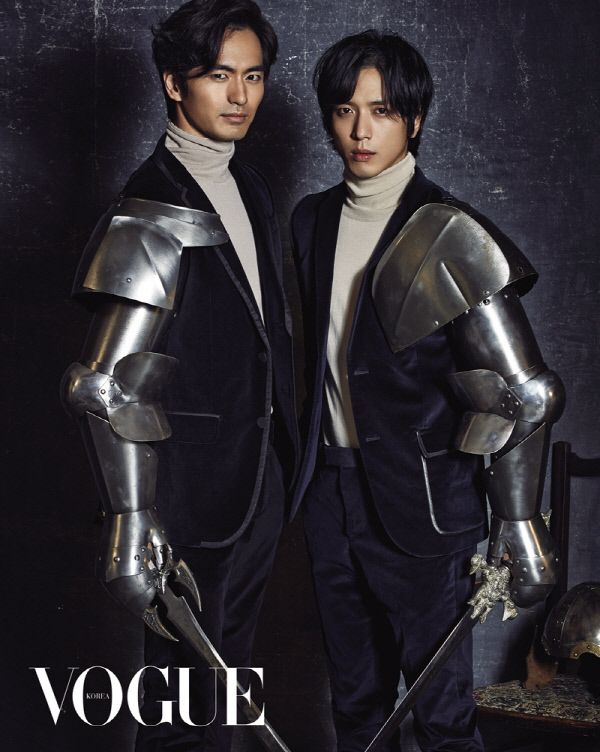 I love the spread though am confused in the last picture why Lee Jin Wook and Jung Yong Hwa are splitting the shoulder and arm pieces from one set of armor. It makes them look like strange conjoined twins. Could Vogue not afford to have two sets for them each? The group shot just screams "three flower boys and one Yang Dong Gun" but is nicely framed with the way the three pretty boys are clustered at one end of the table and Yang Dong Gun is off by himself just being all cool and shit. I do think narratively it would make more sense to have Jung Yong Hwa be alone to the end since he's the d'Artagnan to the other Three Musketeers.