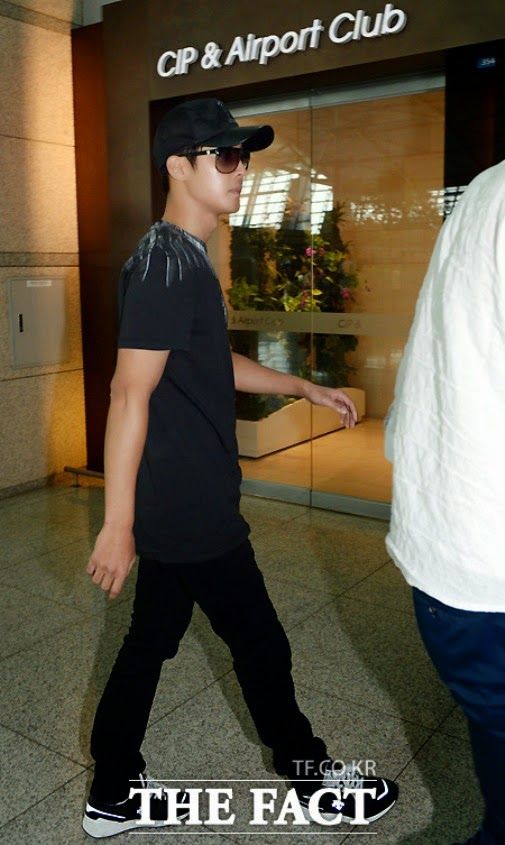 I don't think any rational consumer of entertainment would ever assume that any star was infallible or incapable of making mistakes and/or breaking the law. The question really comes down to the nature of any transgression and whether it's personally offensive enough to write the star off going forward. The Kim Hyun Joong domestic violence allegations are important because he's such a popular star and because of the severity of the allegations. It'd be weird not to cover this case since its all over the news and because I liked him enough I want to understand what is going on before deciding to keep watching his acting career (if he has one going forward). Plus violence and abuse in any form whether verbal, emotional, and escalation into physical is something that can touch upon the lives of every person whether famous or not, man or woman.
This case is less he said-she said as long as there is evidence such a medical records as well as documented communications to back up A's assertion that she dated Kim Hyun Joong for two years and during this last Spring-early Summer he struck her twice to the degree she needed medical treatment. Kim Hyun Joong's agency Keyeast responded with an initial statement admitting the dating but claiming it was only recent in the last few months, admitting the physical fight but refuting that it was habitual abuse and instead was a one time heated exchange, and denying the broken rib was due to violence and claimed it was the result of the couple goofing around. Dispatch continues to jump all over this matter and yesterday released a slew of text messages and pictures between Kim Hyun Joong and A which refute many of the explanations Keyeast gave in its response.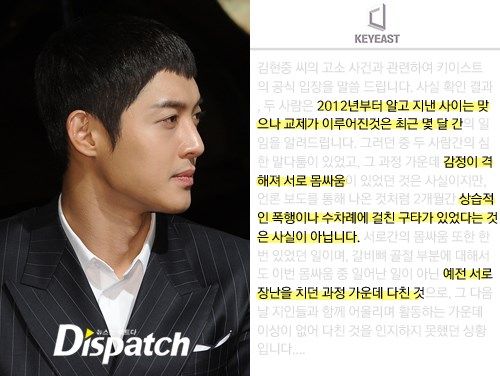 The entire Keyeast statement reeks of lame shadiness and if I were Kim Hyun Joong's attorney then I should be fired for not defending my client properly and letting this statement come out. The only statement Keyeast needed to release was "The allegations as reported in the media are not factually accurate and Kim Hyun Joong will fully cooperate with the investigations and hopes that he will be vindicated when all the evidence comes to light." That's all that's needed for a preliminary response, now that wasn't hard was it? Everyone deserves a vigorous defense and so far Kim Hyun Joong's side is an epic fail. Dispatch's latest report is intended to rebut the Keyeast statement in three major points (as highlighted above) (1) how long the couple dated, (2) the nature of the fight that Keyeast claims was mutual, and (3) whether the abuse was one time or repeated.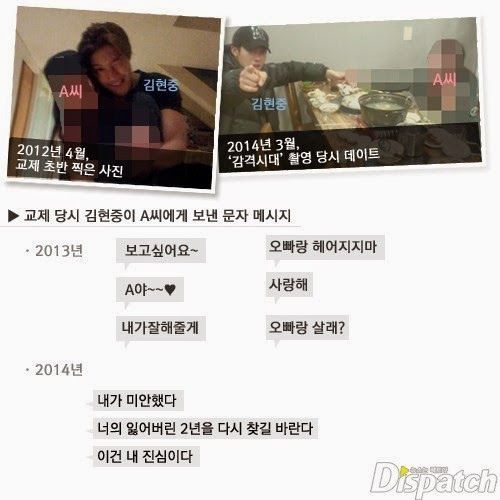 The picture on the left was snapped in April 2012 at the beginning of their relationship at Kim Hyun Joong's residence while the picture on the left was taken two years later n March 2014 while the couple dined at a restaurant when A visited Kim Hyun Joong during his Age of Feeling filming.
Translation of the 2013 text messages Kim Hyun Joong sent to A:
I miss you~
A-ya~~♥
I'll be good to you
Don't break up with oppa
I love you
Do you want to live with oppa?
Translation of the 2014 texts Kim Hyun Joong sent to A:
I miss you~
I'm sorry
I hope you can get back the two years you've lost
These are my sincere feelings
The first physical fight that A is alleging happened in May, below is the text exchange that happened the day after. Kim Hyun Joong flew to Japan that day and was seen at the airport looking fine.
A said:
My whole body is covered in bruises…it hurts. I'm so upset about this. I was hit to the point where I'm barely alive. Why do I need to get hit like this?
Kim Hyun Joong replied:
I don't know why I did it when I knew I'd be sorry as soon as the next day. I hope your bruises and your pain get better. I'm genuinely sorry.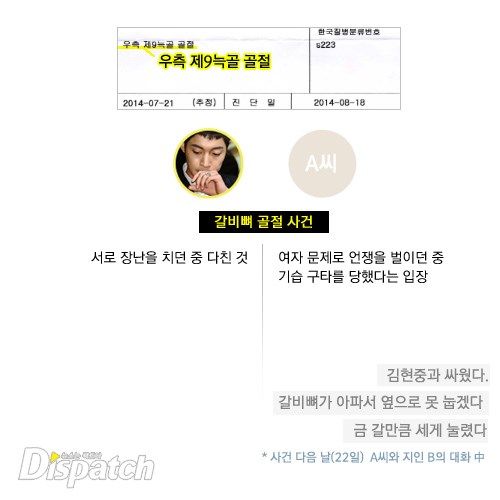 Dispatch also printed copies of her hospital stay records, one for May and one for July.
Then there is A's text message to her friend the day after what Keyeast claims was goofing around with Kim Hyun Joong that led to her cracking a rib.
A said:
I fought with Kim Hyun Joong.
My rib hurts so much, I can't lay on my side
He shoved it so hard it cracked