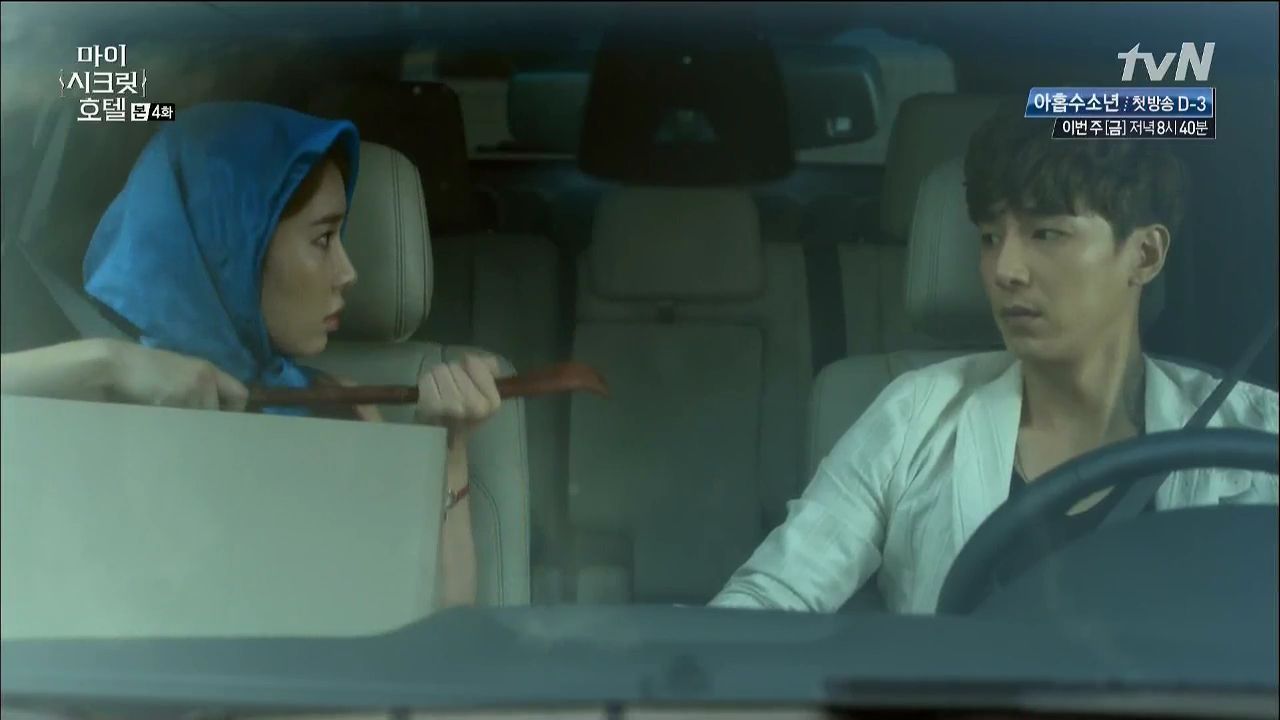 I want to start off this episode 4 recap of My Secret Hotel by saying a thank you and a fare thee well to screenwriter Kim Ye Ri. She passed away in her fight with cancer during the production of MSH and ended up only penning the first four episodes of this drama, though she did map out the entire story and her successor screenwriter Kim Do Hyun finished writing it based on Kim Ye Ri's vision. Now that the first four episodes have aired, I can safely say that Kim Ye Ri delivered a smashing start to a genre busting murder mystery romance. Her work will be missed because even if Kim Do Hyun doesn't screw up the rest of the journey by hitting all the plot points as laid out by Kim Ye Ri, each writer has their own flair and flourish and the same exact story as written by two different pens will be presented differently. I will miss Kim Ye Ri's wistful moodiness and her penchant for hard to read character set ups. She did the same thing in the first four episodes of Lie to Me, creating the same slightly off beat atmosphere and making the male leads quite hard to pin down in both motivation and feelings.
Second male lead Sung Gyum has rocketed up the competition chart and now sits nearly neck in neck with Hae Young in being a viable love interest for our cute intrepid heroine Sang Hyo. Let me put it this way, I totally want (need) Sung Gyum and Sang Hyo to have some kissing and making out before she goes back to Hae Young. Since this is airing on cable network tvN and there is less prudishness that the female lead can only kiss her one true love, I want Sang Hyo to enjoy kissing her hot smexy hotel director before all roads take her back to Hae Young. I love that impetuous dork that is Hae Young but he can afford to stew in his jealousy for a bit since he let his wifey Sang Hyo go and never made any further attempt to win her back during all this time. I'm sure my sympathies will be split between the exes once the misunderstanding about why they were split up is revealed, but both need to take responsibility for not fighting for their love. Thankfully this brewing situation in Secret Hotel is dangerous and deadly enough to keep Hae Young worried about Sang Hyo and make it so she can't deny her strong unresolved feelings for him. Bring it on drama!
Episode 4 recap:
Detective Kim pays Hae Young a visit to inform him that his missing wallet was found at the crime scene on the body of the deceased Manager Hwang. He considers Hae Young a suspect now but Hae Young isn't cowed that easily and retorts that it's not incriminating since he could have lost it anywhere in the hotel and Manager Hwang simply found it. Detective Kim switches tactics and takes out a torn in half picture and slides it over, asking how Hae Young can explain this.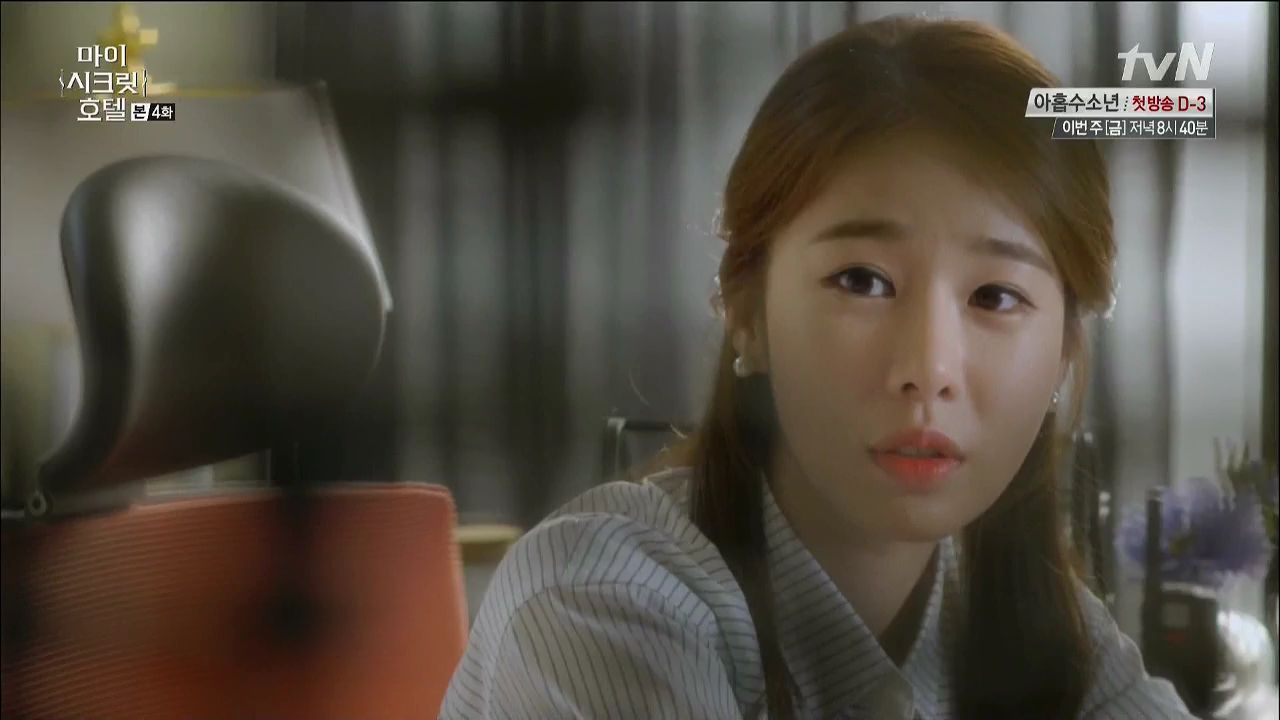 Sang Hyo is working in the office when her colleagues notice that she placed a white memorial flower on Manager Hwang's desk. Gyung Hee feels bad for not remembering to do it but Sang Hyo points out everyone was rattled by what happened.
Detective Kim suggests that Hae Young either dated Sang Hyo in the past in the US or here in Korea, either way Manager Hwang knew about it and was blackmailing Hae Young. He then considers it might not be the case otherwise why would Hae Young keep Sang Hyo's picture in his wallet? Shi Chan is outside the office while the other employees are trying to eavesdrop but can't hear anything. Shi Chan shoos them away and declares that Hae Young has an alibi.
Hae Young comes clean with Detective Kim but asks that he keep everything secret. Detective Kim asks why and Hae Young explains that he doesn't want Sang Hyo affected by this. Detective Kim laughs that Hae Young is a murder suspect so why he is worried about someone else. Hae Young's stare shuts him up and he allows Hae Young to tell the story.
Hae Young explains he met Sang Hyo 7 years ago in Las Vegas and they got married on a whim but never registered the marriage which didn't last three months. He admits Manager Hwang knew about his past with Sang Hyo and he tussled with him in the office the night before the wedding. But Hae Young didn't harm Manager Hwang and instead pleaded with him not to do anything to hurt Sang Hyo. Detective Kim asks if Hae Young saw Sang Hyo later that night and hears that he saw her with someone else in the courtyard so he left.
Detective Kim laughs and admits he never considered Hae Young a suspect. Hae Young reported his wallet missing at 8 pm that night when Manager Hwang was dining in the employee cafeteria so he couldn't have placed the wallet on the dead body later. Detective Kim is here because he's curious why Hae Young keeps Sang Hyo's picture in his wallet and offers the advice that Hae Young is marrying a different girl so needs to throw the picture away now. He leaves while Hae Young sits down clutching Sang Hyo's picture like it's the most precious thing to him. Shi Chan hears that the alibi was shot and hilariously promises to visit Hae Young and bring him food in jail. He sits down in Hae Young's seat thinking he didn't want to become head of the agency this way. Ha!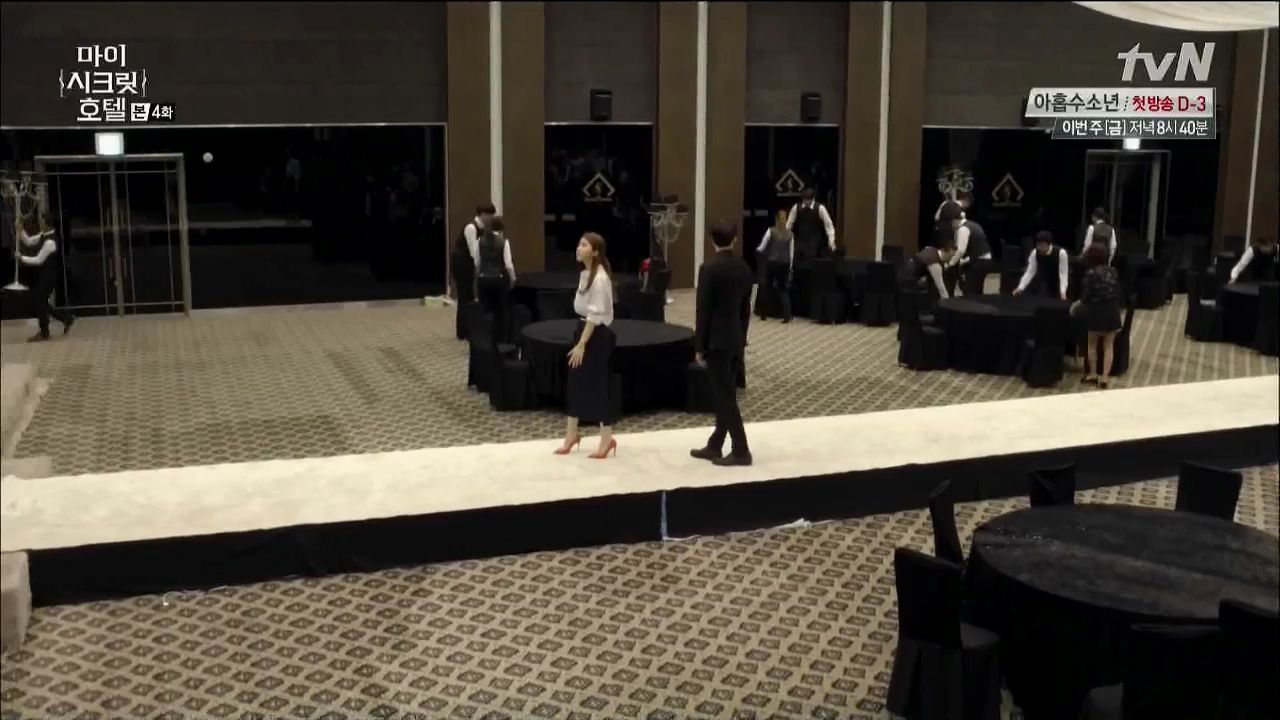 The broken ceiling window in the ballroom has been repaired and Sang Hyo is overseeing a team setting it up for another event. She gets called to the office because Soo Ah is here to sign the cancellation papers. Sang Hyo doesn't want to go personally but is told Soo Ah wants to see her in person. Sang Hyo remembers the earlier slap and thinks Soo Ah is here to hit her some more.
Sang Hyo runs into Eun Joo and pulls her aside to ask for a favor. She wants Eun Joo to slap her and Eun Joo makes Sang Hyo promise not to get mad. She's about to slap when Sang Hyo screams and ducks because Eun Joo is slapping too fast. Sang Hyo tells Eun Joo to slap slowly and then Sang Hyo grabs her oncoming hand to stop her. Sang Hyo then tussles with Eun Joo before declaring "I've been hit by you once and that's enough so it's over now!" Sang Hyo feels confident and marches back to her office to meet with Soo Ah and cracks her knuckles along the way.
Soo Ah immediately apologizes to Sang Hyo for hitting her that day and explains it was really out of character likely because a dead body fell through the ceiling. Her oppa told her not to feel bad and no need to apologize but Soo Ah feels bad and wants to apologize anyways. She thinks the hotel must feel bad for having her wedding ruined this way as well so with the slap then they're even. She signs the cancellation papers while Sang Hyo stews over Soo Ah's attitude.
Sang Hyo sits in the courtyard and looks at the cancellation contract and thinks to herself that she doesn't have a reason to see him again. She flashes back to Las Vegas 7 years ago where Hae Young asked her to marry him after only a week together. He promises that he is confident in his love and declares that he loves Nam Sang Hyo. He stares at Sang Hyo who cries because she's so touched. A couple asks to take their picture because they look so happy.
Weeks later Sang Hyo sits sobbing while she tears up the very same picture. By the time Hae Young returns from wherever he went the apartment is empty and packed up save for some books. Hae Young sits down at the dining table and finds the torn up picture. He stares at Sang Hyo's picture and cries.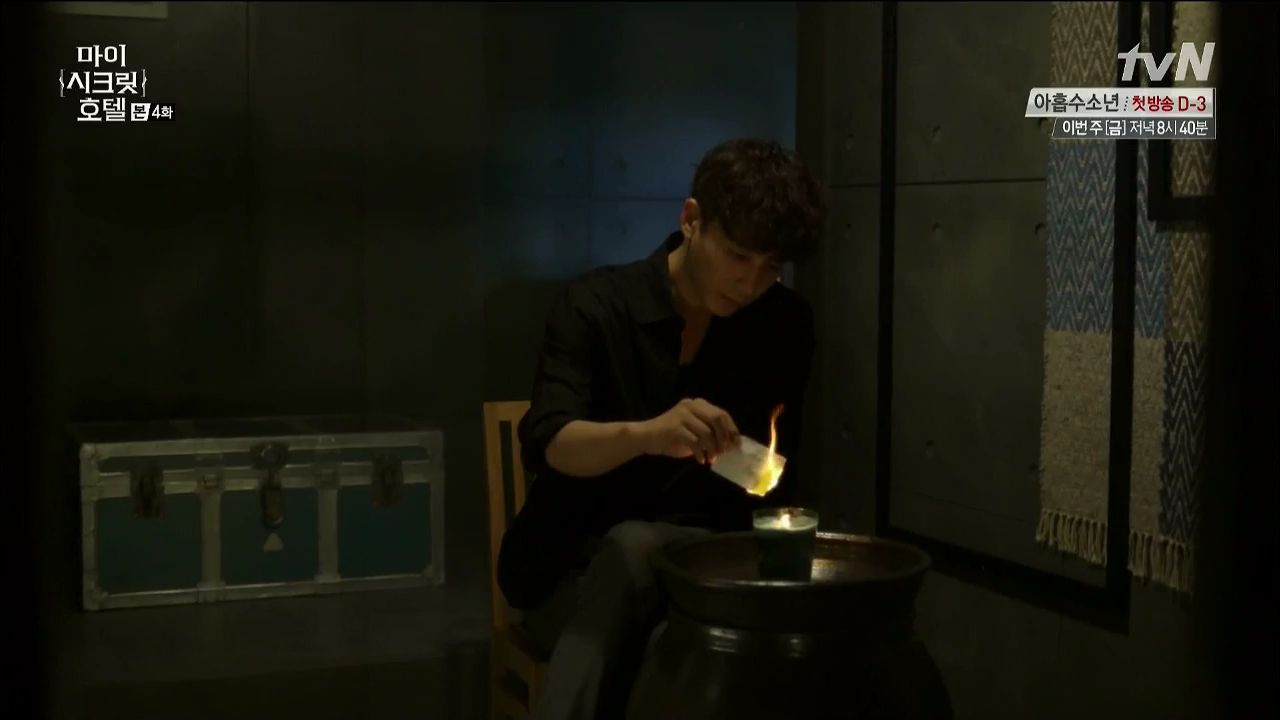 In the present, Hae Young stares at Sang Hyo's picture and says "goodbye Nam Sang Hyo" before burning it.
Detective Kim hears that none of the CCTV footage caught anything that would help them crack the case. Manager Hwang had no family or friends and appeared closest to the hotel. The autopsy report gives the time of death as between 10 pm and midnight the night before the wedding which gives Detective Kim a new avenue to investigate.
Detective Kim sits with each of the employees to ask their alibi for the time of death of Manager Hwang. Gyung Hee claims she wasn't feeling well and went home but we know Hae Young saw her crying in the office in the dark. Detective Lee asks for her alibi but she lives alone. He asks her opinion of Manager Hwang and Gyung Hee claims he was well liked.
Young Mi is all tears when Detective Kim questions her and he asks if she's close with Manager Hwang. Young Mi claims to be close to Manager Hwang but a flashback shows us that he confronted Young Mi who eavesdropped on his conversation with GM Lee. Manager Hwang warned her to not reveal anything she heard. Young Mi claims Manager Hwang was her friend and even saved her life once. She's asked about her alibi and says she went shopping that night because she was in a bad mood. The bride was the same age as her so she's really bitter that because of good birth that girl was getting married to a great guy at their hotel.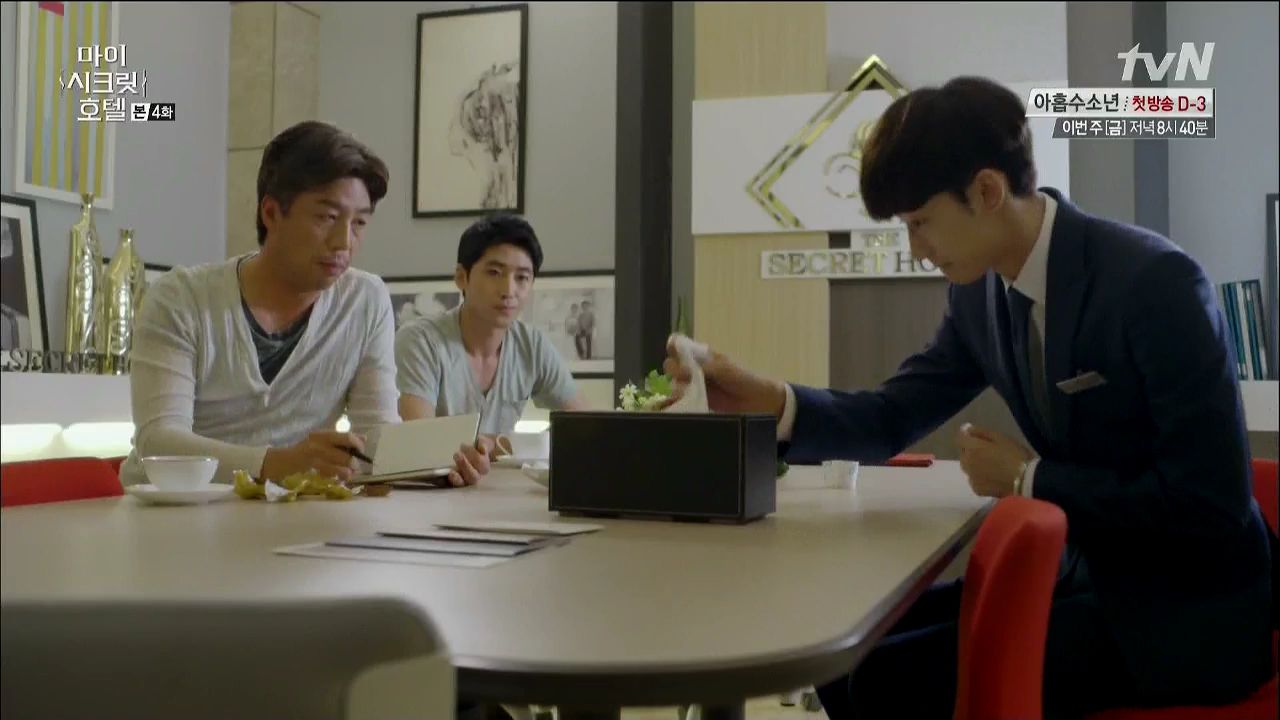 Gi Chul is a nervous wreck during his questioning with his legs twitching and even spilling a drink. He claims to have been with head security guard Cha the entire night, drinking out by the Han river.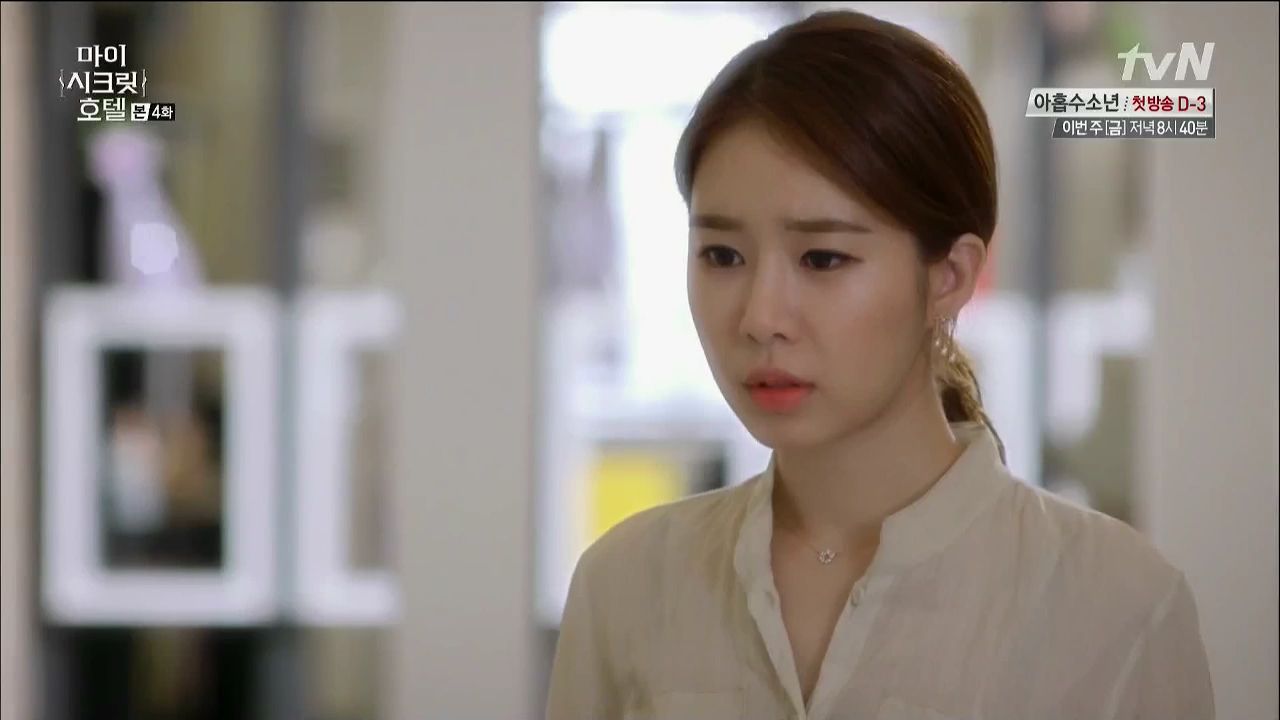 The event planning staff discuss back in the office about how Detective Kim asked each of them for an alibi like he suspected one of them. Gi Chul returns and passes word that Sang Hyo is next. On her way to the questioning she remembers Manager Hwang offering to disrupt the wedding for her and wonders if she should come clean about it.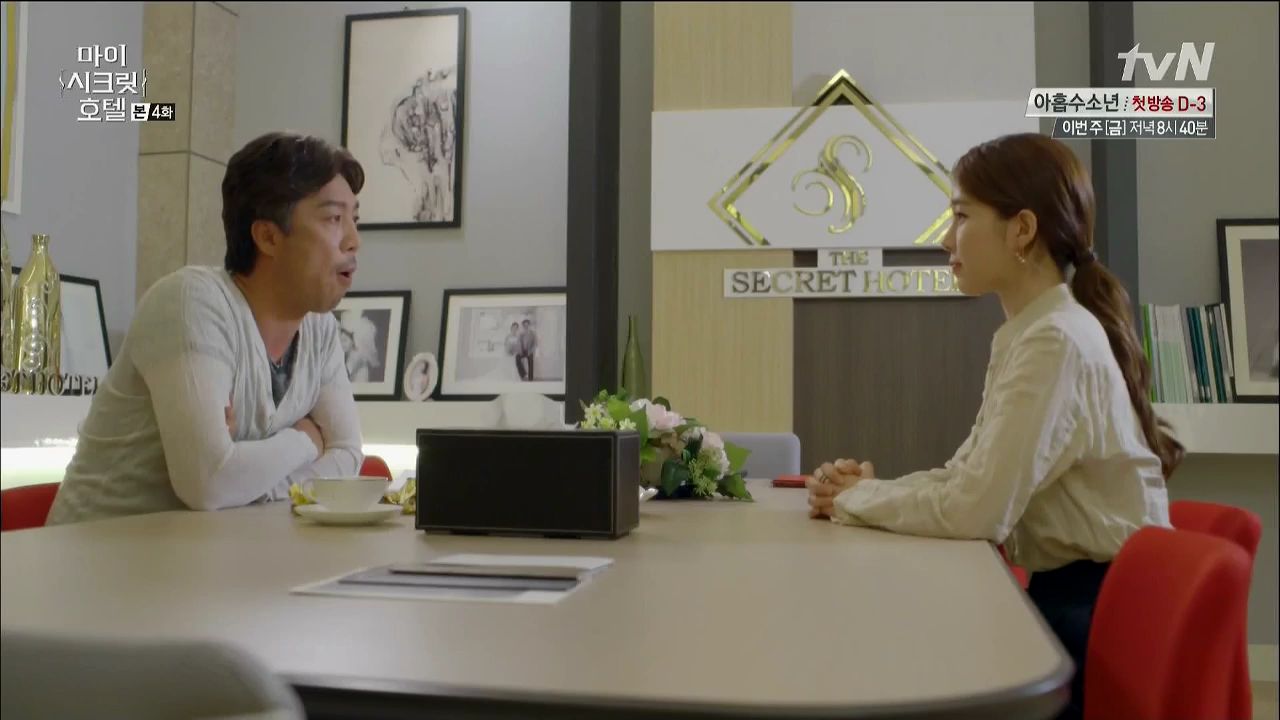 Sang Hyo sits down across from Detective Kim and tells him to ask anything and she'll answer. Detective Kim stares at Sang Hyo and only has one thing to ask her "Gu Hae Young or Jo Sung Gyum…which one of these guys is better in your eyes?" Sang Hyo is taken aback and Detective Kim claims he is genuinely curious how women view both of those attractive men. Detective Kim asks again when Sang Hyo hesitates in answering and finally she pleads the fifth on this question. Ahahaha, awesome answer! Detective Kim writes in his notebook "Too bad, with pretty Nam Sang Hyo this is it for today."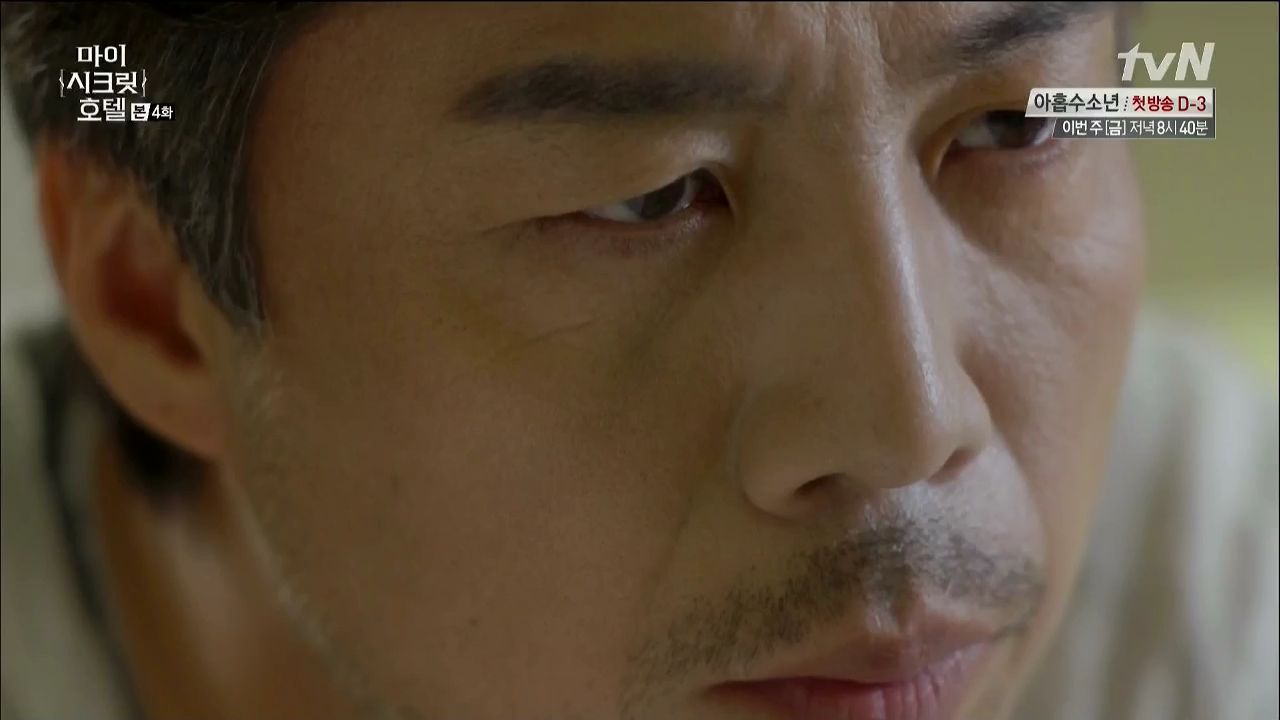 Sang Hyo wonders why he's not asking for her alibi and Detective Kim declares that she was with Director Jo that night during the time of the crime. Sang Hyo is shocked when she finds out that Hae Young alibi'd her to Detective Kim and wonders why he was at the hotel that night. Detective Kim stares right back and says "Omo, I don't know either" before winking at her once and then walking off.
Detective Kim stops Guard Cha in the lobby to ask him where he was during 10 pm and midnight. Guard Cha can see Gi Chul in the mirror reflection nodding at him so he sticks with the same story Gi Chul said, that they were together drinking during that time talking about hotel matters. Detective Kim steps out of the hotel and tells his colleague that the employees in this hotel are just like the hotel name in having a lot of secrets.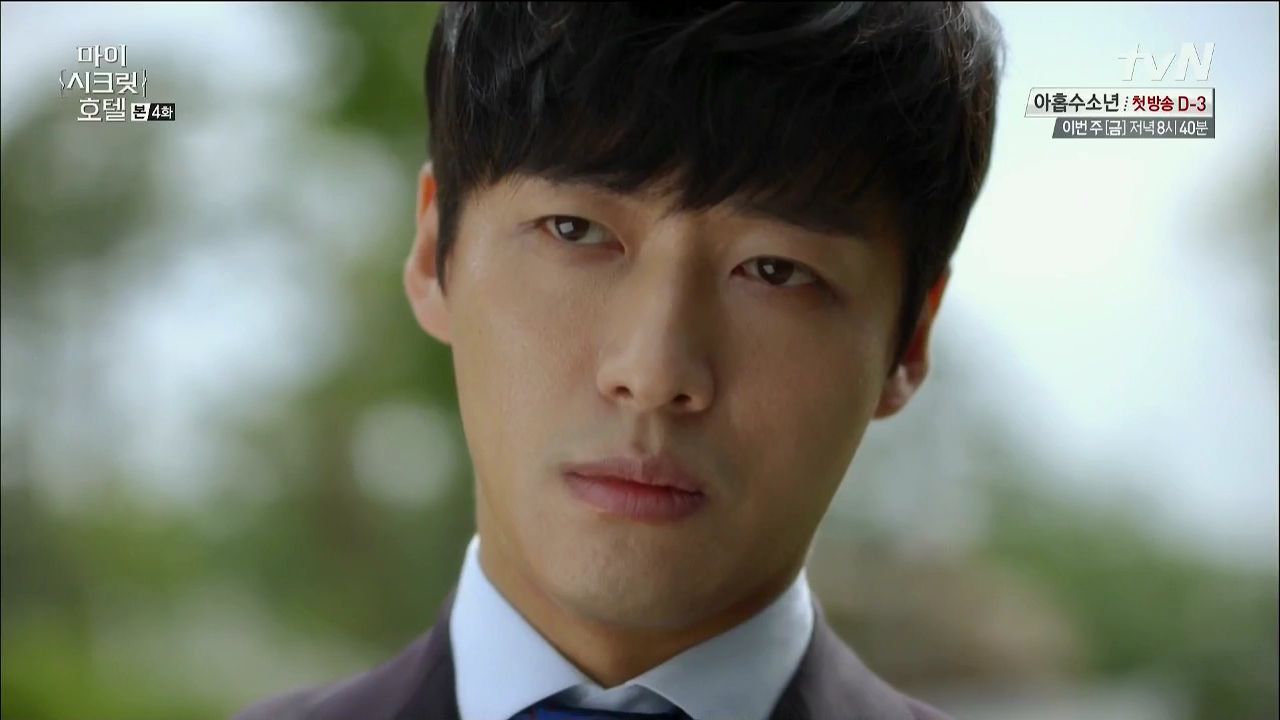 Sung Gyum sends assistant Simon back to finding old employees who worked in 1984 but have left to ask what they know about the past.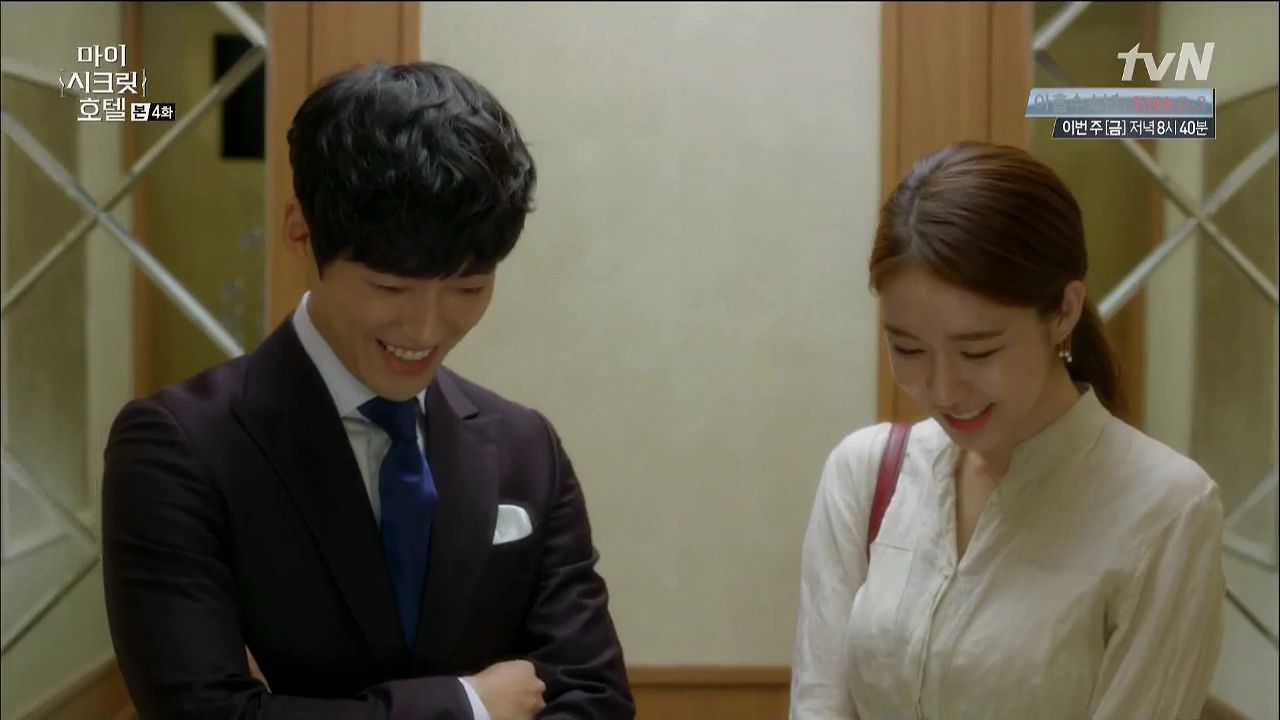 Sung Gyum bumps into Sang Hyo in the elevator and his poker face immediately breaks into a small smile. He calls her "the future of the hotel" and asks if she's leaving work? Sang Hyo jokes back that he needs to stop teasing her about it so he brings up how she fell asleep on the phone talking to him the other night. She asks where he's headed and he smoothly says "I'm having drinks with Nam Sang Hyo." She's taken aback and Sung Gyum asks if she'll be his friend for tonight to hang out with.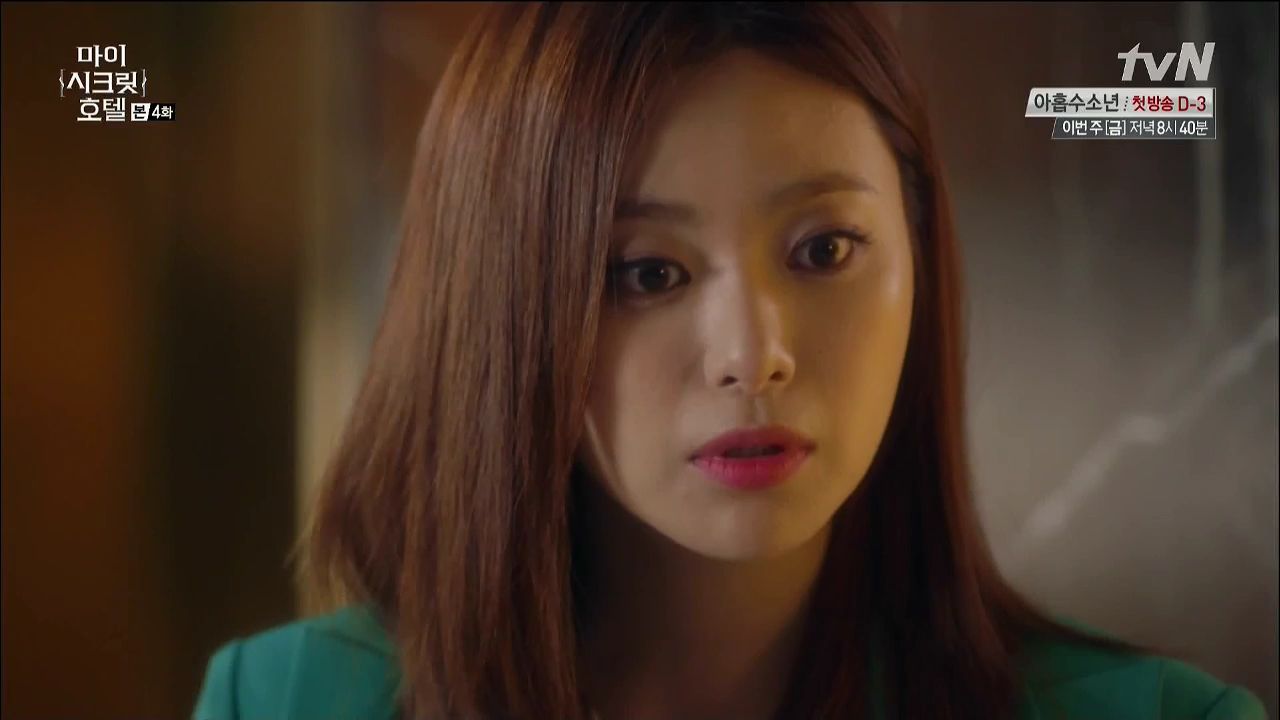 Eun Joo runs into Guard Cha and asks him to bring the entire security team to take part in the marathon to raise money for runaway teens. He wants to ask for volunteers but Eun Joo declares all of them need to do it for the PR. Sung Gyum and Sang Hyo arrive in the lobby and Eun Joo drags Guard Cha along to make the drinking party a foursome.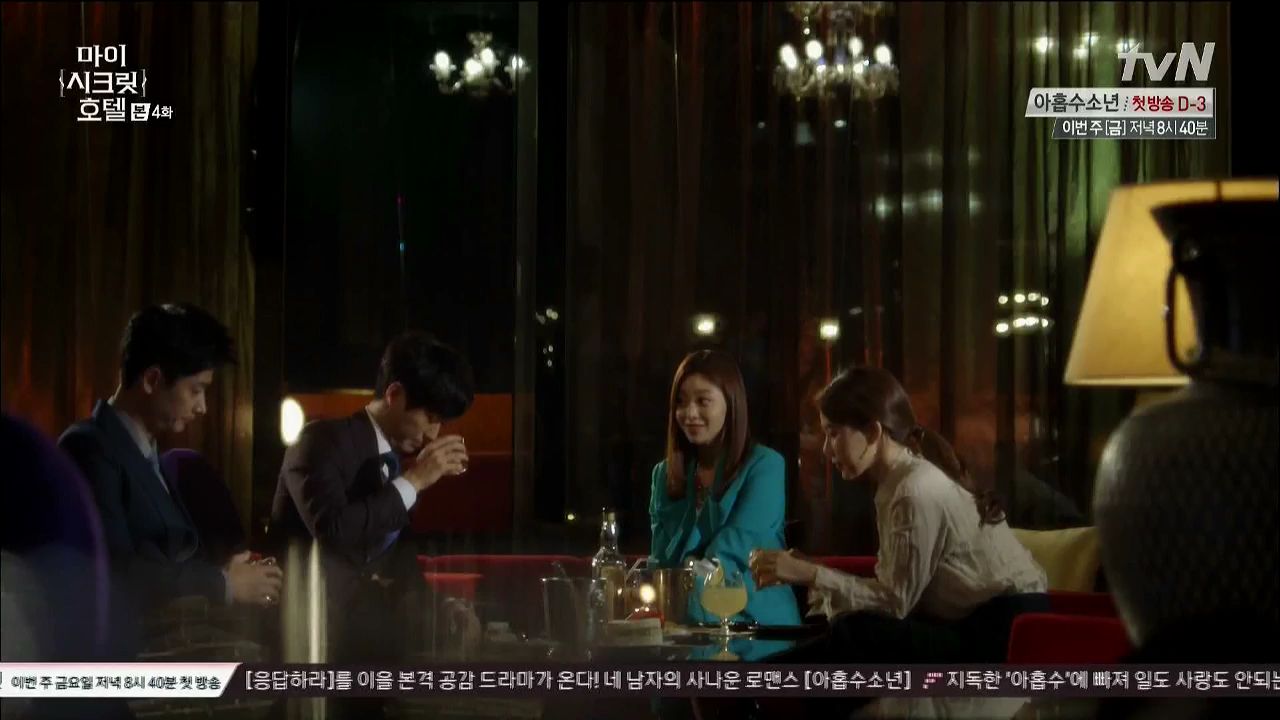 Sung Gyum toasts Sang Hyo while Eun Joo compliments Sung Gyum on his necktie and declares that she gave it to him when he started the job at the hotel. Eun Joo explains that giving a tie means wanting the person and Sung Gyum wonders whether Sang Hyo plans to give him a gift as well. Eun Joo offers to buy him more ties and he smoothly declines while explaining that this tie isn't really his taste. Eun Joo asks whether the tie will work to cover his ties or perhaps tie his hands together, either way it's a different use.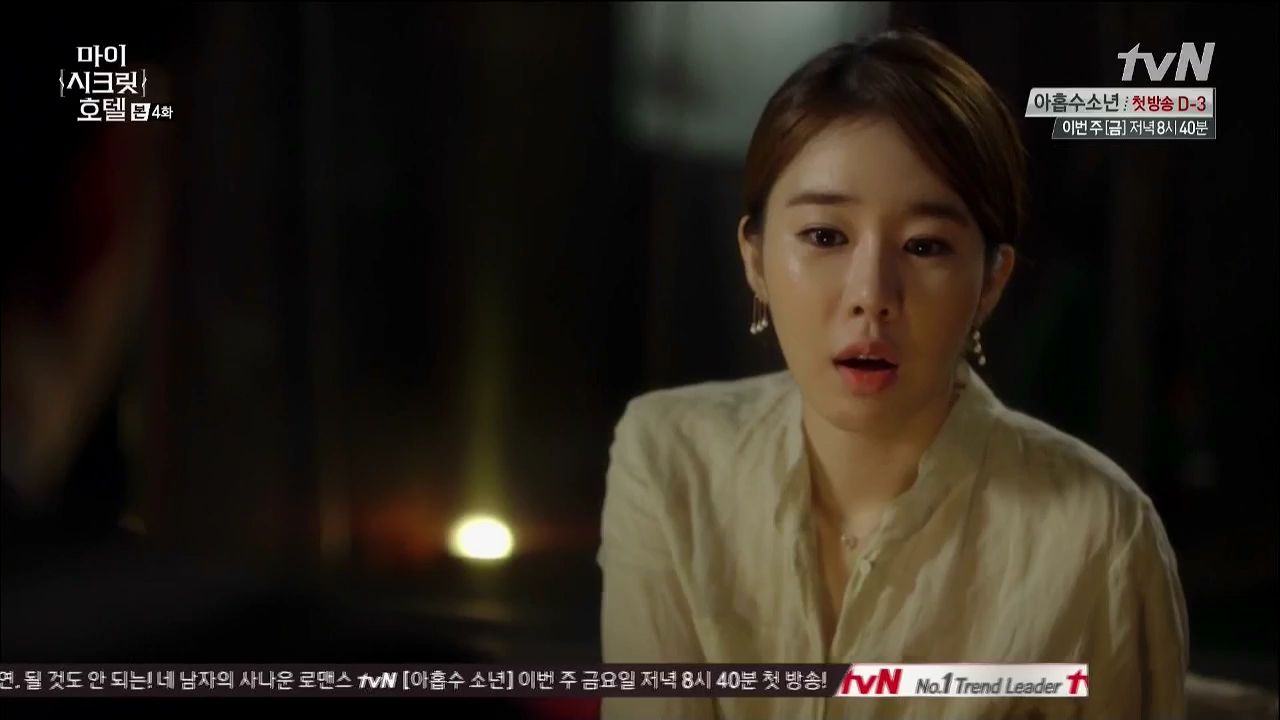 Eun Joo tries to encourage Guard Cha to like Sang Hyo and suggests her bumbling ways would be his style. The two men call it an evening and walk out while Eun Joo tells Sang Hyo that Director Jo is a man so Sang Hyo is no match for her.
Eun Joo asks Sung Gyum for a ride home and he pauses to look at Sang Hyo who wants to take a bus home. Sung Gyum sends Eun Joo off in his car while Guard Cha takes his leave. Sung Gyum goes with Sang Hyo to take the bus and then walks her all the way home. Sang Hyo invites Sung Gyum for ramyun and does so in a very flirty way which leaves Sung Gyum looking slightly awkward thinking she's inviting him inside.
Turns out Sang Hyo wants to have ramyun with him at the convenience store and Sung Gyum mutters that he feels like it was a bait and switch moment. Sang Hyo happily digs in after the three minutes are up while Sung Gyum takes off his tie to fully enjoy the experience. He smiles watching Sang Hyo happily chow down on her ramyun.
Sang Hyo walks into her apartment and immediately gets a call from Sung Gyum wanting to make sure she's alright and not scared. Sang Hyo assures him that she's not scared but he still makes her check all the areas in the apartment to make sure its safe. He finally tells her to check out the window and she opens the curtails to see Sung Gyum standing there on the phone staring up at her. He thanks her for a great time tonight and Sang Hyo says the same back before they end the call and he walks away.
Hae Young is supervising a construction project and reminds his foreman to pay close attention to the details and then calls a delivery of food for the workers. His foreman compliments him on being a great guy and a good boss and is sorry to hear about the wedding incident. The foreman gets a call which upsets him and he threatens to go to the caller's boss since the guy hung up on him.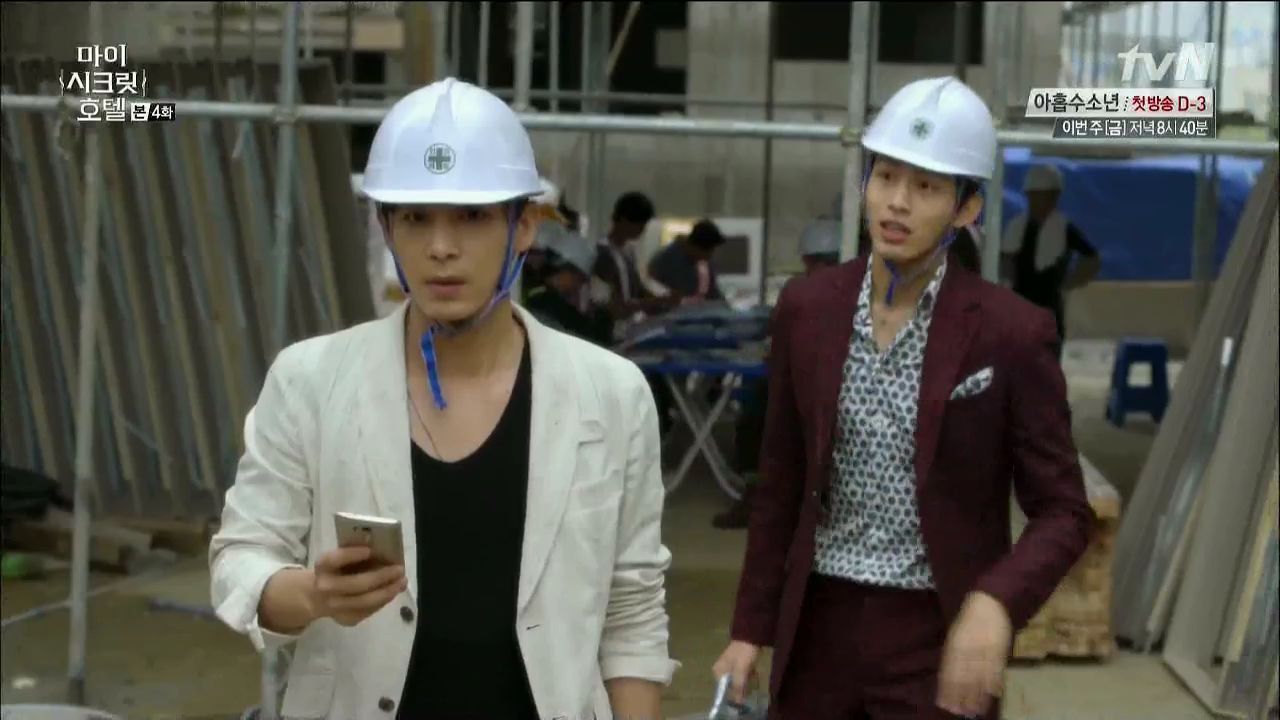 That triggers Hae Young's memory of the conversation Manager Hwang was having where he was upset the caller hung up on him and threatened to go to the guy's son. He wonders whether to tell the cops when he gets a call from Jung Eun who is at the police station where Sang Hyo is currently inside sitting with Detective Kim. Hae Young hangs up on her and rushes off leaving Shi Chan to pay the delivery bill.
Sang Hyo is delivering all of Manager Hwang's personal effects to the detectives and hesitates before suggesting that Manager Hwang may have killed himself. She reveals that Manager Hwang offered to disrupt the wedding for her. Detective Kim laughs at the absurdity that Manager Hwang could have killed himself for Sang Hyo and tells Sang Hyo not to think about it. Hae Young arrives and the other Detective Lee announces that their first suspect in the murder is here.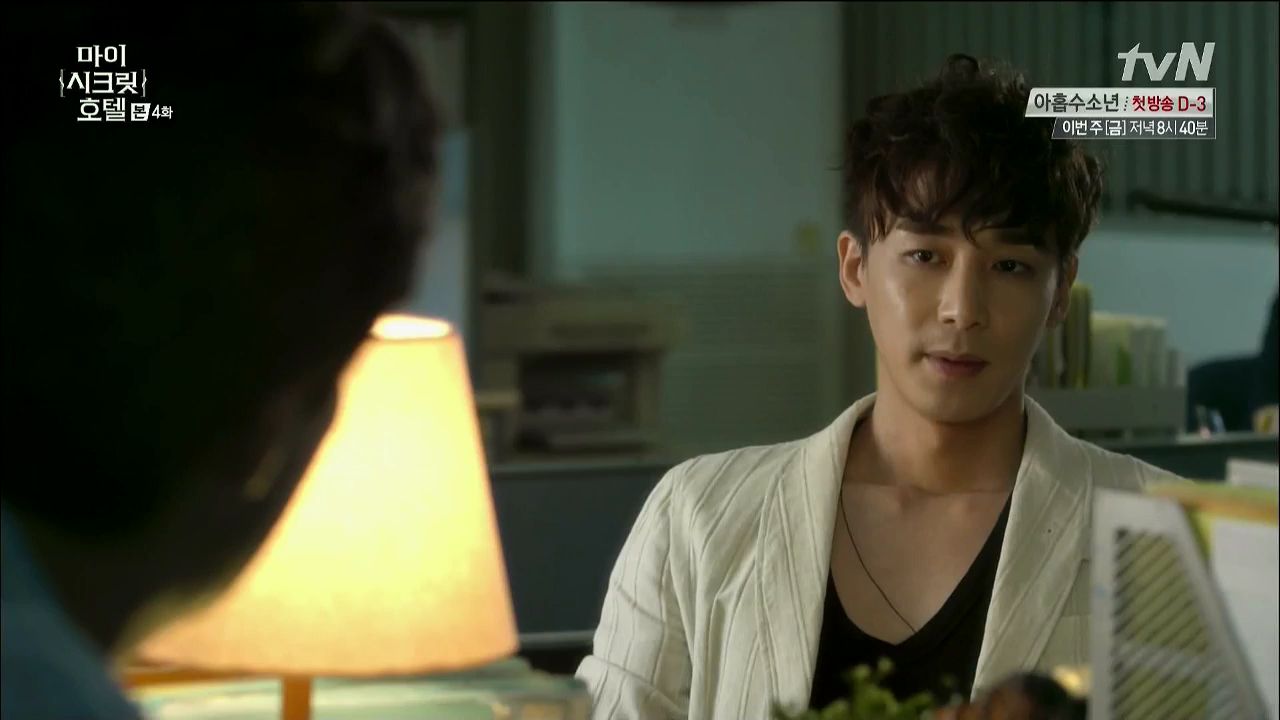 Sang Hyo is shocked to hear that Hae Young is a suspect and walks out of the precinct to wait outside. Hae Young sits with Detective Kim to inform him that Sang Hyo is not the murder. Detective Kim knows that since Sang Hyo was alibi'd when she was with Sung Gyum and it was all caught on CCTV. He's amused that Hae Young came by worried about Sang Hyo. Hae Young takes the opportunity to tell Detective Kim that he saw Manager Yang Gyun Hee crying at the hotel and also heard Manager Hwang on the phone before he died saying he would tell something to that man's son.
After he walks out, Detective Kim orders the phone records pulled to see who Manager Hwang called the night he died. Detective Lee sees Sang Hyo sneaking around in the parking lot and laughs that she's actually quite adorable.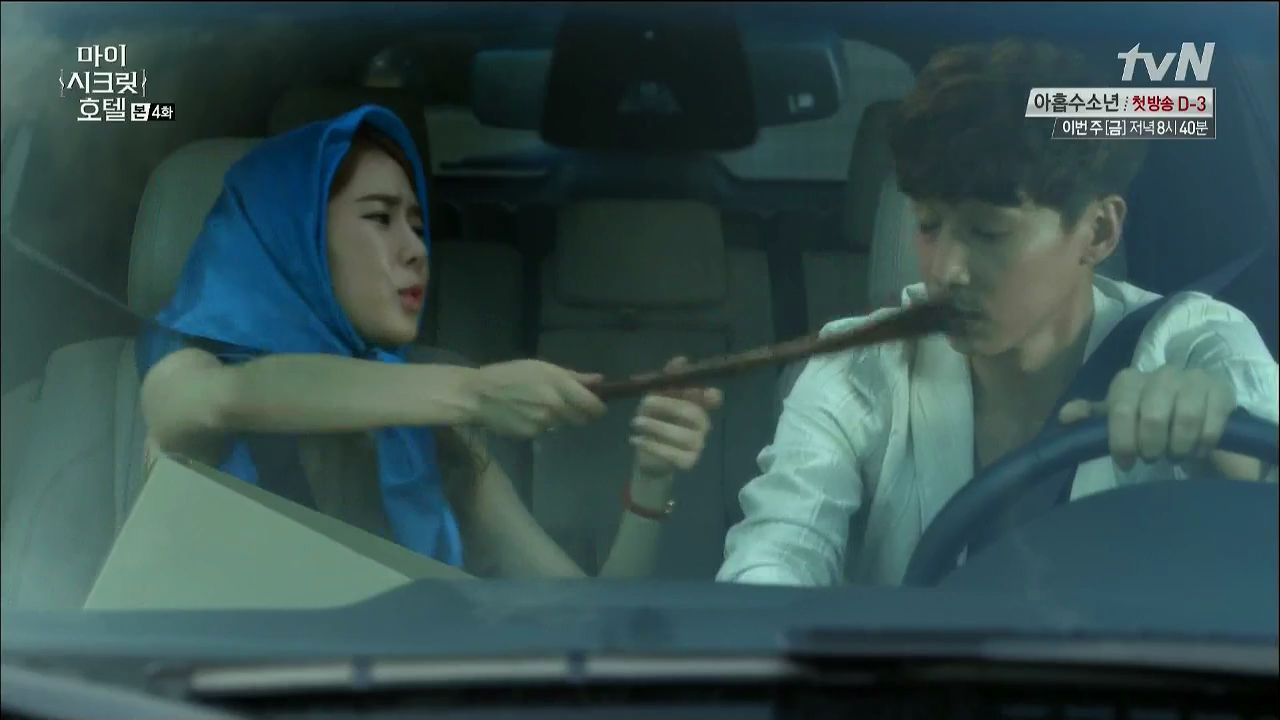 Hae Young gets in his car and Sang Hyo freaks him out when she climbs inside his car wrapped in a headscarf. Hae Young will now wonder what she'll show up in front of him as next time. She orders him to drive off so they can talk and when he balks she takes out a backscratcher and points it at him to drive. Her poking him makes him laugh and she cracks a smile as well. After they drive off, we see that crazypants Jung Eun is sitting in her car and sees this, muttering that those two are still seeing each other.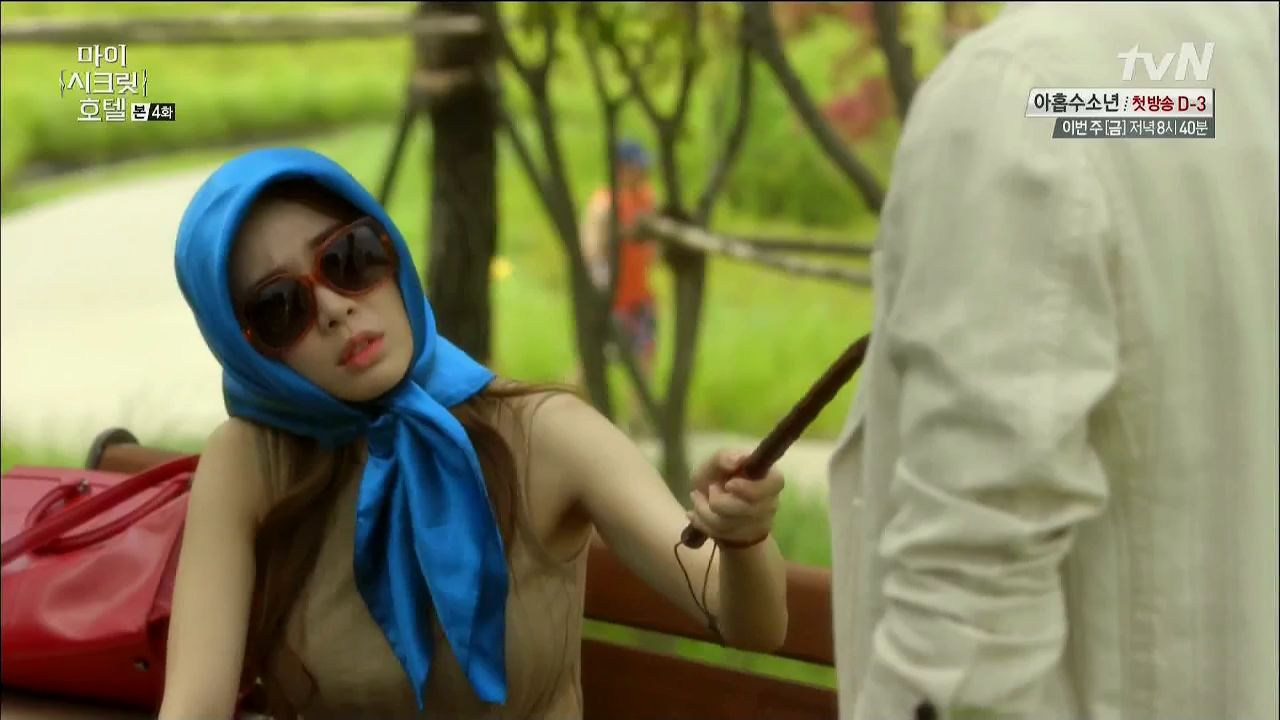 Sang Hyo sits on the park bench and uses the backscratcher to keep Hae Young from sitting down beside her. She points it at him and asks if he killed Manager Hwang? He takes a step forward and she kicks him back and asks why he came to the hotel the day before his wedding if it wasn't related to Manager Hwang. Hae Young lies that he went to get back his wallet and is upset that she would even suspect him.
Sang Hyo knows that he must have a valid reason but she just wanted to make sure. Hae Young says "Nam Sang Hyo, even now, you still don't understand me." He tells her "From now on, whether its coincidental or there is a reason, let's never see other again." He storms off.
Sang Hyo is about to bring Manager Hwang's personal effects up to GM Lee when both Gyung Hee and Young Mi offer to do it. Young Mi delivers the box and tells GM Lee to take this chance now that Manager Hwang is dead. After she leaves she models a necklace in the mirror in the bathroom. Gyung Hee walks inside and asks if she delivered the belongings and Young Mi confirms she did.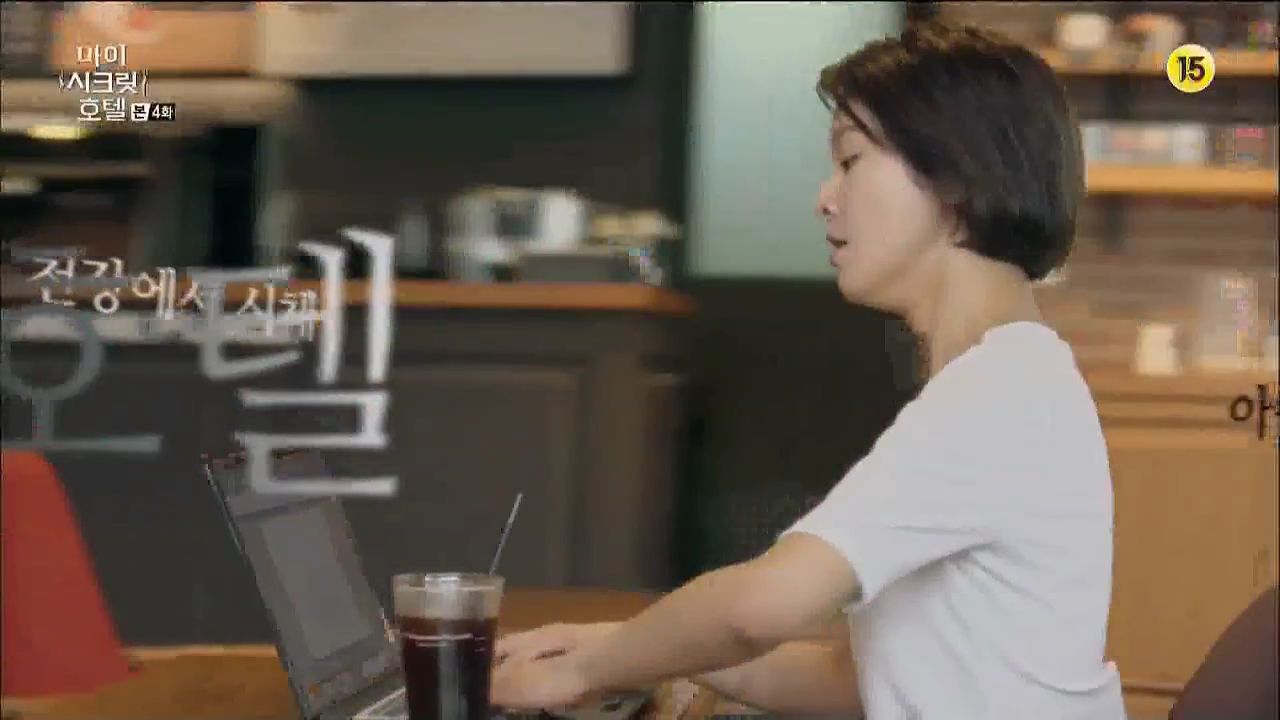 Jung Eun sits in a cafe and declares that she will show Sang Hyo what her rage tastes like if Sang Hyo insists on staying near Hae Young. She types up all sorts of inflammatory posts about recent rumors and mishaps around "S" Hotel including a body landing in the middle of a wedding.
Eun Joo is freaks out when she hears such bad PR being spread about their hotel via the the Wedding magazine where Jung Eun works as a reporter. Eun Joo calls up Jung Eun to chew her out and threatens to sue her for defamation. Sang Hyo takes the phone from Eun Joo and introduces herself. Jung Eun declares that she knows all about Sang Hyo and is doing this purposely since Sang Hyo was married before and divorced within three months so how dare she run a wedding department at a hotel and also try to seduce Hae Young again. Eun Joo declares that she's already held back for Hae Young's sake. After she hangs up the phone, Sang Hyo tells Eun Joo that she will take responsibility for this bad PR.
Hae Young's agency is also having all its phone ringing off the hook to ask about the body falling during his wedding. Soo Ah is also being harassed by the press about her wedding mishap. Her driver opens the door for her and she angrily asks him if she's happy about this before slapping him. Oooooh, so Soo Ah likes her driver.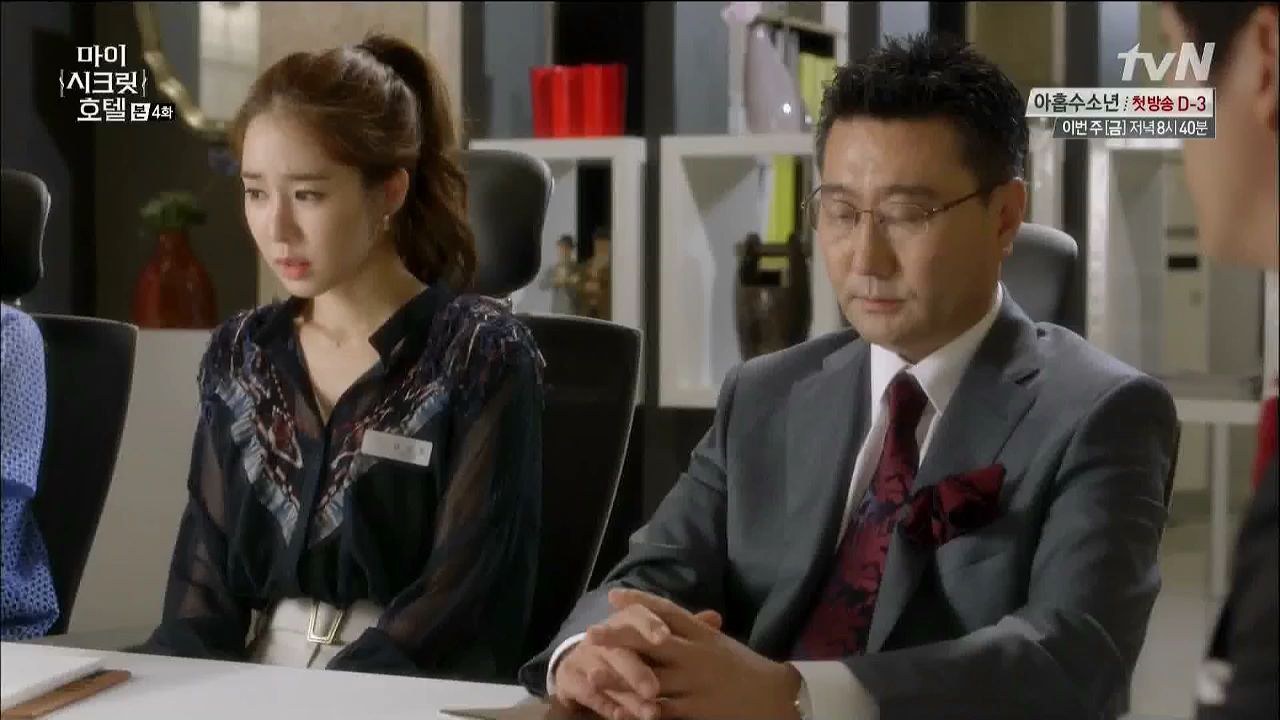 The Secret Hotel executive team meets to discuss the current bad PR. Sang Hyo takes responsibility for it all since she planned the wedding. GM Lee tries to speak up on her behalf since the murder was beyond her control. The sleazy manager says Manager Nam was slated to be the next GM but now all she does is bring in bad news for the hotel. Eun Joo wants to sue the publication and the reporter but Sung Gyum points out doing so will be to admit that Secret Hotel is in fact the establishment in question.
Sang Hyo offers to hand in her resignation which upsets Sung Gyum and he asks if this is the way to take responsibility for this bad news. He doesn't care if she does resign but he wants her to plan Hae Young and Soo Ah's second wedding at the hotel. If they get married successfully at the hotel then all the rumors will be killed. The entire team other than Sang Hyo all like this idea.
Hae Young is working late at the office when he finds Sang Hyo purposely crooking all pictures on his office lobby wall, which we all know is to rile him up since he has OCD and fixes crooked pictures as he did when Jung Eun came by the office last time to talk with him. Except he doesn't get annoyed when Sang Hyo does it and instead it makes him smile. He calls her name and wonders if she's here to apologize and tells her there is no need. Sang Hyo asks for a favor "Your wedding, let me handle it."
Thoughts of Mine:
I can't get enough of this drama and it's not just in the fantastically rendered leads and the interesting story, it's also in so many of the little touches. Already we've got three separate instances of Sang Hyo meeting up surreptitiously with Hae Young and both of them realize how absurd it all is. Even Hae Young snarks that he's starting to get curious what other ways she'll randomly show up. Then each time she pokes him with something and instead of getting upset he just lets her prod him and then does as she orders and drives off. These two are like kids inside and that's what makes their shotgun marriage so believable. I don't need to watch their one week courtship that led to the Vegas nuptials, I can believe they totally fell for each other's gorgeous visage coupled with weird 4D personality. It's such a relief that there is no power imbalance with the two leads, either in professional acclaim or background wealth or any of the usual class trappings. Even if Hae Young came from a rich family he's a self-made man and Sang Hyo climbed her own professional ladder by her own hard work. I don't need to worry they will hesitate to love each other again because of stupid family issues, just let their lips do the talking and I'm sure it'll all be resolved overnight.
Sung Gyum confuses the heck out of me, but in a good way actually. I still can't figure out if it's Namgong Min's acting that makes Sung Gyum seem like he's got an ulterior motive in approaching Sang Hyo and watching out for her, or he just plays the character with an undercurrent of calculating veneer. I don't think he's bad and definitely don't think he's the murderer. I do think he knows more than he lets on, but at the same time he's also in the dark about critical events in the past so with his digging then slowly we'll find out just what secrets The Secret Hotel is hiding. I still don't think it's possible that he's secretly siblings or half-siblings with Sang Hyo, though I wouldn't be surprised if it turns out that his dead dad killed or was killed by one of Sang Hyo's birth parents. More parental angst than I can't love you incest. If I strip away Sung Gyum's weird vibes then I love his interactions with Sang Hyo. It's so flirty, so damn flirty, if Hae Young witnessed even 5 seconds of it he would blow a blood vessel and pop Sung Gyum. I don't mind his mild flirting with Eun Joo and find her funny and forward enough to merit her own shot at winning the male prize at the hotel. With all the shady characters around like Young Mi, Gi Chul, Gyung Hee, and Guard Cha, at least Eun Joo appears simply to be a frenemy to Sang Hyo.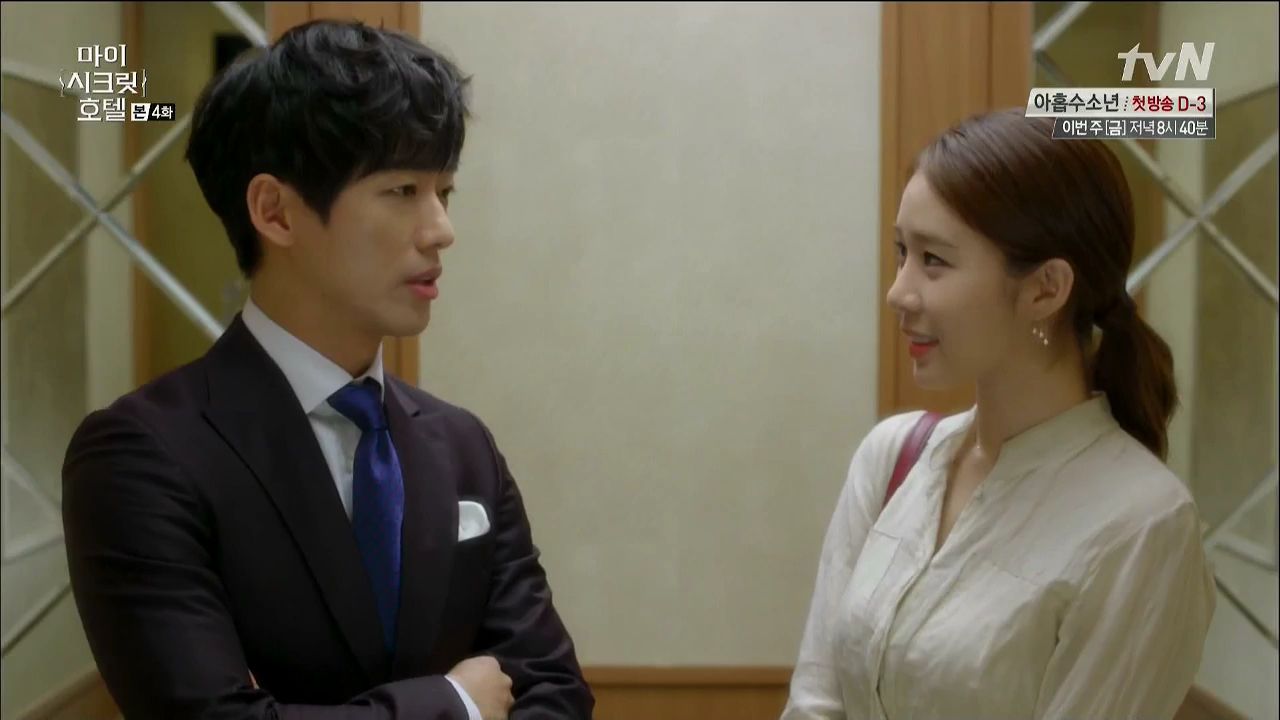 Detective Kim is so hilarious in his dead pan investigation and wins kudos for being quite an good detective despite acting like a weirdo most of the time. He catches people off guard and gathers clues from keen observation. I want him to interview GM Lee and see if that dude will crack a little under pressure. I don't know why GM Lee seems protective of Sang Hyo and always shielding her from Sung Gyum's anger in team meetings but it's probably related to the truth of her birth. That crazy stalker Jung Eun is fast becoming the easiest character to hate in this drama since she's just a teeming cesspool of jealousy and sabotage. I want to disembowel her so much, but probably should let her live since everything she does seems to backfire in that she's bringing Sang Hyo and Hae Young together again with a reason to hang out. I was pleasantly surprised to see Soo Ah exhibit something more than her dumb bimbo act when she confronted her driver about being happy that her wedding was ruined and slapped him when he failed to give her the answer she was looking for. She clearly doesn't feel as affected by Hae Young so that makes me happy that she has her own fall back option when Hae Young finally ends things with her. There is no way in hell that marriage would ever work but I give Hae Young a thumbs up for even having the patience to put up with Soo Ah. I need my OTP back together so badly I'm twitching from the mere excitement of how their path back together will unfold. Please let it involve as much skinskip as possible!