Whelp, shit got real and got there fast for the biggest mess of Kim Hyun Joong's career. If it's of his own making, i.e. courtesy of his fists and feet, then he's going to have to take responsibility in the end whether through settling with the accuser or actually getting probation/jail time. Either way it's really between him and his now ex-girlfriend who accused him last week of two separate incidents of domestic violence. I don't have an opinion on whether a victim ought to settle or press charges all the way, accepting financial recompense does NOT make the victim's allegations any less valid and the decision to settle or not involve a bajillion factors most of which are personal. The police have summoned Kim Hyun Joong in for questioning and reportedly he is scheduled to attend in early September after he returns from overseas after completing his concert promotions.
I have no problem with that since the allegations are not over a crime that poses a threat to the public and there is no urgency sake since the victim is not laying on her death bed or anything or the investigation needs to be sped up. If he was in Korea this week he would probably have to make time to testify but his long scheduled concert tours really can't be cancelled over this particular allegation since the fallout involves other parties financially tied to the tour. Dispatch continues to take the side of accuser "A" and this time released her medical report and pictures taken at the hospital when she was admitted for the injuries sustained in one of the domestic violence incidents. This is the one where Keyeast claimed the two got in a verbal escalated to physical fight. The agency has been asked to respond to these pictures as well as the text messages released earlier that appear to refute the first official response given and this time Keyeast said that it will no longer respond to the media and will let the facts be revealed through the investigation. A warning before you click that the pictures below might be upsetting to see.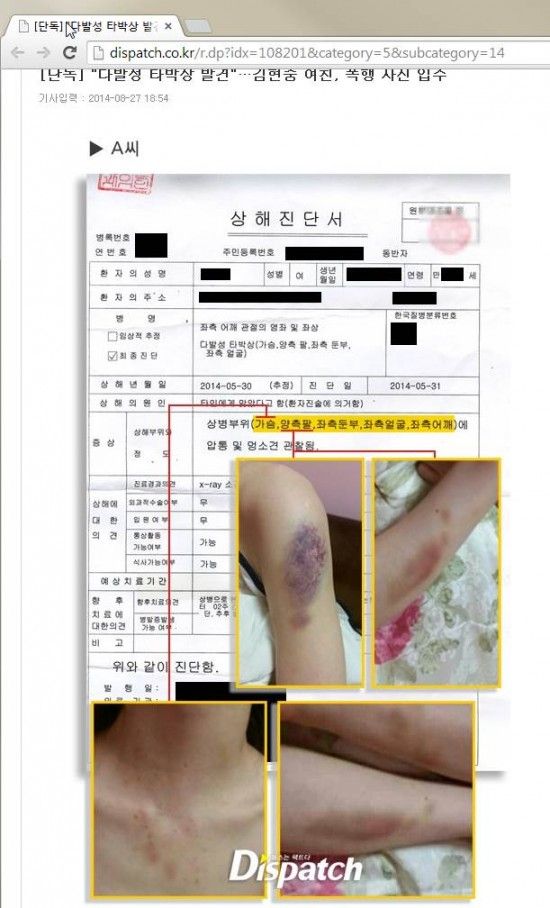 The comment threads on the Kim Hyun Joong posts have been understandably all over the place, and honestly I really don't care if any of his fans want to continue to support him. It's a personal choice which entertainer to like. Heck, Charles Manson and Scott Peterson have legions of fans and folks who want to marry them. I'm not even being snarky about this, the world is large and many MANY different people live in it. Let one keep on loving Kim Hyun Joong now or even in the future when all the facts have been litigated, but I have to comment on the excuses and explanations that are given to keep trying to justify liking Kim Hyun Joong because he's such a good guy. In light of the fact that Keyeast has admitted that Kim Hyun Joong's fist met "A" on one fighting occasion, and the other her rib magically cracked after fooling around with him, I think those two confirmed facts are enough to have the opinion that he's a man who resorted to physical violence against a woman. Whether its habitual or extends beyond his ex-girlfriend is not for anyone to speculate at this time.
What's critical is that fan defenses such as (1) she must be a jealous nagging girlfriend and verbally pushed him too far, or (2) she's only pressing charges after he broke up with her, such speculations DO NOT MATTER in the context of the facts of this particular case. Being a nagging girlfriend who bitches out her man to the point he loses his temper, that is no defense for the man to then turn around and hit her. If you look at the pictures of her injury, the bruises are not accidental but are actual strikes to that body part. He didn't push her away and she was so slight as to go flying into some bookshelf and then got injured by other items. Those bruises above are actual fist to body black-and-blue bad shit. That does not come from anything other than anger with an intent to punch the target. I've handled pro bono plenty of domestic abuse cases and it is never a legally accepted justification for the abuser to give the reason he lost his temper and hit his wife/girlfriend as her emotionally instigating it.
Let me give you an example using a different context – guy A walks down the street and runs into girl B and annoys her when she mistakenly thinks he kicked her dog but really it's another guy C who did it. Girl B won't let it go and keeps yelling, screaming, bitching at guy A about it. Does this give guy A legal justification and defense for then beating the crap out of girl B for being unreasonable and a harpy? OH HELL NO. The only defense to assault and battery is to defend oneself or others against imminent physical harm, not using a fist as a response to mean words being said. Being goaded into it is not a valid defense – for every guy A who loses his shit and hits girl B for being an annoying wank, there is another guy who would have just walked away rather than losing his temper. And if "A" resorted to violence first, then Kim Hyun Joong's side will need to raise that defense, but it won't be enough to exonerate him because of the size differential and the fact that he struck her to the degree she needed medical treatment.
The key is losing one's temper to the point of physical violence, not what the other person did to make you this angry. What the other person did as provocation be used as a sentencing mitigating factor but not as to whether the actual violence occurred. As for why she's pressing charges now? Who the hell cares, all the law cares about is whether her allegations are true or false. If true then it doesn't matter if she waited months or even years as long as the statute of limitations is still valid, and if it's false then her pressing charges the second after he hit her doesn't make it any more valid. Never ever question why and when a victim decides to press charges unless you've stood in her shoes and feel whatever she is feeling after being hit by a man who claims to love her. Those who work in domestic violence shelters or with survivors of DV know that the number one reason the woman doesn't leave immediately is fear. Once you've been beaten by someone claiming to love you and then apologizing afterwards, you'll understand the deadly cycle of abuse that makes this one of the most pervasive crimes around the world regardless of ethnicity or culture.