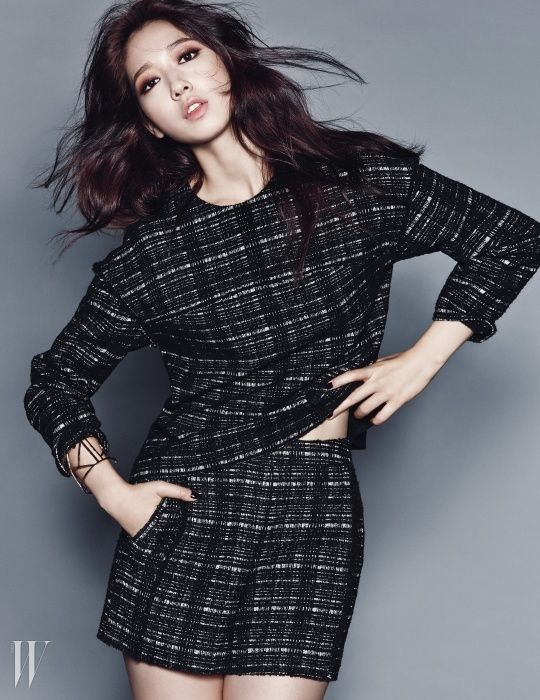 I can't say this news surprising but it's a nice way to start September with confirmed drama casting on a highly anticipated upcoming project. A week after reports surfaced that Park Shin Hye was in talks to headline the SBS drama Pinocchio, she's been confirmed today as the leading lady. This was the drama that very publicly courted Kim Woo Bin first months ago so it makes me sad that Park Shin Hye signing on only happened after Kim Woo Bin passed. I don't particularly have a pressing need to see them do another drama together, but her chemistry with him in Heirs was the best part of her performance in that drama. Plus there are so many second lead shippers from the drama I'm clamoring for their characters to have gotten together over the wet blanket main romance.
Park Shin Hye likely won't have to wait long to get her Pinocchio leading man as SBS has been in talks with Lee Jong Seok to do the drama. If he accepts it'll be his third SBS drama in a row following I Hear Your Voice and Dr. Stranger. Pinocchio also comes from the PD-screenwriter team behind I Hear Your Voice so I'm actually surprised they didn't make a beeline for Lee Jong Seok first. I have no problem if he accepts, I now like him after Dr. Stranger and judging from his CF endorsement pictures for Jambangee at least we know he will look great opposite Park Shin Hye. Pinocchio is a newspaper industry based drama about a bunch of eager young reporters covering city and societal news. Park Shin Hye's character is described as straightforward and righteous but suffers from a condition where she hiccups whenever she tells a lie. I call it now – at some point during the drama there will be a male lead initiated hiccup-stopping kiss to avoid revealing a lie at a critical moment.
At least with Park Shin Hye as the female lead, if Lee Jong Seok is cast there won't be another redux of the ridiculous and incessant second female lead shipping that defied all narrative within the drama and frankly was the worst fan-led case of beating a dead horse ever. I like Lee Jong Seok but hated how his solid chemistry with all his female leads can sometimes lead to tone deaf audience feedback from a vocal portion that clings to shipping over just sitting the hell back and enjoying the story as the writer intended. I seriously do not have the patience to deal with another DS. Park Shin Hye's casting is right up SBS's alley as the network revealed that she was their number one choice for the role and are thrilled she accepted. Pinocchio will take over the Wed-Thurs time slot in November from My Lovely Girl with Rain and Krystal.