The entertainment news cycle has been busy with big name drama castings and considerations lately but one name hasn't been raised in the mix. Lee Min Ho delivered one of the highest rated K-dramas last year in Heirs, which is still minting money by staying hot on many large streaming portal rankings, but doesn't appear to be in a rush to go back to television. Even without filming a K-drama in 2014 he was still a busy bee with other activities and his one acting gig this year was in film and soon we'll see the results.
Lee Min Ho and Kim Rae Won's period gangster thriller Gangnam 1970 (formerly Gangnam Blues) will be released next month in November. I've been waiting for Lee Min Ho to do a more serious acting project and this movie helmed by famed director Yoo Ha is certainly on the right track for his acting career. The three official posters look nice as does the official movie trailer, Yoo Ha's gritty touch clearly evident and stylistically on point. I can't say Lee Min Ho blows me away (yet) while my first impression is that Kim Rae Won comes across as more impactful in the snippets. Check it out for yourself.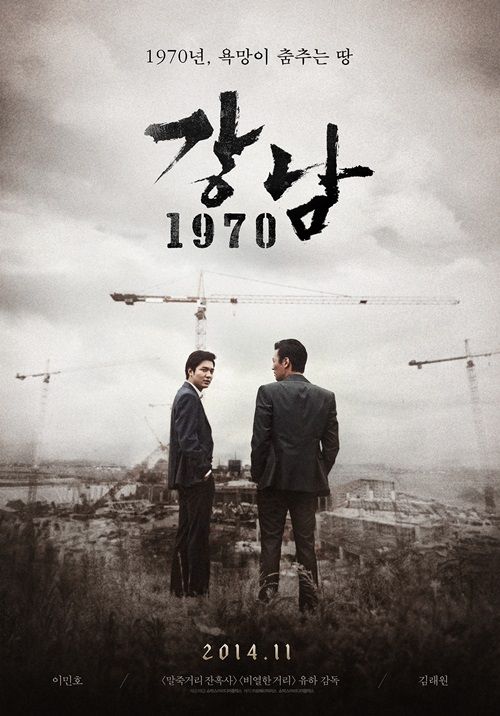 Movie synopsis:
In the 1970s, during the height of political corruption, Gangnam the southern part of Seoul is starting to be transformed into a developed area. Childhood friends Jong Dae (Lee Min Ho) and Yong Ki (Kim Rae Won) struggle to get by, until their shanty homes are demolished by local thugs. Desperate for cash, they get involved in violent political clashes, and are separated during one of the skirmishes. Three years later, Jong Dae lives as an honest man with former gang leader Kil Su. Meanwhile, Yong Ki has joined Seoul's most powerful criminal organization, the Myeongdong-pa. As a gangster, Yong Ki is entangled in a high-stakes battle over land in Gangnam, all in the name of putting together secret presidential election funds that drive up the value of the city. As the gangs fight over the rights to various plots of land, Yong Ki is captured and interrogated by a rival gang.
Trailer for Gangnam 1970: