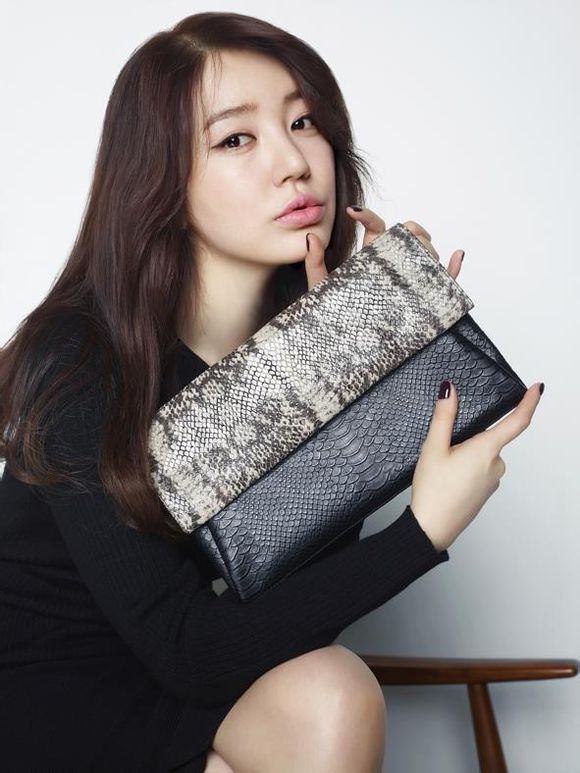 I'm finding Yoon Eun Hye's celebrity status in Korea perfectly described using the Chinese idiom the tall tree attracts the wind (樹大招風 shu da zhao feng). A famous person is more liable to be attacked than an unknown small fry, and that's what best explains the crazy that just went down at Yoon Eun Hye's just over a month old official fan cafe Amazing. Yoon Eun Hye posted a personal letter to her fan cafe last week to directly communicate with her fans why she is closing down the new official forum for her fan club.
Turns out for years now some of her fans (or dedicated anti-fans masquerading as fans) have been increasingly harassing her family, friends, colleagues at work, and even the staff on her acting projects. The harassment is of the doxxing variety where personal information is released, and reportedly people will then go to the places that people around her manage or frequent and harass them. It's escalated after Yoon Eun Hye opened Amazing as the doxxing posts have continued from forums such as DC Gall and moved over to the new fan cafe.
My translation of the critical parts of Yoon Eun Hye's personal message posted on her fan cafe to her fans:
Hi everyone, I'm Eun Hye.
I've been wanting to come here and play and post, but my first message turned out to be this and it hurts me a lot.
In the official fan cafe and in various forums there have been a lot of unhappy postings from fans so I thought I should say something directly.
When I see what the fans write about me, I have "the desire to do better". For the fans who fret when thinking my choices are wrong or without consideration, the fans who can't express fully all their concern for me, I feel concern that I've let them down, this is how I truly feel.
With the Amazing fan cafe, I see in posts personal information about my company employees, my family, and my friends, and that is something I can no longer allow to continue because I worry things will get out of hand if it isn't stopped.
That kind of behavior has crossed the line as a fan.
Criticism of my religion and my acting projects, I'm not going to lie that it doesn't hurt my feelings, but from the viewpoint of a fan I can understand that.
But to my colleagues and family and friends, even the production staff and director of the projects I work on, to directly name them in posts and provide personal information about them….doing so will create so much conflict and confusion. And from my position, I feel so terrible that is happening to people around me. Do you guys know that by posting such information, how much distress you are causing to others?
To stop those who have done nothing wrong from getting hurt, I am preparing to file a complaint against those who have been twisting the truth. If this behavior continues, then that fan is no longer a fan.
To my fans who have loyally stuck by my side all this time, I want to thank you all and bring you a great project to show my gratitude. At the same time I will continue to life my life without any regrets. I want to fill life with love and understanding and with warm embraces, a thank you even when mistakes are made to lessen the hurt on the soul. This kind of unconditional love, I want to live it and show others.
I accept all the criticism of my personal failings in past and future postings. But I will no longer allow posts with lies, dissemination of personal information, and defamation, to continue here or at other forums.
This official fan cafe will be closed from here on.
This was a new experiment for me and to have it closed in such a short period of time also hurts me immensely.
The hurt that words can inflict on the anonymous internet, I hope it can become words that give support and strength and a place to give a helping hand.
________________________________________
The Korean media erroneously reported that Yoon Eun Hye shut down her fan cafe because of her fans vehement opposition to her considering doing the Korean-Chinese movie with Park Shi Hoo. That is not true as Yoon Eun Hye's letter clearly explains she accepts all criticism of her acting choices, in the past and going forward. The erroneous media articles came about as Yoon Eun Hye's letter in her fan cafe was available only to those who registered as a fan to read. So the media did not have a copy of the letter and based their reporting on complaining posts in DC by anonymous commenters claiming that Yoon Eun Hye shut her fan cafe because of fan unhappiness with her potential next project. Hope this clear things up but mostly I'm just sad for Yoon Eun Hye's loyal fans who have to deal with the new fan cafe being closed, and for such a terrible reason in that people close to her are being harassed.