The dual red hot popularity of Kim Soo Hyun and Lee Min Ho came to a head this week and sent the K-ent media into a tizzy for showing up at the same place. Both attended the 2014 South Korean Popular Culture and Arts Awards and made it a rare appearance at the same event. They even received the same award, the 2014 Prime Minister's Award given to Korean entertainers that helped to spread Korean culture (i.e. the Hallyu wave). I'm just relieved both wore nicely tailored suits to end all speculation about turning ahjusshi on their fans.
The awards ranged from the aforementioned PM award to Cultural Merit medals and President and Ministry of Culture, Sports and Tourism awards with a total of 28 entertainers getting a commendation (full list of winners below). I'm dying of laughter that most news report pictures of Lee Min Ho are spliced together with Kim Soo Hyun, and vice-versa, by the entertainment news reports on this event. It also visually confirms their similar appeal and reason for insane Hallyu popularity – tall, good looking in a non-threatening way, and very very presentable and polite in public company.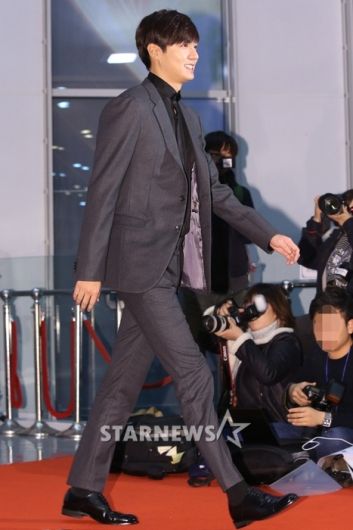 Cultural Merit award: veteran actor Choi Bool-am, Host Song Hae, screenwriter Park Jung Ran, Kim Soo Il, singer Myung Guk Hwan and actress Choi Eun Hee.
Presidential Award: actress Sa Mi Ja, Ki Young Hee, model Lee Jae Yeon, musician Lee Yoo Shin, PD Hong Seung Sung, songwriter Yoo Young Jin and the late singer Kim Kwang Suk.
Prime Minister award: actors Lee Min Ho, Kim Soo Hyun and Jeon Guk Hwan, comedian and TV host Shin Dong Yup, singer Jin Mi, drama writer Park Ji Eun, producer Jung Dae Kyung and PD Na Young Seok.
Ministry of Culture, Sports and Tourism award: EXO, actors Lee Seung Gi and Kim Bo Sung, comedian Kim Joon Hyun, PD Go Geon Hyuk and singer Kim Jae Man.
I'm thrilled Lee Seung Gi won a Ministry of Culture, Sports and Tourism award but sad couldn't attend the ceremony, though fellow award winner EXO brought enough screaming fangirls out.