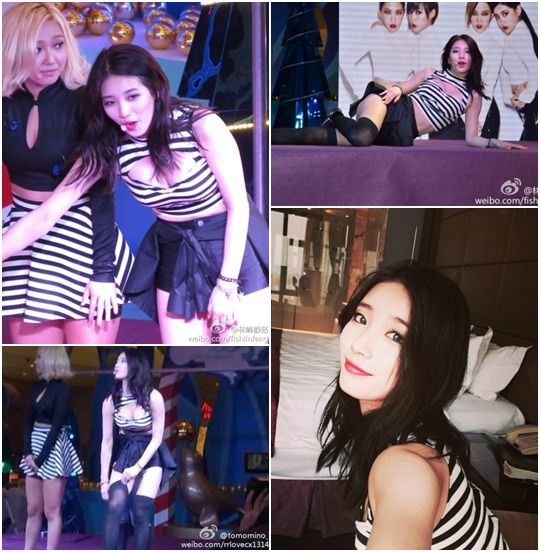 Please don't let this actually become a fashion trend. A fashion blip maybe, but anything more than an one-off joke attire will mean hurting my eyes for the foreseeable future. Korea's favorite young CF idol-actress Suzy was in Beijing this past weekend for a fan event with her group Miss A and was attired by the coordi in a top that is making waves all the back to Korea. It's best described as a crop top bustier with a boob cut out. The fact that it is in a black-and-white jailbird uniform pattern is beside the point.
As idol girls Suzy, and her group mates, are understandably at the whim of their label in what they wear for official appearances, and there are many more instances of fashion fails above and beyond what Suzy donned here. What's getting Korean netizens all atwitter is the sudden boobaliciousness of Korea's little sister, and what's upsetting me is seeing the inexplicably famous fugly boob cut out top a topic of conversation now in Korea and China (thanks to Suzy) as well as Japan (all over twitter).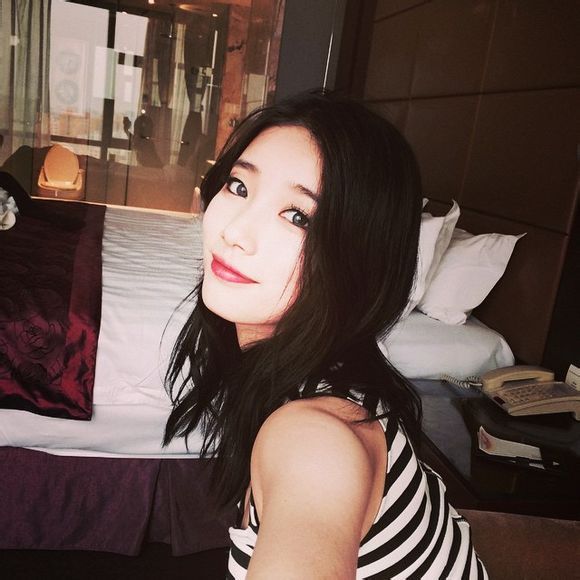 I don't think the boob cut out top is any more or less fashionably exploitative of the "assets" of the idol girls, or girls in general who choose to wear this fashion trend out in public. I've seen way more skimpy, scandalous, and outright slutty outfits worn by ladies and it's their right to flaunt it if they want it. However, I really really loathe this very look because it's basically wearing a top with a neon arrow pointing to the exposed top of the boobs screaming "look right here!" Let's all embrace the subtly sexy, ladies. Below is the same look trending in Japan as well. For the love of fashion WAE?