The 2014 drama year in C-ent didn't just end with hilarious Cleavage-gate around The Empress of China, the much dreaded Yu Zheng adaptation of Return of the Condor Heroes (English drama title of this version is called Romance of the Condor Heroes) arrived and promptly confirmed the validity behind all the casting hullabaloo last year over Michelle Chen being cast as Xiaolongnu, the C-literary world's undisputed "most beautiful woman in the entire wuxia world". Even the few "wait-and-see" folks find it hard to claim Michelle was rightly cast for the role once the actual drama has now hit the airwaves and the miscasting is front and center.
Reportedly the entire drama is a hot mess so terribly written and directed it defies description, most of which comes from Yu Zheng rewriting characters and events, but also from Michelle standing out like a sore thumb with her visuals and acting interpretation, turning cool lissome Xiaolongnu into an aegyo-prone giggly teenager. The media and netizens are having a field day digging into what makes her so wrong for the role, compounded by Yu Zheng packing the rest of the drama cast with a veritable eye-popping collection of C-actresses who all exhibit the classical Chinese beauty that Michelle's style doesn't convey. Whatever Michelle wanted to do in picking a challenging different role, she maybe wasn't signing up to be thus trolled by Yu Zheng in her supporting and cameo actresses.
I wrote about this drama casting and filming last year and shared my opinion then, so take this post as a conclusion to that saga now that the drama has aired. I did watch one episode and laughed so hard I snorted tea up my nose. It's not just Michelle that is bad, handsome sparkling Chen Xiao as Yang Guo is also a ridiculous joke even if he has the looks to pull off the character's visuals. The C-media and netizens are all laugh-watching the drama and laughing at it, with weekly updates about which new supporting or cameo actress has arrived onscreen to outshine Michelle yet again.
I would feel bad for Michelle except she accepted the role knowing what the literary requirements were for portraying the character. The consensus isn't that she's ugly or objectively unattractive, the feedback remains that Michelle's looks and aura are normatively not suited to be Xiaolongnu, much like C-fans also think renowned C-actress beauty Fan Bing Bing (currently the busty Empress of China) would also be wholly miscast as Xiaolongnu. Check out all the other ladies in Condor Heroes 2014 to see what stable of beauties Yu Zheng surrounded Michelle with.
Zhang Xin Yu as Li Mo Chou.
Yang Rong in her cameo as Mei Chao Feng.
Tong Xuan in her cameo as Lin Chao Ying, founder of the Ancient Tomb Sect.
Zhao Li Ying's cameo as Yang Guo's mommy Mu Nian Ci.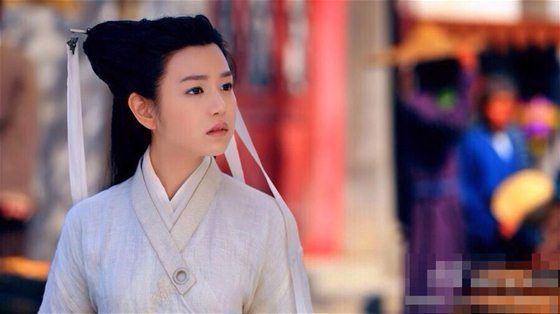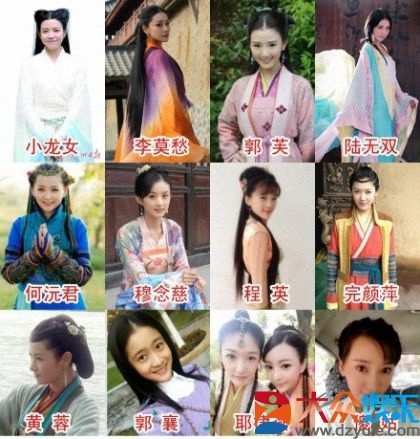 DId Yu Zheng intentionally miscast Michelle Chen as Xianglongnu, then compound the miscasting by surrounding her with gorgeous supporting and cameo actresses, in order to garner negative attention for the drama as a selling point? It sure looks like it.