I love Song Joong Ki so the news that he's being inundated with acting offers despite it being three months away from his military service completion makes me happy and relieved. Happy that he's not been forgotten despite the fast-churning popularity cycle in K-ent, and relieved that he's got in his hands plenty of offers to pick and choose from which speeds up his return to the screen. Within the last week there has been two separate news reports of specific offers sent his way. The first is the sci-fi action movie Fist Fighting, which sounds less interesting a story than the behind the scenes drama in the last three years around the production.
The movie was initially a star vehicle for Jo In Sung, then the age bracket was lowered to star Yeo Jin Gu, and finally the movie dumped Yeo Jin Gu and tried to get uber-popular Kim Soo Hyun only to be left with no leading man. I thought the movie was two feet in the grave, who knew it's still in the works and now wants Song Joong Ki to star. Song Joong Ki left for the army on a career double high note, with the hit movie A Werewolf Boy followed by the well-received melodrama Nice Guy, so it's fitting that he's been courted in both mediums. If he's not in the mood to go Fist Fighting, Song Joong Ki can don military officer duds and go headline famous screenwriter Kim Eun Sook's high profile upcoming K-drama Descendants of the Sun.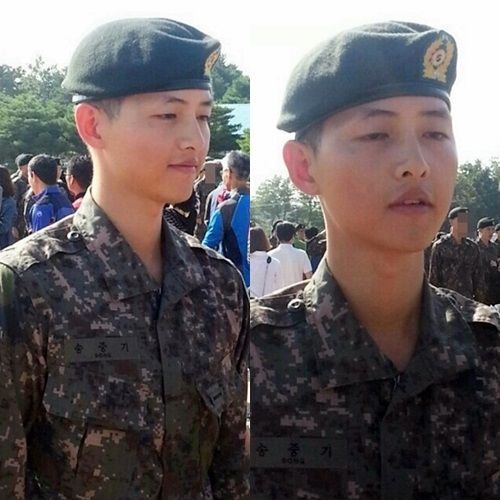 Song Joong Ki's agency has confirmed receiving the script and offers for both Fist Fighting and Descendants of the Sun, among countless other acting gigs thrown his way. The agency explained that Song Joong Ki is personally reviewing all the offers and will take his time to decide on the right project to dive into after his May military service discharge. The timing would be a perfect fit for Descendants of the Sun which is scheduled for extensive overseas shoots starting in May to make the scheduled September premiere on KBS. Song Joong Ki's image prior to military service was always as the sweet nice guy (hur hur) so it's interesting to note that the two first projects to publicly court him post-military are action roles, what with Fist Fighting being self-explanatory while in DotS he'll be playing a military commander of a UN peacekeeping mission stationed in a war zone.