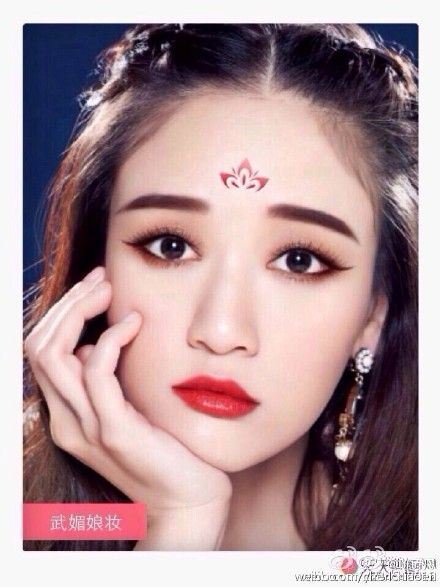 Ladies looking for a new makeup trend need look no further than the eye-catching look that is sweeping the Mandarin-speaking countries thank to the popular C-drama The Empress of China. While the heaving bosoms all got left on the editing floor early on during the airing, including many of the sumptuous gowns that was sorta covering them, that left the audience staring at close ups of the leading ladies all the time which has exploded a new makeup fad.
The coronation look sported by Fan Bing Bing is now making waves as stars and ordinary folks alike are getting in on the dramatic makeup of matte red lips, dramatic almond cat eyes, and the Empress red flower mark on the forehead. When Ariel Lin posted her own "Seductress Wu makeup" selfie followed by Chen Qiao En doing the same, I knew this trend fad is the real deal. Even stars who aren't trying it out are getting the make up hilariously photoshopped on them thanks to mischievous C-netizens. I nearly fell off my chair when I saw Luhan and Kris sporting the "look" LOL.
The Empress of China herself Fan Bing Bing.
Ariel Lin and Huang Rong get in on the fun. Even when stars aren't doing the makeup themselves, the C-netizens are doing it for them LOL.