The massive roll KBS is on doesn't appear to be slowing down anytime soon, which is always good for drama addicts out there to have more shows to look forward to. It appears the network is paying very close attention to the ratings bloodbath going on with Blood tanking on Mon-Tues and plans to do something specific to address it. The network originally wanted to put Dr. Frankenstein after Blood but that drama appears to be having a hard time casting since male lead DID dramas aren't exactly a sure thing right now. Last week came news that Lee Jin Wook had been cast as the male lead of Hello Monster and KBS was scheduling that after Blood instead.
Hello Monster may still be on the KBS schedule but it won't be coming right after Blood on Mon-Tues. Instead KBS is bringing in heavy guns to save the ratings, pushing forward School 2015 to follow Blood with a premiere date for late April. School 2015 was supposed to be a second half of the year, around early fall drama, so KBS tweaking the line up to get the drama on air as soon as possible shows how much the network expects the next installment of the School series to continue the ratings success that all previous installments have brought in. Even more startling is the news being released now without any actors or actresses cast yet in the drama. Anyone up for more school?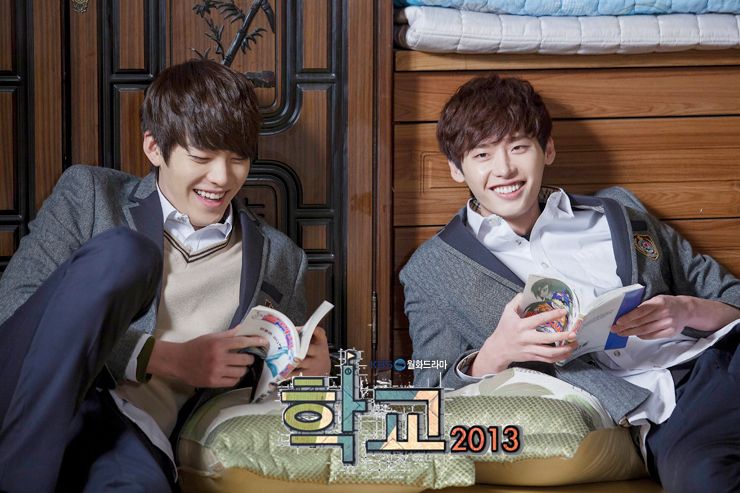 The School series is famous for starting off relative unknown actors and actresses on their path towards bona fide stardom. The latest School 2013 installment was no different, producing Lee Jong Seok and Kim Woo Bin, both of whom are now big stars in their twenty something generation. KBS has announced that it's currently deep into the casting process with plans to cast both veterans and talented younger leads for the drama. I wonder who will be the breakout star(s) of this year's School 2015?