These two give me back a little bit of faith in the celebrity marriage, and really in the idea of marriage as support and compromise. Ji Sung has been busy lately, and I mean real busy what with playing 7 different characters in the currently airing Kill Me Heal Me. A live-filmed K-drama is basically 3 months of living on the set with limited rest and minimal sleep, a grueling process that benefits no one other than the network ploy for ratings. It's exhausting for the entire cast and crew but also hard on the family members who must go without seeing a loved one for an extended period of time.
As the male lead, Ji Sung is carrying the lion's share of the screen time and emotional output in this drama, and doing so while his real life actress wifey Lee Bo Young is resting at home while pregnant with their first child. The baby is due in a few months and the last I saw of Lee Bo Young at the SBS 2014 year end awards she was literally glowing. It's hard enough not to have her husband around, compound that by her current expectant state. But Lee Bo Young has sweetly provided a public act of support for hubby by sending a food truck for the entire production and attached the cutest banner ever which read "Our head of household, please use carefully and then return to me nicely when finished." Sooooo Cuuuuute!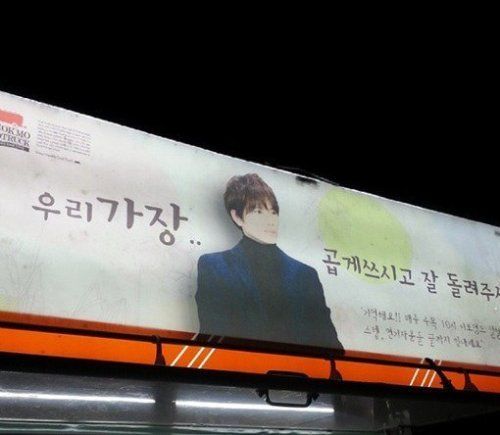 It's all for the greater good of drama fans everywhere to be gifted with her husband's phenomenal acting in KMHM (we're not worthy!), and even nicer to see how much Lee Bo Young supports hubby's career and time commitments. I keep on lubbing these two more and more.