The hottest star couple in C-ent right now is without a doubt Fan Bing Bing and Li Chen. It's not just the couple being super famous actors even before dating, or that they look so adorably perfect together, the third layer of media and public scrutiny involves the prior relationships that continue to generate headlines. Li Chen's ex-girlfriend C-actress Viann Zhang (Zhang Xin Yu) has been passive-aggressively posting on her weibo laments mixed with congratulations for the new couple, hinting that things didn't end properly with her and Li Chen before he moved on.
The two officially broke up in 2013 so public sympathy isn't on her side, especially since the reason for the breakup was Viann cheating on Li Chen with Wallace Huo (which Wallace denied). Then Viann's friend posted on her weibo a direct attack on Li Chen for two-timing Viann with Fan Bing Bing, and finally that pushed Li Chen over the edge and he responded with the most direct explanation I've ever read coming from a star. He asked Viann and her friends to stop with the false attacks to generate publicity for her side, reiterated that they broke up in 2013 when Viann cheated on him with Mr. Huo, and he was single with he met Bing Bing. Oh BURN!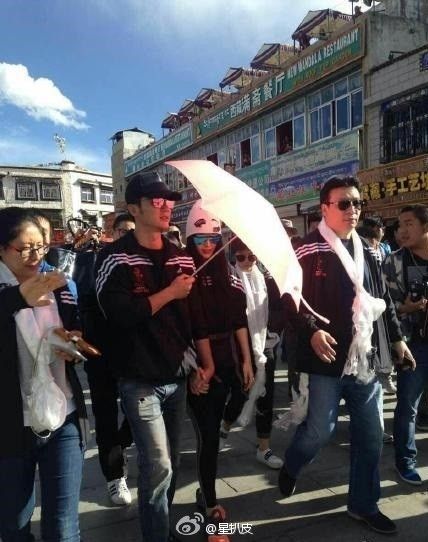 The public spotted Li Chen and Fan Bing Bing in Lhasa, Tibet last weekend for a charity event. They arrived in the city separately but spent the event together, including being snapped holding hands walking on the street with Li Chen holding Bing Bing's pink umbrella to shield her from the sun. Later they were spotted at the airport leaving on the same flight, and then a passenger snapped a pic of them nestled together on the plane taking a nap. I think these two are way too cute for words, with the normally haughty aloof Bing Bing taking on a warmer softer aura around Li Chen. He's also known in the industry for being down-to-earth and sincere, while Viann has a reputation for stoking the media to her advantage, so on this he said-she said kerfluffle my sympathy is all on Li Chen.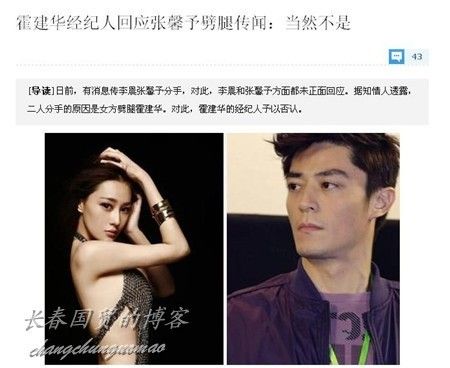 But then again, poor Wallace Huo getting dragged back into this mess when it's been nearly two years since the scandal that Viann may have cheated on Li Chen with him.