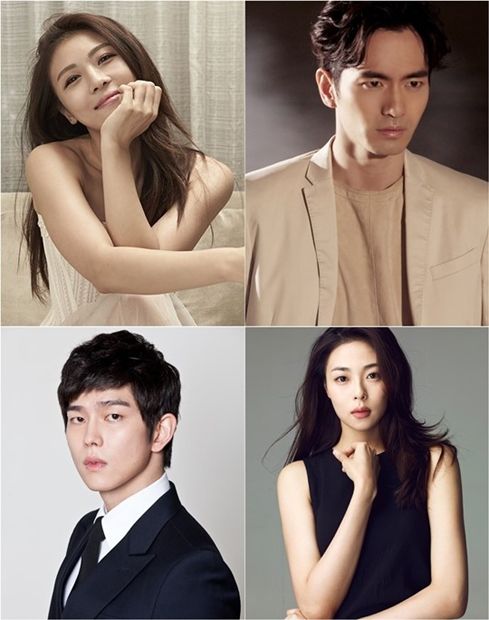 There should be a name for the condition befalling drama fans waiting for upcoming SBS weekend drama The Time I Loved You, 7000 Days. How else to describe the gnawing worry combined with anxious excitement all rolled into one. Some want to watch because it's the K-remake of hit TW-drama In Time With You, others are there for the leads, Ha Ji Won or Lee Jin Wook or both. I'm eager to watch for a mixture of both reasons, I have a hate-love relationship with the original drama and love Ha Ji Won unconditionally to the point I would watch her sitting around doing nothing.
The remake will be taking liberties with the original story, as a warning for folks who loved the original and won't be amenable with changes, and the first being the second male lead is a new character being played by rising actor Yoon Kyun Sang. Also joining the cast (very late might I add) is newbie actress Choo Soo Hyun playing the second female lead, a coworker at the same airline as male lead Lee Jin Wook. Those finding her name unfamiliar will recognize her face as being the no-nonsense news PD in Pinocchio, and she also worked with PD Joo in his Gapdong. It's pretty hilarious how many Pinocchio alum PD Joo has managed to bring back for 7000 days LOL.
Ha Ji Won and Lee Jin Wook are playing the same character descriptions as the original TW-drama leads, and so is Choo Soo Hyun as the second female lead that actively pursues the beta male lead, much to the displeasure of his best friend. Yoon Kyun Sang's character is the new one and all I know is that he works at a part time job but his real identity is a chaebol son/piano player. There will also be the ex-boyfriend character of Ha Ji Won's female lead but he'll be played by actor Choi Jung Won, who has a bit of the bad boy aura about him.