The Korean cross-over into Chinese entertainment projects has fully hit the trifecta of movies, dramas, and even variety shows. With Yoon Eun Hye doing the fashion program Muse Dress 2 (The Goddess's New Outfit), that caps a long two years worth of Korean entertainers going on Chinese variety programs as guests, to promote their latest project, or just to keep on expanding their name and face recognition in that huge market. Chinese variety has also been nonstop licensing Korean variety programs for official remakes, with so many I've lost count but the most high profile has been the Chinese version of Running Man called Hurry Up, Brother.
The Chinese version of Running Man actually filmed multiple episodes in Korea, which makes sense to introduce the new version with familiar faces from the Korean Running Man cast. Now popular and long-running Chinese variety show Happy Camp is taking a page from the RM play book and heading over to Korea for a multiple episode arc. The show is doing a Busan special, sending two of the hosts Hito and Wu Xin to Busan for a location shoot. The show has confirmed that two popular young Hallyu stars will be guests on the Busan special – former Happy Camp-er Jung Yong Hwa of CNBlue and actor-model Lee Jong Seok. While Jung Yong Hwa is a Busan boy introducing his hometown, it'll be entertaining to see what Lee Jong Seok brings to the table since he's from Gyeonggi-do up North.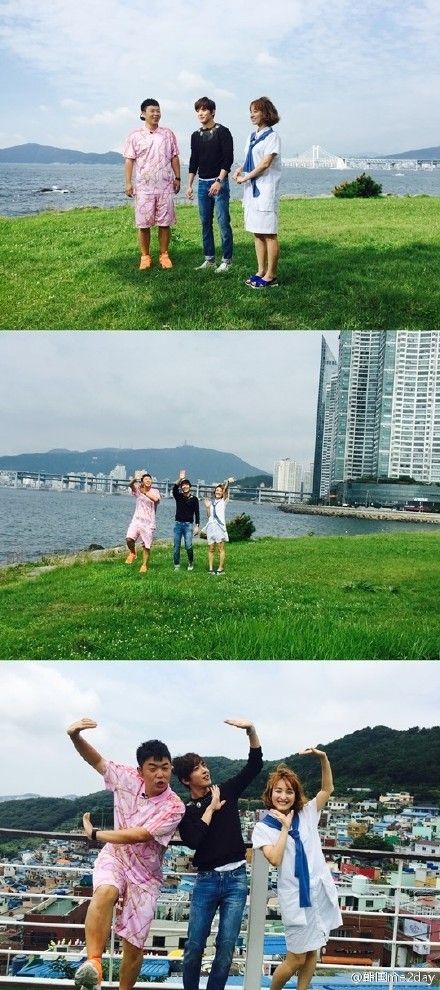 The episodes have already been filmed, with the post topping picture showing Lee Jong Seok with the two Happy Camp hosts, while the pictures above are official stills from Jung Yong Hwa's Busan led expedition. The episodes will air on Hunan TV's Happy Camp next month in September.