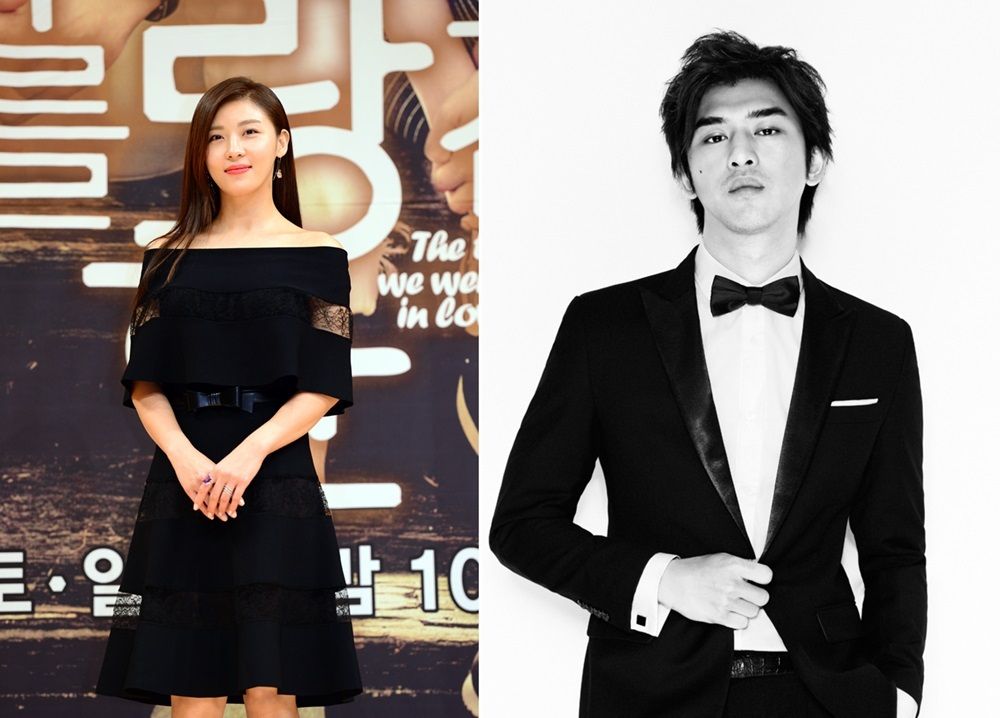 This news is totally an "excuse me but come again?" reaction goldmine, but also may have a secondary benefit of assuaging the disappointed and/or angry feelings of certain drama fans watching a K-drama remake of a popular TW-drama. Korean and Chinese news is off with a bang this Monday with reports that K-actress Ha Ji Won is categorically denying rumors that she's dating Taiwanese actor Bolin Chen, with whom she is starring with in an upcoming C-movie. For those who didn't even hear of the so-called rumors until hearing of this denial, go ahead and have a moment to take it all in.
Yes, Ha Ji Won, who is currently starring as the female lead of The Time I Loved You, the K-remake of TW-drama In Time With You, is denying that she's dating in real life Bolin Chen, who of course is best known as the male lead of In Time With You. The dating rumors have been percolating for a few weeks now and actually didn't materialize out of thin air as some sort of fan fantasy. Bolin recently signed with the same Korean agency as Ha Ji Won for his foray in Korea, while she signed with the same agency in China that reps Bolin for her entry into the Chinese entertainment pool. In addition, Ha Ji Won and Bolin have been spotted posting updates to their respective SNS accounts that are eerily similar in topic and shot selection. Take a look for yourself below.
Sure, Ha Ji Won and Bolin could both love their cats and tend to pose the same way in doing cat selfies. I'll have to defer to the cat lovers out there. They also like glowing planets and shots of the solar system and that could just mean they are enamored of the vast universe beyond our little Earthly existence. And who doesn't love Gustav Klimt, right? Too bad Ha Ji Won is denying the rumors since it would be insane, ridiculous, perfect meta moment if the K-version of Chen You Qing ended up dating the TW-version of Li Da Ren.
C'mon people, it's not like the TW-version of Chen You Qing the married Ariel Lin ever did or will have anything going on with Bolin, but imagining super intense gorgeous Bolin with incredibly awesome and charismatic Ha Ji Won makes me happy as a loon. As of now she's denying it so chalk this one up to either (1) a series of coincidences that are just that, or (2) they are totally dating but won't admit it. If it's the latter then the C-netizens will be happy to snatch a Korean goddess over to the Chinese side after losing Tang Wei and Crystal Liu in rapid succession to the oppas.