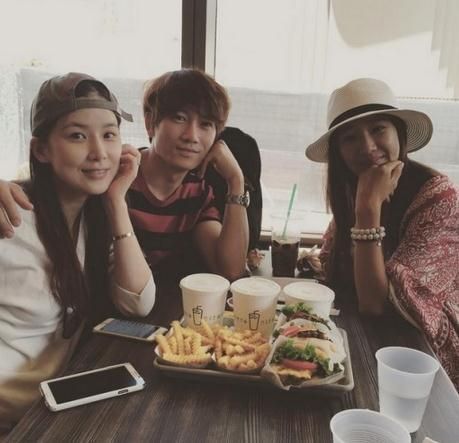 I'd say 2015 has certainly seen a flurry of unexpected star dating rumors and confirmation to rival the banner year of 2013, all we need is one more A-list couple to top it all off. So far this year we have globetrotting lovers Lee Min Ho–Suzy, what language barrier face perfect couple Song Seung Heon–Crystal Liu, a porcelain doll and her big black bull in Fan Bing Bing–Li Chen, most likely really dating Park Shin Hye–Lee Jong Seok, totally dating Shin Mina–Kim Woo Bin, pretty young drama stars Hans Zhang–Na Zha, and the randomness of Lee Dong Gun–Jiyeon of T-ara.
No one knows if any of the new 2015 couples will go the distance so it's nice to check back in a long time couple who did go all the way to share in their still undeniable sweetness. Married acting stars and new parents Ji Sung and Lee Bo Young popped back on the radar this week after a recent picture surfaced on SNS of them having a cafe lunch with a good friend. The pic shows Lee Bo Young make up free and casual, with no visible post-baby weight in sight but plenty of eye bags to go with the new mommy duties. Her hubby Ji Sung looks equally tired but content as he drapes one arm around his wifey and the other to strike a couple pose with her. So sweet!
Compare the picture above with the one snapped earlier this spring of the couple at their baby shower, clearly a lot less energy now that the happy has arrived but with the same happy synergy flowing between them. They always have similar expressions, poses, and tend to lean in to each other in pictures, which body language experts will highlight as undeniable signs of a couple who are still in love and into each other.