Welp, another one bites the dust, and I'm not talking about idols abruptly or inevitably leaving SM Entertainment to pursue so-called other interests. News just broke that K-ent acting-singing star couple Lee Seung Gi and Yoona of SNSD (Im Yoo Na) have officially broken up, or more accurately SM has just officially confirmed the long running rumors that they've broken up. The more widely spread breakup rumors have been around for a few months now, though I first heard it in late 2014 that the two broke up due to the really sad but true relationship killer of being too busy to spend enough time with each other and the romance just sputtered to a halt
Lee Seung Gi and Yoona were one of the high profile Dispatch outed couples from 2014, or more accurately they were outed on December 31, 2013 mere hours before the arrival of the new year. They were snapped by Dispatch on covert late night dates by the Han River and both sides quickly confirmed the relationship. But since then they haven't been in the media at all for their relationship, instead continuing along just fine with their own careers and deftly dodging questions about their romance when asked. I love Seung Gi and started liking Yoona after her last drama so their dating was great news to me, but sadly it's not meant to be.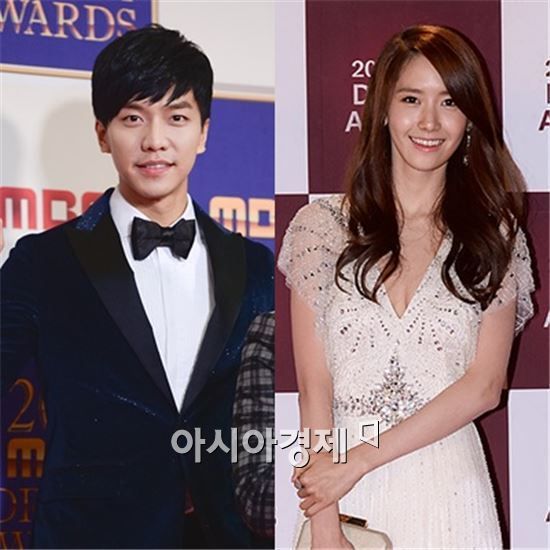 I'm not finding the official reason given for their breakup, that they just didn't spend enough time together to grow that romance, in any way suspect. Both always seemed like they had a good head on their shoulders and were both quite ambitious with their careers, and in the case when a romance isn't prioritized over career is never going to overcome all the other hurdles in life so it's best to part ways on civil terms.
SM is confirming that Seung Gi and Yoona broke up awhile ago, without providing an actual date, but this does make more sense now that Yoona could have spent months in China earlier this year filming the period C-drama God of War with Lin Geng Xin and not have issues with her boyfriend back in Korea missing her. This breakup news officially puts both back on the market, good news for ahjummas dreaming of Seung Gi as their son-in-law, and for all of Yoona's male fans to resume dreaming of a chance with her.