The kids are out and about for the child portion of upcoming MBC drama She Was Pretty (She Was Beautiful), with filming underway for a mid-September premiere. I might caution those viewers who chafe at broad stereotypes of looks to either consider this satire or put any strongly held beliefs in closet during the watch since it's clear the drama will be going with the low hanging fruit in terms of commentary about the features that are considered attractive and unattractive. Child actors Jung Da Bin and Yang Han Yul are playing the child counterparts to leads Hwang Jung Eum and Park Seo Joon, respectively, with their portion of the story critical to the adult portion to follow.
When female lead Hye Jin was young, as played by Jung Da Bin, she's the pretty and popular girl in school, whereas male lead Sung Joon was chubby and had a timid personality when he was young so his only friend is his next door neighbor/classmate Hye Jin. Judging from the description and stills, Hye Jin seems like a pretty and nice girl, rather than someone lording her looks and popularity. That might be a good thing, having a good personality will serve Hye Jin well when she hits puberty and all her pretty looks vanish, per the drama story line, and she grows up into Hwang Jung Eum who will be styled with freckles and frizzy hair. Conversely young Sung Joon grows up into conventionally model handsome Park Seo Joon.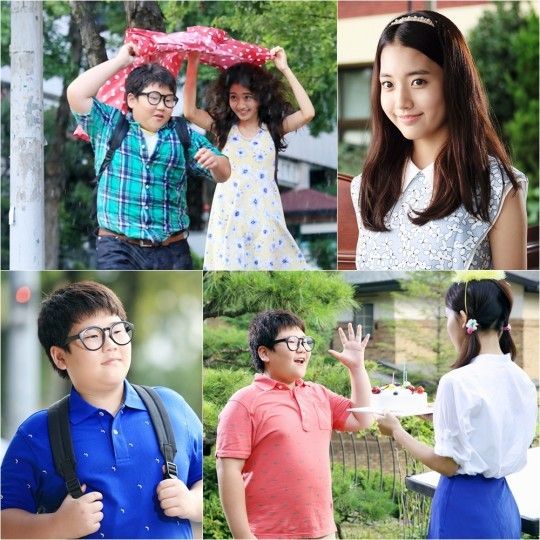 If Yang Han Yul looks familiar, it's because he'll forever be adorable Ding Dong from Best Love (The Greatest Love), though in Korea's looks obsessed entertainment industry his role options are clearly more limited now that he's hit his teen years and still retains his chubby cuteness. Jung Da Bin is racking up quite a resume as a child actress who is growing up beautifully into her teen years, but acting wise she doesn't have fellow child actress Kim So Hyun or Kim Yoo Jung's popularity and name recognition. It's still nice to see first stills from She Was Pretty, and while I know the story is about looks I still pray it will treat the characters and subject matter with respect even if milking it for humor.