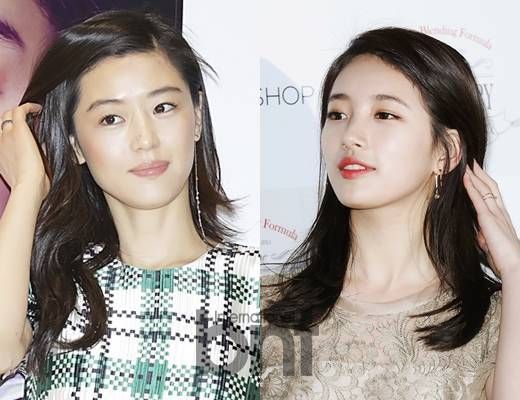 The K-media is taking note of a recent Chinese newspaper article discussing which of the younger generation actresses will be the next Jeon Ji Hyun. Ms. Gianna Jun's combined popularity domestically in Korea and internationally cannot be arguably unparallel, and thanks to You From Another Star got a stunning second wind that any actor or actress bend over backs for. The C-media is curious which of the next-gen K-actresses will hit the same popularity jackpot, not necessarily because Jeon Ji Hyun is on her way down or anything like that, but just mulling over who her successor may be.
The article focuses on six young ladies in particular – Suzy leading the way, Sulli formerly of f(x), Kang Sora, Kim Go Eun, and the three Kim teens Kim Sae Ron, Kim Yoo Jung, and Kim So Hyun. The article discusses breakout hits for each star, such as Suzy for Introduction to Architecture, Kang Sora in Misaeng, or Kim Sae Ron from The Man From Nowhere, and potential upsides in their careers such being a critical darling for acting (Kim Go Eun), fan favorite for looks (Sulli), hardworking ethos (Kang Sora), and childhood star appeal for Kim Yoo Jung and Kim So Hyun.
I'm not going to discount any of the ladies named in the article as having potential to be the next Jeon Ji Hyun, and really that is a good question to consider since it's a high high bar to reach. Park Shin Hye is really building her popularity domestically and internationally at the same time, but I think her fans think she's more popular than she really is at this time. Not saying she's not popular, and she definitely is laying the foundation now that could vault her to Jeon Ji Hyun level one day.
I think it's too early for the the Kim teens to be in consideration, let's talk in five years after they turn twenty, I don't even know why Sulli is currently even included for discussion, and Kang Sora and Kim Go Eun are solid actresses but I'm not feeling the indelible spark that Jeon Ji Hyun has which sets her apart from other top K-actresses like Ha Ji Won and Jeon Do Yeon. In that way, Suzy does have that indescribable "it" thing which underlies her insane levels of popularity, and it's just too bad she hasn't demonstrated the acting chops that Jeon Ji Hyun has to back it up.