Well this is certainly surprising drama casting news, not that I'm going to look a gift cat in the mouth. My baby boy Yoo Seung Ho has finally taken the jump with a drama project after nearly a year since his military service discharge. I can't believe it's been that long already, not that he's wasted any time what with filming sageuk movie The Joseon Magician and doing plenty of CF and entertainment related activities. Yoo Seung Ho will be headlining cable network MBC Every 1's upcoming drama Imaginary Cat (or Imagination Cat)
MBC Every 1 was formerly known as MBC Movies and is a subsidiary under the umbrella of MBC Plus, specializing in variety programming. I've never heard of it until now but clearly branching into dramas is a good way to make it's name heard outside of Korea. Imaginary Cat will be the heartwarming humanistic slice-of-life type drama whereby Yoo Seung Ho interacts with a car. Seriously, that is the synopsis given, that Seung Ho baby boy will share touching stories via his interactions with a cat. His agency confirmed the casting and explained that Yoo Seung Ho has been inundated with drama offers since his discharged and he finally decided to do this one. Hoo boy, it better be something special is all imma saying.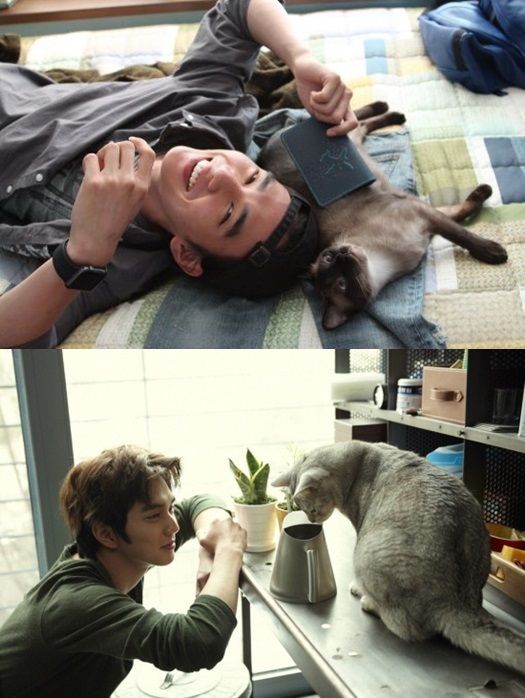 Currently there is no additional information on the drama, such as the scriptwriter or potential leading lady, but I'm wondering if any of that is important when the core audience is basically checking out to see Yoo Seung Ho charm a cat and vice-versa. I mean, who needs a story or leading lady when it's a drama full of scenes just like the stills above. Imaginary Cat will premiere sometime in November on MBC Every 1, which won't be a problem for international viewers to get a hold of this drama airing on a niche cable network.