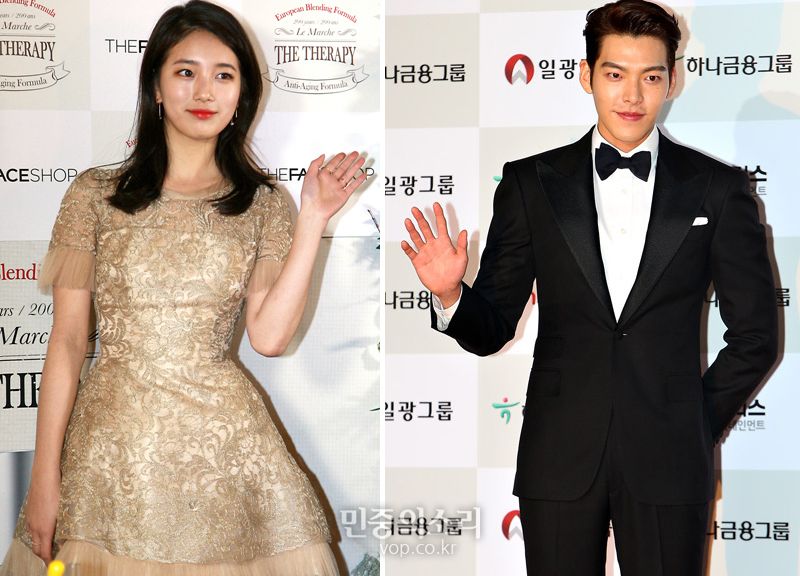 I remain eagerly anticipating Lee Kyung Hee's upcoming KBS drama Arbitrarily Fond, or whatever the final title will be or even if there will be one standard translation of the title. Starring Kim Woo Bin and Suzy, the drama has just confirmed its hot property status on just the two leads alone by reportedly being scooped up by one of China's top online video streaming portals, after a heated bidding war, for a price that just beat the current top sales price held by another KBS drama Producer.
That's an impressive feat since Producer was sold to China at astronomical prices, taking into account this depressed ratings economy, solely on the star power of Kim Soo Hyun in that country. Professor Do Min Joon's popularity in China is no joke. The Chinese media is calling the sales price of Arbitrarily Fond the Kim Woo Bin effect, which has some truth to it since he's been popular there thanks to Heirs and Suzy is well known enough in China but arguably not as much as Kim Woo Bin yet.
Aside from Arbitrarily Fond getting a Chinese buy at top prices, the drama is also going into production earlier than expected. it's scheduled to start filming next month, which dovetails with industry chatter that Descendants of the Sun won't be airing in March of 2016 after all and will get another short delay. If Arbitrarily Fond is starting filming earlier then it makes sense the two dramas will switch around airing dates, with AF landing first in early Spring followed by DotS in late Spring/early Summer. Doesn't matter either way to me, both dramas are basically 1-2 on my most anticipated K-drama short list.