Looks like every major Korean drama screenwriter is coming back with a drama in 2016, and who is more appropriate to cap off the wave than with news that K-drama writing legend Kim Soo Hyun is returning with an SBS weekend drama next Spring. Kim Soo Hyun has been writing dramas since the 1970s, delivering addicting Korean fare for longer than most current drama viewers have been alive. Her dramas in the last decade during the Hallyu era include My Husband's Woman, Mom's Dead Upset, Life is Beautiful, Thousand Days Promise, Childless Comfort, and most recently Thrice Married Woman (The Woman Who Married Three Times).
Thrice was a frustrating drama, not bad but difficult to watch, and garnered more early attention for Kim Soo Hyun wielding her power and nixing leading ladies Han Ga In, Song Ji Hyo, and Kim Sa Rang, before the role went to Lee Ji Ah per Kim Soo Hyun's approval. Kim Soo Hyun's next drama already has one name confirmed so far – actress Nam Gyu Ri will be one of the female leads for Kim Soo Hyun and this will be a reunion as Nam Gyu Ri had a supporting role in Life is Beautiful. Nam Gyu Ri isn't the best actress out there but 49 Days and Cruel City proves that with the right role she is capable of delivering enough to not ruin the production, but even more important is that she's got Kim Soo Hyun's approval which matters most in this case.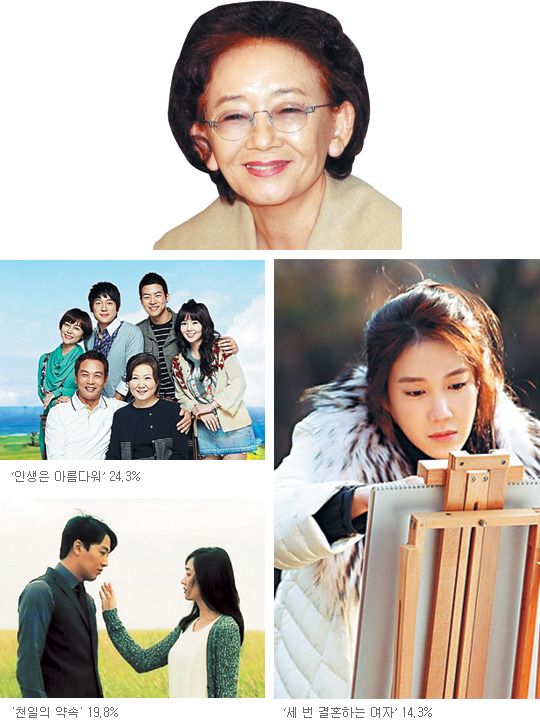 Kim Soo Hyun is reportedly still the highest paid drama screenwriter in Korea, commanding 100 million won per episode, but also delivering the highest work ethic in getting her scripts in always on time and with plenty of direction to the actors and even the PD. For this next drama, her PD will be Son Jung Hyun, the same as the one who directed Thrice Married Woman. and who also directed All About My Romance and Protect the Boss. Kim Soo Hyun's upcoming weekend drama is slated to take after I Have a Lover finishes airing and tentatively has the title Fine, That's What It Is.