I sure hope upcoming jTBC drama Madame Antoine manages to overcome it's odd sounding drama title, and manages to capitalize on a ridiculously good looking lead coupling of Han Ye Seul and Sung Joon. Pretty is subjective and there are different types of good looking, but Han Ye Seul and Sung Joon fall into the same type for me – sleek and sexy with a high fashion edge. That they are doing what sounds like a romance drama to me is promising news, especially since Sung Joon keeps acting but hasn't found a role that is as good as he's capable of being.
He keeps getting overshadowed by other leads, like Eric in Discovery of Romance or Park Hyung Sik in High Society, but I know he's got what it takes to own a drama on his own charisma. It's nice that the duo is getting a head start on drama promotions with this funky and fun pictorial for the December issue of Cosmopolitan Korea. Han Ye Seul pulls off the frizzy hair and dark lips marvelously, and I just want to have a drink with Sung Joon wearing the velvet suit.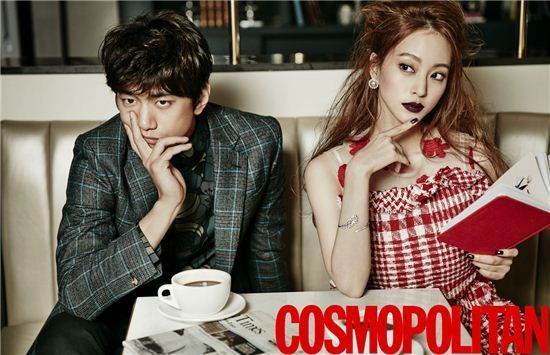 Madame Antoine is a about a fortune teller played by Han Ye Seul, who adopts that moniker as her alter ego, but she doesn't really see the future as much as she's adept at reading people and situations. She ends up crossing paths with a psychotherapist played by Sung Joon who wants to dispel the hopeful beliefs in romantic love. The drama is being written by the Hong sister who did The King 2 Hearts, so for that I'm totally game to check it out, despite her also having written the execrable Marry Him If You Dare.