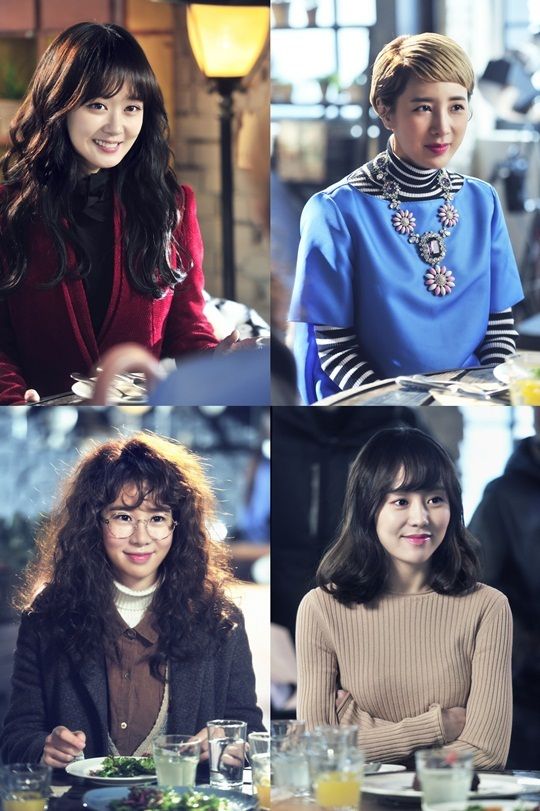 The ladies are ready for their grand debuts for upcoming MBC Wed-Thurs drama One More Happy Ending. The central premise of the story is on mature adults finding love again after divorce, with a few finding love even without being divorced, but the characters will be interaction in core friendship units starting with the four leading ladies playing tight knit besties. Jang Nara, Yoo Da In, Yoo In Na, and Seo In Young were formerly in an idol girl group when they were younger and have continued that close friendship into their current selves far removed from that singing and dancing in sync world.
Jang Nara and Yoo Da In are both divorced and working as business partners at a matchmaking agency helping divorcees find love again. Yoo In Na plays frumpy as a school teacher and Seo In Young in stylish as a fashion maven running an internet shopping site, with neither married and still looking for love. Usually the leading lady gets the fashion uglifying treatment but this time it's supporting lead Yoo In Na that is saddled with a frizzy perm and librarian glasses and get up. I still think she looks adorable though, and actually all the ladies are looking good here.
The drama doesn't premiere until January 20th after Sweet Savage Family wraps up, so there's plenty of time for the drama to keep up the steady stream of pictures and promos. The male leads will be Jung Kyung Ho (who is awesome in rom-coms), Kwon Yul (charming and still underrated), Kim Tae Hoon (who I adore but plays douches way too much), and rising newbie Park Eun Seok (scene stealing in The Village). Hope this means each leading lady gets a smexy hot guy for herself at the end of the drama.