Hoo boy, things are looking progressively more dire on the set of tvN drama Cheese in the Trap, which is actually ending soon but the drama offscreen is threatening to end things on a down note. The drama was super buzzy early on when casting since it's based on a popular webtoon, and the early episodes premiered to great audience feedback as leads Kim Go Eun, Park Hae Jin, and Seo Kang Joon perfectly embodied their characters. I actually watched the early episodes intently but lost interest around episode 8, for no reason related to the quality or acting, just that this particular college age tale failed to fully engage me as it progressed.
I thought the drama was solid with its devoted fans so failed to read up until now on the increasingly frustration with the recent episodes, which bottled up over weeks and spilled over today with male lead Park Hae Jin openly and directly voicing his displeasure over what is a very douchey and unprofessional thing from the production. Apparently his scenes in recent episodes have all been vanished, cut down so significantly that he nets mere minutes per episode, and worse yet the scenes were actually filmed but simply not aired. WTF is going on in cheeseland?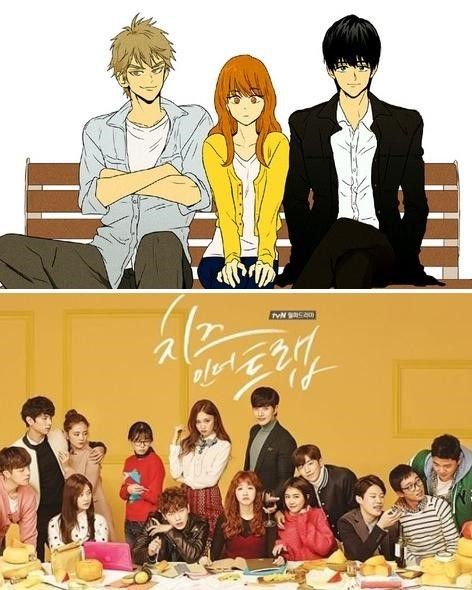 Viewers are voicing their displeasure at male lead Yoo Jung becoming basically a side character as the drama has increased the screen time for second male lead In Ho. It's turned into In Ho's story more than Yoo Jung and female lead Hong Seol's story, and that's so weird I can't even since Cheese in the Trap refers to Yoo Jung and Hong Seol's interesting dynamic. Seo Kang Joon's In Ho is my favorite character in the drama, don't get me wrong, but hearing that he's suddenly the lead in screen time is so much no I can't even. That shit is wrong, if Park Hae Jin signed on as the male lead and the storyboard said he was the male lead then by golly keep it that way!
In Ho can come cuddle with me but there is no reason to shove Seol with him, or spend the majority of the running time on his scenes and backstory, especially at the expense of Park Hae Jin. He gave an interview today directly asking the production to explain what is happening, and I don't blame him even if it's a ballsy thing to do. Reportedly he was also not notified that the entire production was headed on an overseas trip after filming wrapped. He seems like a super dedicated and professional nice guy so I don't know if he got on anyone's bad side but I feel terrible about what happened on this drama to him, not to mention as a viewer it just sucks to see the story derail so spectacularly.