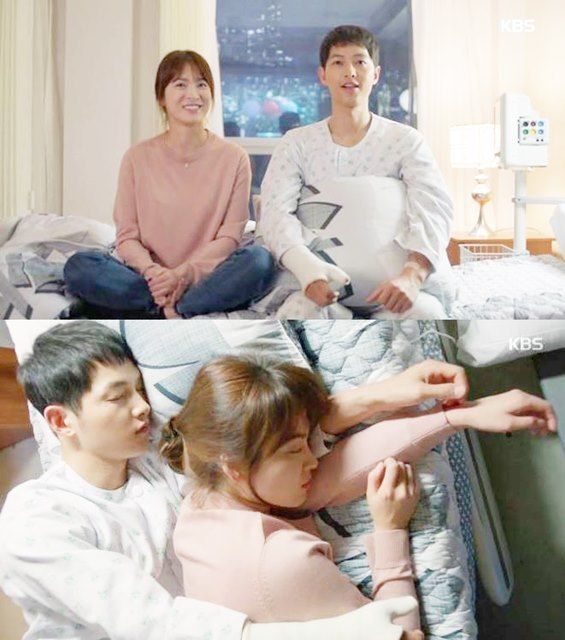 Remember that spoiler from a few weeks back coming out of China from a netizen claiming to have seen the ending to Descendants of the Sun? Since the drama is fully pre-produced, and the complete series submitted to China's state agency for approval to air, it's not out of the realm of possibility for spoilers to leak since clearly people have seen the entire drama. With that said, that first spoiler made everyone wish it wasn't true since it's not exactly the ending most would want, unless one was a glutton for punishment. There were even speculation that the version submitted to China for airing may have a different than the ending for the Korean broadcast. Now there is a new spoiler coming out of Korea from a netizen claiming to be have connections with the production and has watched the ending. The spoilers after the jump as usual for those who don't want to partake.
This new spoiler is very detailed as the netizen gave a detailed write up of what is reportedly the DotS ending, Shi Jin once again goes to the department store and leaves Mo Yeon during a date. He's sent on a protective detail for the South Korean president. In the mission Shi Jin successfully protects the president and takes multiple gunshots in his stead. He's sent to Hae Sung hospital and Mo Yeon is once again trying to save him. But unlike last time when he got shot, this time there is no easy save. Shi Jin manages to tease the crying Mo Yeon as she's trying to save him, telling her that this is her sexiest look as a doctor. He asks her to stop trying to save him and then dies in her arms.
Mo Yeon cannot handle the death of Shi Jin and doesn't want to stay in Korea where all her memories are now sad. She decides to go back to Urk as a member of Doctors Without Borders to work with Daniel and Ye Hwa. She takes the white rock from the island back there, and when she is on that island she gets morning sickness and realizes that she's pregnant with Shi Jin's baby. Their baby is her final gift from Shi Jin to keep their love alive. As for Dae Young and Myung Joo, they get their happy ending and the drama even shows them with a baby for a family of three. The netizen who posted this is claiming this is the real ending and wants people to go back to this post next week as thanks if the final episode does end this way.