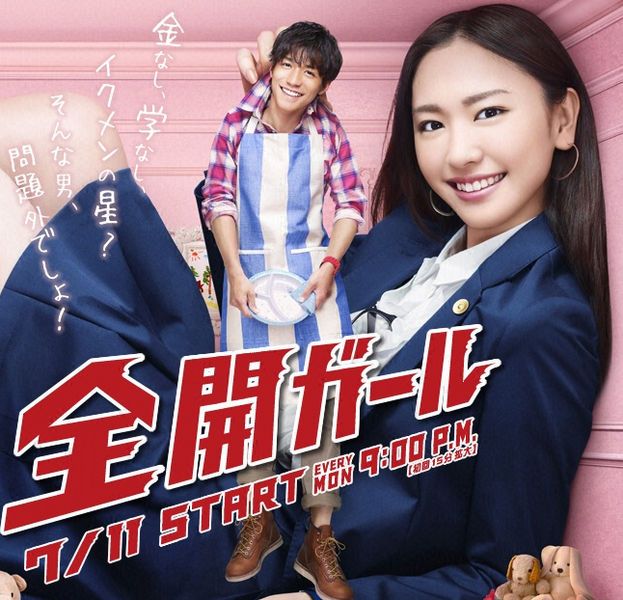 This drama? Is wonderfully cute. I've been indifferent to Aragaki Yui since she gave such a placid performance in Code Blue, so she doesn't exactly call to mind determined, blunt, and cranky young lawyer Ayukawa Wakaba, a gunning for private jet and Manhattan penthouse type of character. Boy was I wrong. Zenkai Girl with Yui and Nishikido Ryo (as yummy and adorable as I've ever seen him) is a win right off the bat.
It's not completely addicting like my other Summer J-dorama crack Ouran High School Host Club, but it's charming and delightful in its own way. This drama wouldn't work so well without the one-two sucker punch of a mini-version of the Yui-Ryo characters OTP. Get ready to squeal like stuck pigs over Hinata, the five-going-on-twenty-five little girl Wakaba is hired to baby sit as prerequisite to getting her dream law firm job, and Emitaro, the son of Shota (played by Ryo), the dreamboat of little Hinata's heart. So grab your plushiest stuffed animal and get ready for a girl who's going to get where she wants to go, no kids or hunk is going to stop her.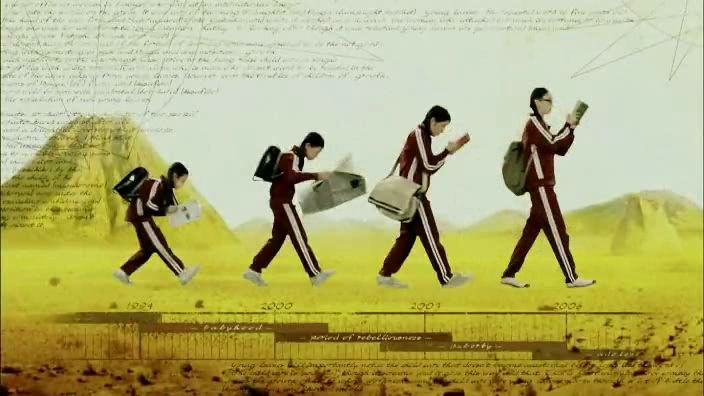 Meet Wakaba. People live their lives, she just studies. And studies. And studies. Because only armed with a top-notch education and academic pedigree can she achieve her lifelong dreams.
She's going to be a bengoshi, yo! That's lawyer to you non-Nihongo speaking folks. Which is how Wakaba talks, like everyone possess her extensive vocabulary and legal knowledge and she hasn't the time to explain.
Why lawyer of all professions? Because it's highly selective and guaranteed lucrative. She doesn't want to help the poor or needy on the wrong side of the law. She just wants so much dough she can hand select her greasy European hottie, have her own private jet (this very important to Wakaba), and a penthouse apartment in Manhattan.
Oops, too bad at the opening gala party for her new job, the firm goes under. What's Wakaba to do? Easy. Dart out of the door and start calling every major firm in Tokyo and lining up interviews. She did graduate top of her class and passed her exam with the highest score. Life gives her lemons? Wakaba says "I don't acknowledge the existence of lemons!"
This is our OTP, who meet cute in a subway when he spills his bag containing random breast feeding gear and she treats him like a pervert deviant criminal. Wakaba must be blind. Does that face even look like anything other than the world's sweetest cutest single dad?
Wakaba gets hired at another firm, and immediately scopes out the male lawyer candidates to join her sprint towards wealth and luxury. Most guys get an X-nay, but one bachelor lawyer in the office looks promising. Wakaba immediately imagines this.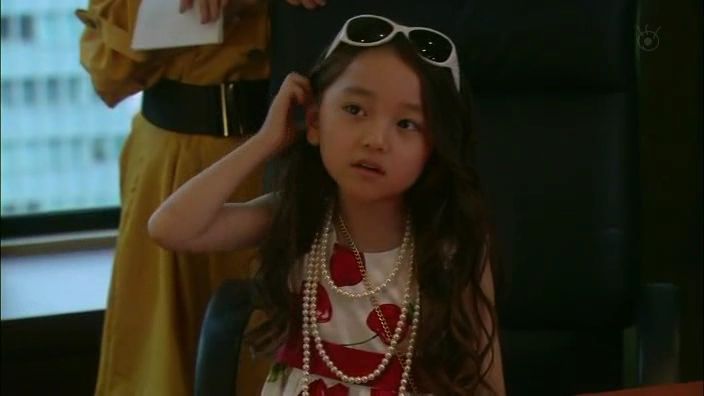 Wakaba finds out her new job has a catch. She has to babysit HBIC's five-year old princess Hinata for three months. If she lasts that long, then the firm will make her a lawyer. What does Hinata think? She give her 2 days max.
Hinata doesn't need to learn Wakaba's name. She's not going to be around for long anyways.
The two sets of OTP meet outside the preschool. In case it's not obvious, Hinata lurves Emitaro, Shota's equally doofy son.
Please go make a happy family now.
Wakaba has work to do, so Shota gladly offers to watch Hinata at his place of employment along with other kids. Turns out he's a chef at a tiny pub restaurant. Shota = the opposite of Wakaba's dream guy. Clearly they are going to be OTP forever and ever and find utter happiness together. I heartily approve. Let the man overflowing with kindness and warmth melt the prickly icicle that is Wakaba.
Wakaba can't change a diaper? Pfft, let Hinata show her the basics. Complete with a hair toss after she's done. Hinata – already HBIC here.
Shota's single daddy friends want to pimp Shota out. Wakaba gives them the hand. The man she wants is rich, has a powerful job, and hates children. Oops, I think it's three strikes for Shota.
Shota runs into Wakaba at the playground where she's observing the kids to learn how they behave. She's already created a full dossier on Hinata and children's education, complete with post-it notes and extensive research. Shota wonders why she bothers, since she's only going to nanny for 3 months. Wakaba schools him on her mantra – anything she does, she does it all the way. She gives it her all, and there is no possibility or room for failure in her vocabulary. Shota is impressed, and I think this is where his heart thumps an extra beat for go-getter Wakaba.
Peanut-allergic Hinata kisses Emitaro and goes into shock. Shota apologizes to Hinata's mom even though technically his son didn't do anything wrong. Later Wakaba schools him – why is he so deferential, kind, and apologetic to everyone? Because he's just a really decent guy who hates conflict and prefers his laissez-faire lifestyle?
Poor Hinata. All she wants is some motherly love and attention.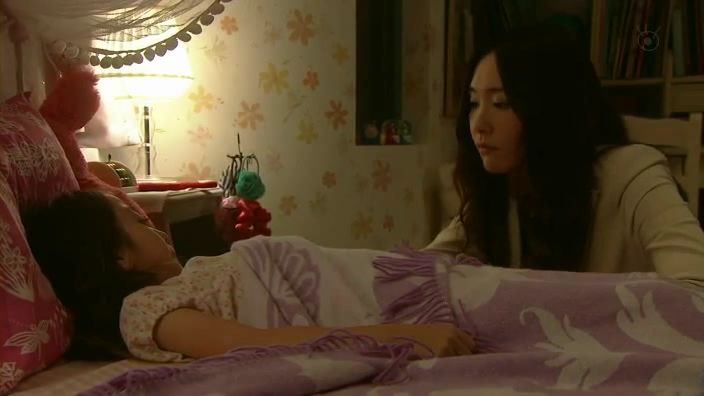 Wakaba explains the birds and the bees to Hinata, who thought kissing Emitaro was the way to make a baby. She just wants someone to love and be loved. If she can't get it, she'll make it.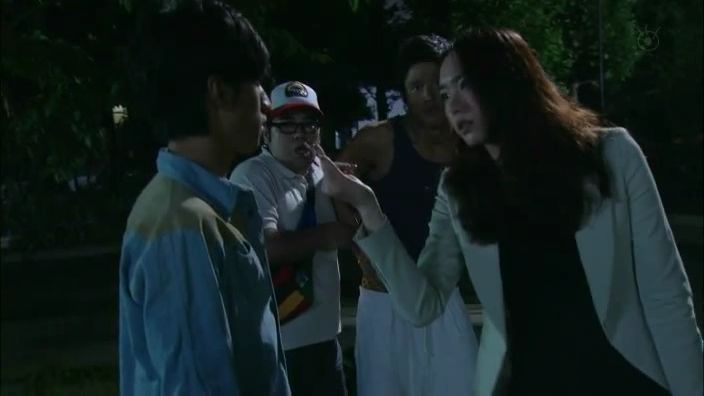 HBIC fires Wakaba for dereliction of duty. Wakaba, who never drinks, get wasted and runs into Shota and his boys. She bitches him out for explaining to Emitaro that kissing could make babies, which the boy then passed on the Hinata.
Kissing is nothing special, Wakaba asserts. The guys all disagree – many wonderful things all begin with a kiss. Wakaba refutes that romantic drivel. And she'll prove it. She'll prove that a kiss can be just two lips pressed together. Nothing more. She grabs Shota in for a demonstration. And we have achieved kissage at the end of episode 1. This J-dorama rocks!
Zenkai Girl is just such an easy drama to watch, with bits and pieces of story and characters integrated to create an absorbing storyboard. I like both the adult interactions and the kids stories. But above all else, I can sense that this drama has a lovely message to share. I love Wakaba and Shota's diametrically opposite characters, and Gakki and Ryo bring such intensity and warmth to their performances that their chemistry is almost instantaneously perfect. I think this will be a great drama to marathon, so I'm tabling it for now, but would highly recommend as a great Summer treat to anyone looking for a cute but adult rom-com.