European couture may going international in more ways than simply selling their wares around the world. Miu Miu selected arguably two of China's top young actresses to be the face of its Winter 2006 ad campaign, Zhou Xun and Dong Jie (Angel Dong). I like Miu Miu's eclectic style more than Prada's penchant for linear fashion ensembles, so I'm beyond thrilled the line chose two of my all-time favorite C-actresses to rep their clothes.
Funny enough, I came to love Zhou Xun and Dong Jie both through one man, the smoldering hot C-actor Chen Kun, since Dong Jie rocketed to stardom with him in the drama Story of a Noble Family (insanely addicting period piece, with Crystal's Liu's best performance ever because she played the spoiled bitchy second lead), and Zhou Xun melted the screen with Chen Kun in the C-movie Painted Skin. The Miu Miu ads are typical edgy saturated color auteur shots, but I'm just giddy because my two girls get some worldwide exposure nonetheless.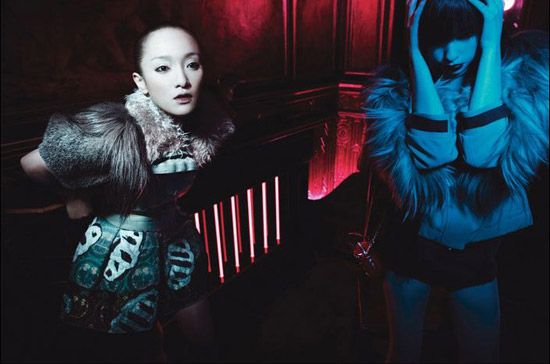 The Miu Miu ads don't show the ladies off to their advantage. Both of them are stunningly beautiful. Zhou Xun is called China's pixie, and she is the C-equivalent of Im Soo Jung. While Dong Jie has the sweetest smile in all of China, and reminds me of a more delicate version of Nam Sang Mi.