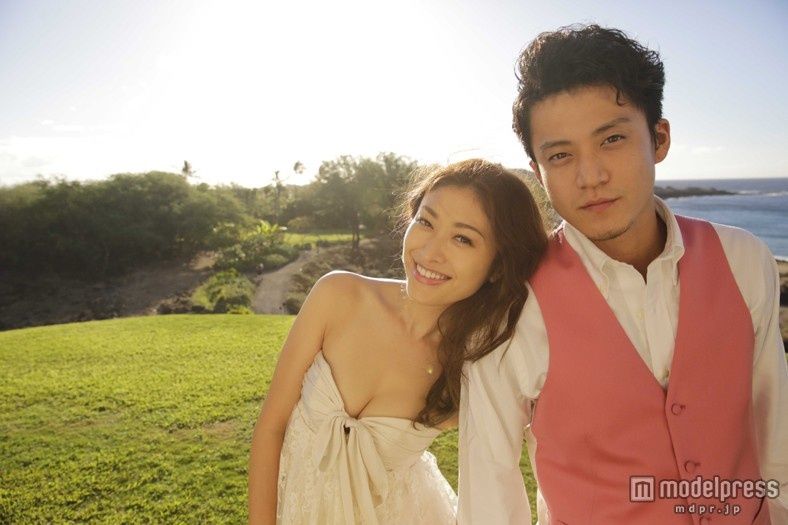 *thud* That, my friends, is the sound of a million hearts sinking like a rock today. Much as it's been impossible to deny that Oguri Shun and Yamada Yu have been married since March of 2011 when she held a news conference in Tokyo revealing that they officially registered their marriage, there have been no photographic evidence to cement this reality. That's all changed today when official pictures have been released of the couple holding a wedding ceremony this past weekend on the gorgeous Hawaiian island of Lan'ai at the Four Seasons hotel. This will be the third "wedding" for the couple, the first being when they registered the marriage officially, next came a friends and family ceremony in Yu's hometown of Okinawa, and finally this ceremony in Hawaii attended by around 100 of their closest friends and family. MCing the wedding were their friends the comedy tuo Tunnels. Yamadu Yu wore a strapless princess gown by Ian Stuart, while Shun went with a casual look of white shirt with a pink vest. Considering this was a Hawaiian beach wedding, I'd say he was just right while she was the overdressed one, though she looked utterly breathtaking. It doesn't hurt to be wearing a mile-wide smile while standing next to her hubby Oguri Shun.
The couple released the following statement after the wedding "It's the beginning of a new year and we received a lot of congratulations from our close friends and senpai for our marriage. From here on, we would like to continue to approach our work sincerely while cherishing a family." Awwwwww, I would like if you two approached babymaking sincerely and pop the world out a bundle of perfection from the co-mingling of the genes of utter gloriousness. The reason the couple picked Hawaii was because they have been visiting often since they started dating back in 2008 and both love the islands so much they thought it would be perfect to have their wedding there. I wholeheartedly agree! Hawaii is the most wonderful place to have a destination wedding, it's fun for the bride and groom and for all their guests. I would give a kidney to have been there watching this wedding. Perhaps its not such a good idea, as I would alternate between sobbing incoherently and trying to rush the altar to liberate the groom. Heh. All kidding aside, totally happy for the beautiful couple and thank god they finally released pictures otherwise this might become some sort of urban legend that Shun is off the market.
Only Oguri Shun can make a salmon-colored vest/pants combo not look hideous and instead rather apropos for the occasion.