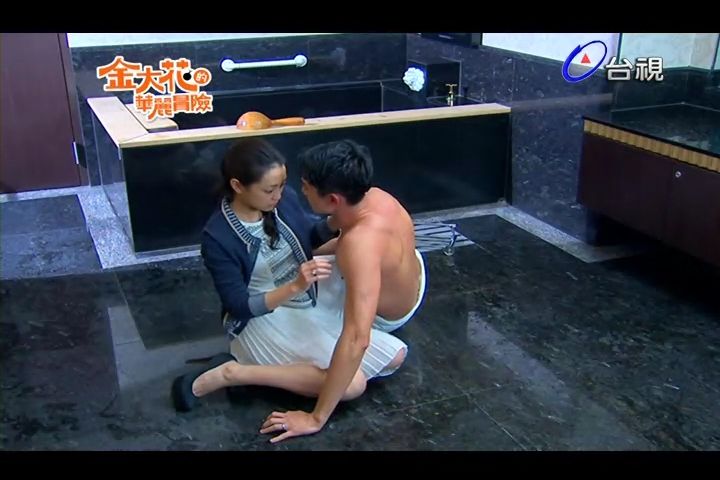 It can either be a positive or negative following along with a live-filmed drama, since behind-the-scenes stuff can be distracting or entertaining depending on the in-and-outs of the production. I bet you donuts to dollars SETTV is all over the map with respect to King Flower. It knows about the overwhelming fan preference for Terry, so it's working overtime to shove douchbag of the year Lin Guan Jun down out throats. But it's attempt at whitewashing Guan Jun is backfiring spectacularly because everything that Guan Jun has being doing recently only rubs viewers even more the wrong way. Talk about shooting yourself in the foot. It also hurts that James Wen is phoning in his performance so much I half expect him to act out a scene with his cell phone in hand waiting for the call that his expectant girlfriend just went into labor (congrats on impending daddyhood, I hereby give you early paternity leave now and you can leave the drama if you wish). In the end it really is all about Chris Wu as Terry, doing the biggest drama stealing performance since…..I can't recall it ever being this lopsided. KF hasn't released any BTS videos after an episode airs for a few weeks now, but finally there is a super duper so awesome I cried tears from the hilarity and cuteness BTS video of Chris and Nikki Hsieh filming the shower/bathroom scene in episode 14. A few things popped up immediately – the director (a woman – yay for more female directors) clearly has a giant crush on Chris (she kept pawing him to "show" Nikki how to fall on top of him properly, LOL), and Nikki blushes around Chris which is HOMG the cutest thing ever watching them goof around acting together! Chris is a total dork in real life so its incredible to watch him switch on the intensity in a heartbeat, but this BTS video also shows us how totally unromantic a drama filming is which makes it even more amazing to watch actors make us believe in the love and attraction onscreen when its all so staged.
BTS of the shower scene:
So a few hilarious moments I'll recap:
1. The director commented on Chris' youthful naked bod, and then realized the camera was on her so she ordered that moment to be cut.
2. Poor Chris had to keep getting himself wet to look like he just got out of the shower. Even Nikki was liked "man, that's rough" when the crew sprayed water as he was laying on the ground.
3. The scene where Da Hua tries to touch the bar with her eyes closed had me dying of laughter, the way Nikki kept missing Chris, and then insisted that he needed to move where her hand was. Chris was like "why should Terry intentionally move so you can grope me?" LOL.
4. Nikki has to slap Chris on the arm and she really went to town. Poor guy's arm was all red afterwards. And then when Nikki had to film the falling scene Chris went "Ooops, too late, oh well, I guess she'll just have to fall." Ha, he can be so evil.