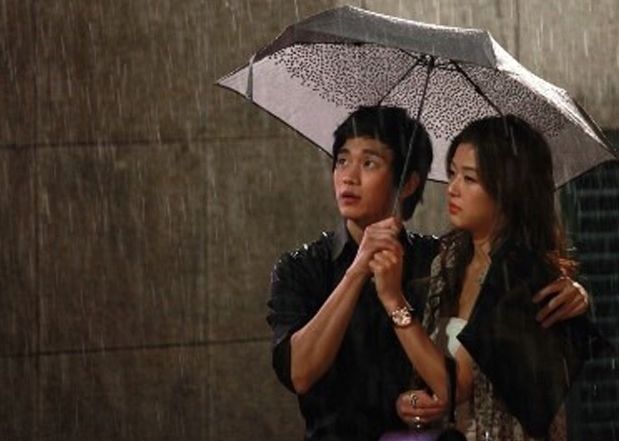 FINALLY! I know it's way too early to be talking about the year-end SBS drama Man From the Stars, what with its predecessor drama Heirs or The Inheritors not even premiering yet. But the too brief initial synopsis about an alien who has lived four hundred years in Korea and falls for a top actress in modern times just isn't enough grist for me. I like to mull over and ponder dramas with lots of potential, and this one has a relatively fresh storyboard and the repeat pairing of Kim Soo Hyun and Jeon Ji Hyun. While romance was not the central plot of Thieves, they definitely exhibited chemistry of both the sexual and noona-dongsaeng sweet variety. It worked both ways is what I'm sayin'. Now all we need an interesting and well-developed story plus some effective directing and I'd say this one is a potential keeper. The talent behind the scenes has a track record of quality, the PD directed Tree with Deep Roots and Painter of the Wind, while the screenwriter did Queen of Housewives and Queen of Reversals. The former's works are exceptionally lovely and poetic, while the latter writes with the balance of humor and humanity. Now the unconfirmed spoilers are starting to drop and my interest keeps going up. Here's a bit more detailed synopsis: Kim Soo Hyun plays Do Min Joon, an alien who landed in Joseon and has lived on Earth for the last 400 years and is currently a university professor, while Jeon Ji Hyun is Chun Song Yi, a top actress and grad student.
They have a fateful meeting and end up living together for whatever reason, and the drama is being billed as a sweet romantic comedy stemming from their romance growing while living together. HOMG, this is a cohabitation drama! I love those! When done right it can be soooooo awesome and funny and lighthearted. Nothing realistic, of course, but a drama that doesn't require lots of ridiculous plot shenanigans to generate interaction between the leads. Itazura na Kiss, turned into dramas It Started with a Kiss and Playful Kiss, is a well known cohabitation drama that might have been low on the angst and substantive plot but wonderfully heartwarming with the day-to-day cuteness. For some reason I shrug at the alien bit, but the professor-student part got me concerned initially until I read that she's 27 years old so clearly way past the first blush of adulthood and we're not talking inappropriate conduct. He's obviously way way older than 27 years old, and I think it's cute the baby-faced Kim Soo Hyun will be playing a centuries old alien when he looks 16 years old. The latest spoilers also add another layer of excitement because a detailed character chart has been cobbled together by an insider and the love lines look nice and clean – the OTP love each other and there are no second leads who stand a chance to get between them. I reckon that makes the most sense, what with him being a freaking ALIEN and all. I think she'll have more things to worry about than the simple "Do I like him?" confusion.
I'll just translate a few highlights.
Kim Soo Hyun is Do Min Joon (age unknown), currently a university professor. Jeon Ji Hyun is Chun Song Yi (27 tears old), top star and graduate student. She'll have a younger brother Chun Yoon Jae (18 years old) and is in high school. The second male lead is 29 years old and is Song Yi's fiancee, he loves her but she has no feelings for him and could care less about him. The second female lead is also 27 years old and is radio broadcaster as well as a classmate of Song Yi, she likes Min Joon and is always resentful and jealous of Song Yi. Min Joon has an much older friend who is a lawyer and knows the truth about him and has been helping him manufacture his identity. There will be a 31 year old prosecutor who starts to suspect Min Joon isn't who he says he is, and starts to investigate him. So that's all the material characters in this drama, which starts filming in mid-October for an early December premiere. I can't wait!