Did anyone think I would let Valentine's Day pass without a post about my darling Geun-Geuns? Not bloody likely. All I know is that someone scheduled back-to-back performances in Japan intercut with one day back in Korea to attend a Valentine's Day party? In case anyone thinks I'm Captain of a loony brigade, let these pictures be proof positive that I am not transferring drama love onto the actors who played the OTP, or conjuring up non-existent real life chemistry.
I do confess that I have no proof that the Geuns are dating, nor anything other than hope that they will one day get together publicly. But what I have is an official KBS video that captures nothing less than a couple who are really really close attending an award's show together. As a Valentine's Day tribute, nothing is more fitting than undeniable screencaps from the 2010 KBS Drama Awards that show how much Moon Geun Young and Jang Geun Seok really enjoy each other's company.
Arriving for the award's show (and a pre-wedding party, hee hee).
Who is our lovely Ms. Moon looking at in the audience?
Who is sitting front and center of the stage waiting for his co-star to arrive?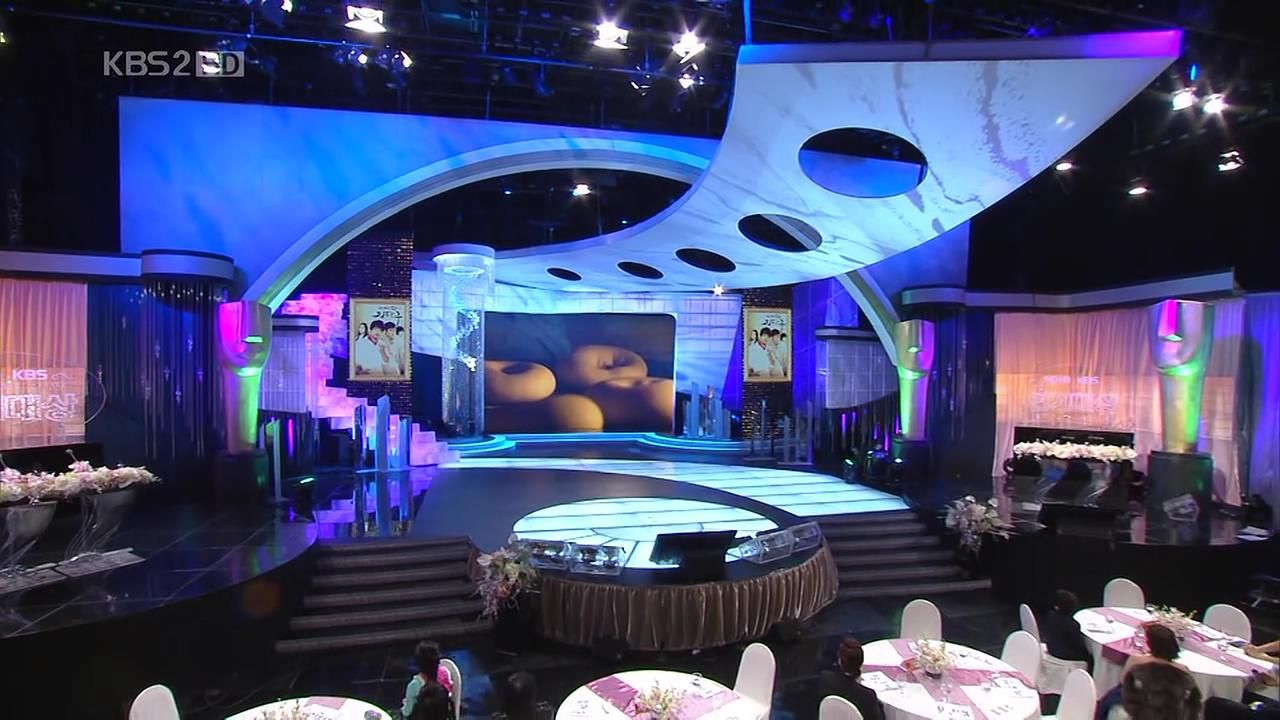 Yup, Moon Geun Young is either staring wistfully at Jang Geun Seok, or she is thinking that she wants that flower centerpiece for her house.
The award ceremony starts, and our Geun Geuns are already sitting in alignment.
They get called up for the couple's award, and Mu Gyul waits for his Mae Ri.
Both seem incredibly shy, with an embarrassed aura at being onstage as a couple in front of everyone.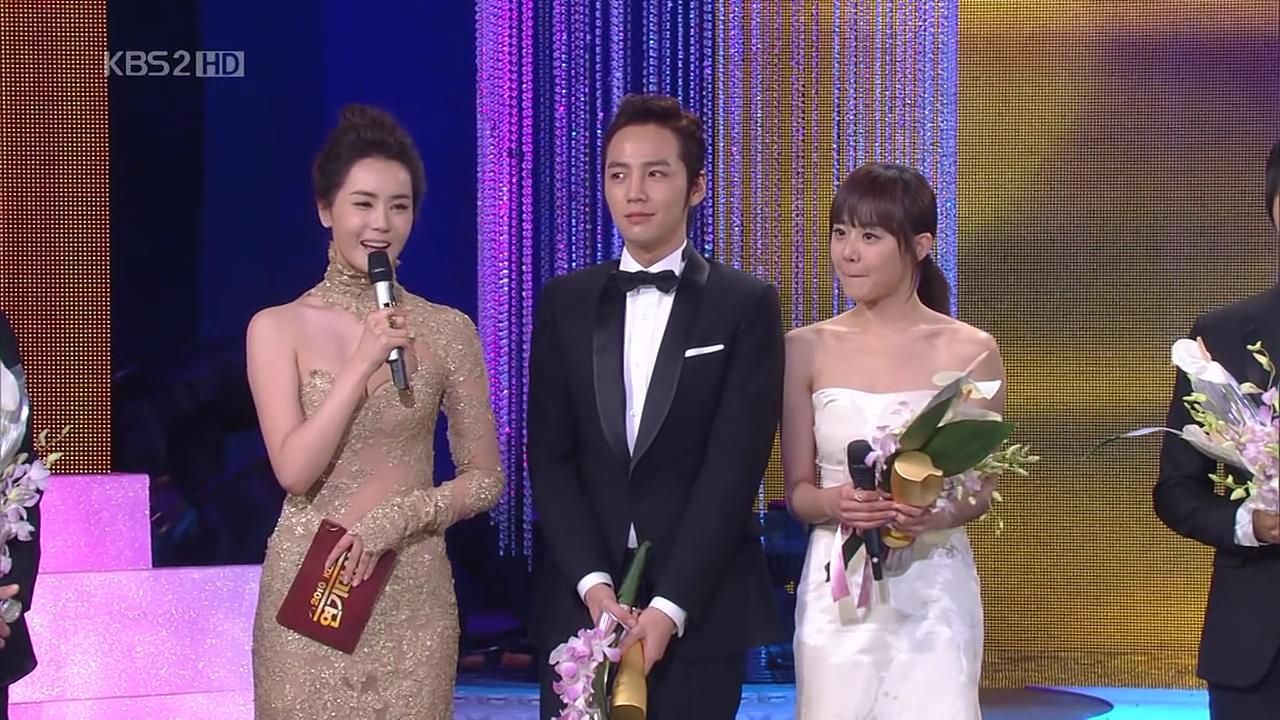 That's quite a lot of hand touching overlap when passing the mic, kids!
Geun Young is asked to do her worm wiggle dance, and Seok looks totally giggly at the prospect of seeing it, and afterwards he's got this giant grin on his face.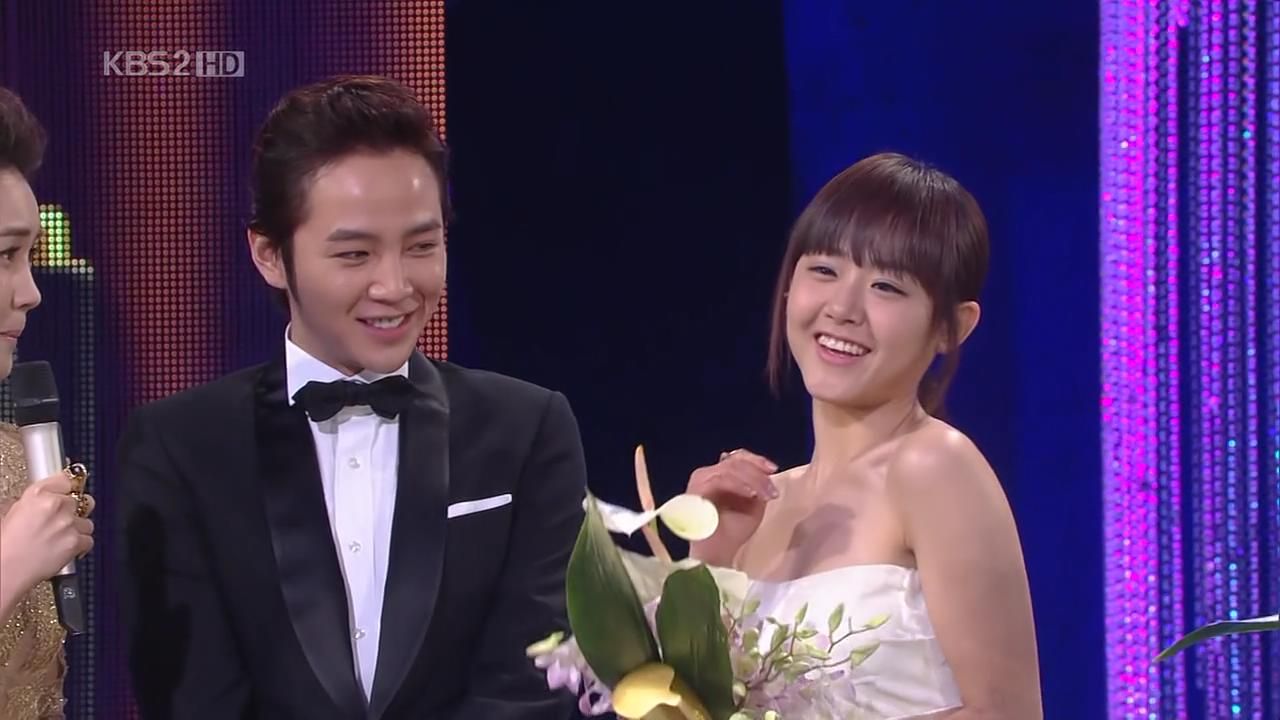 Now Seok is being asked to sing a line from the M3 OST, and look at Geun Young cracking up at the prospect.
Did their chairs get even closer? Why yes it did!
Seok turns to talk to Geun Young, and then he just leans right into her ear and goes ahead and whispers it. If I were sitting at the same table as these two, I'd tell them to go make it legal.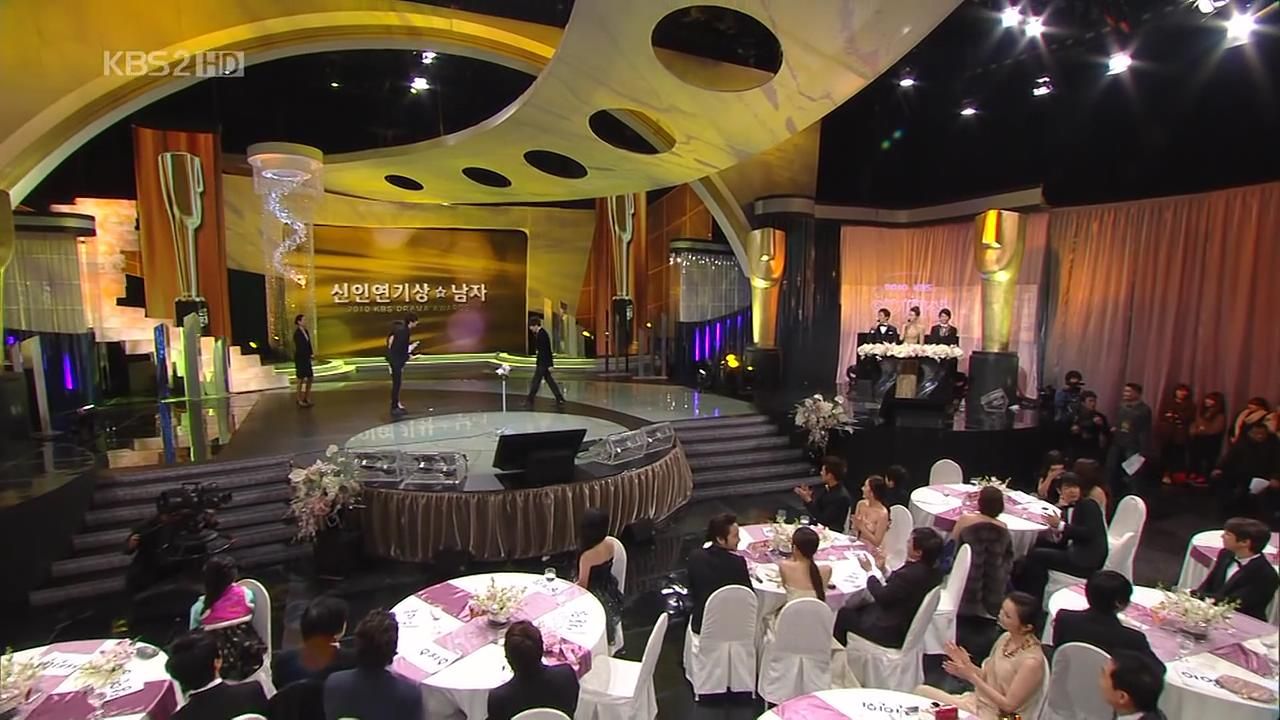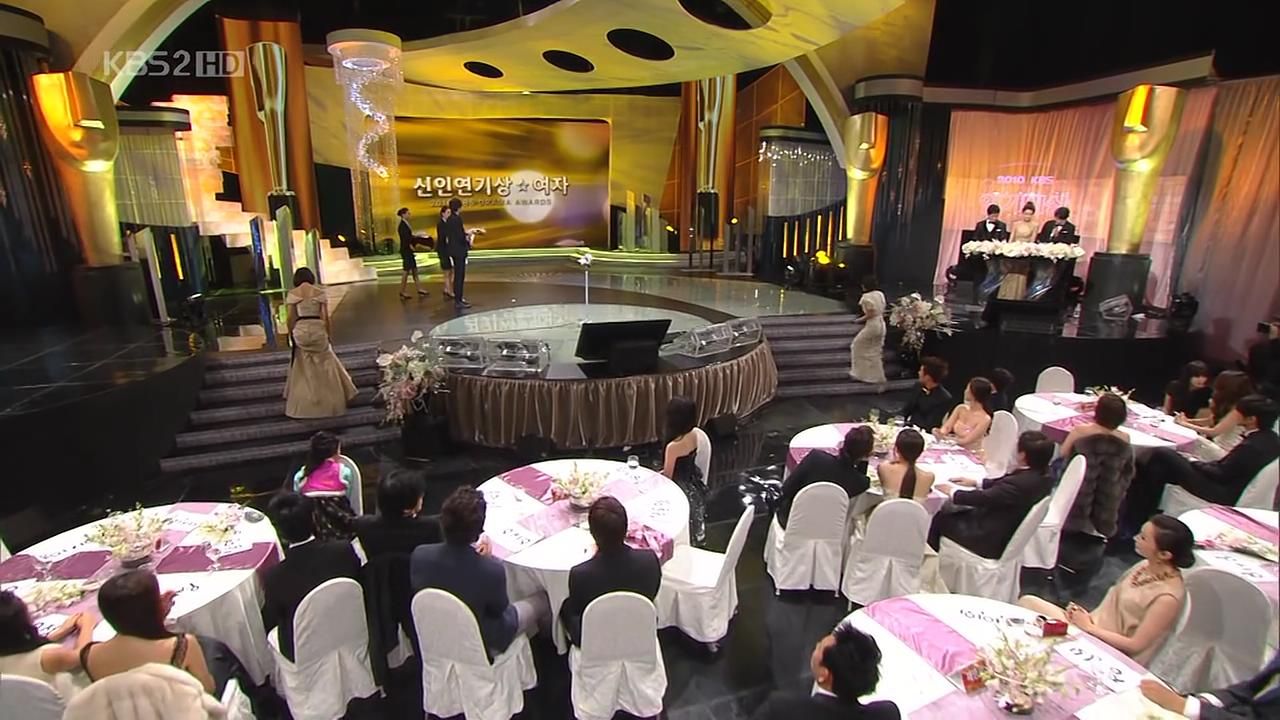 Just contrast how close the Geun-Geuns were sitting with each other, and look across the table at how respectably distanced the Park-Parks were from each other (Min Young and Yoochun).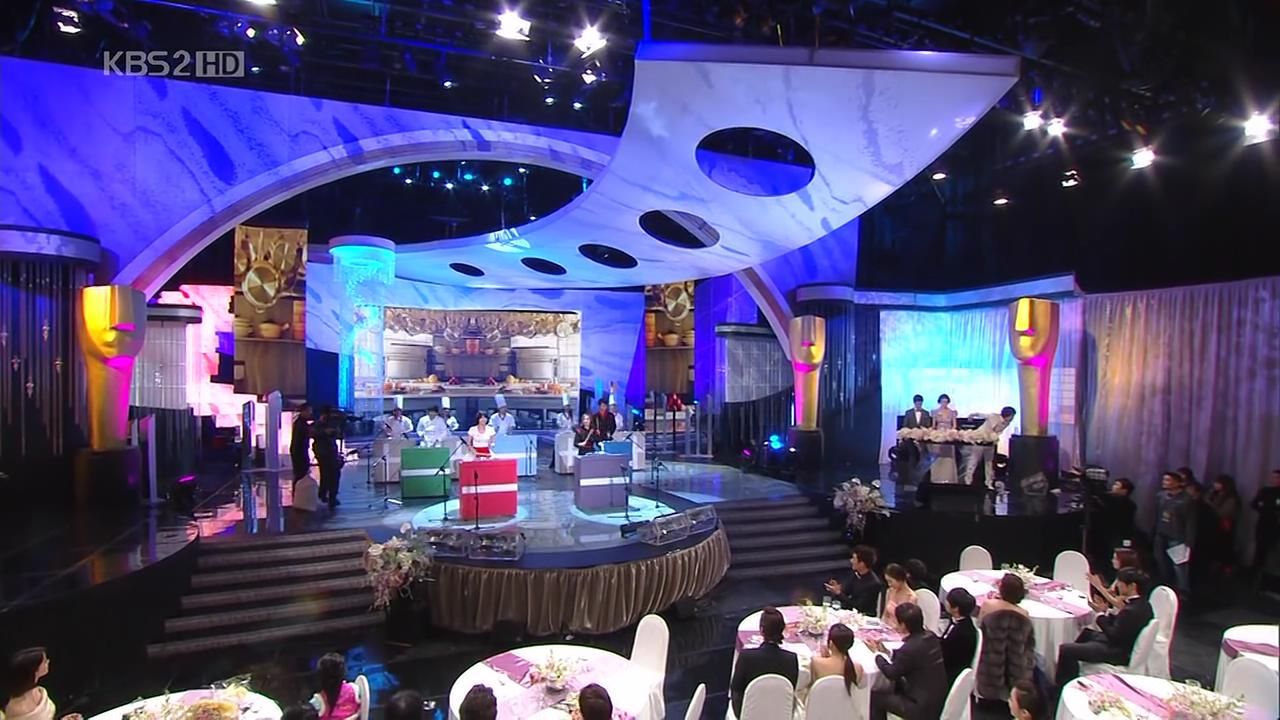 They even clap in tandem, with the same happy grins.
Geun Young stands up to receive an award, and Seok says something to her. Look at how she touches his shoulder in acknowledgment before she leaves to accept her award.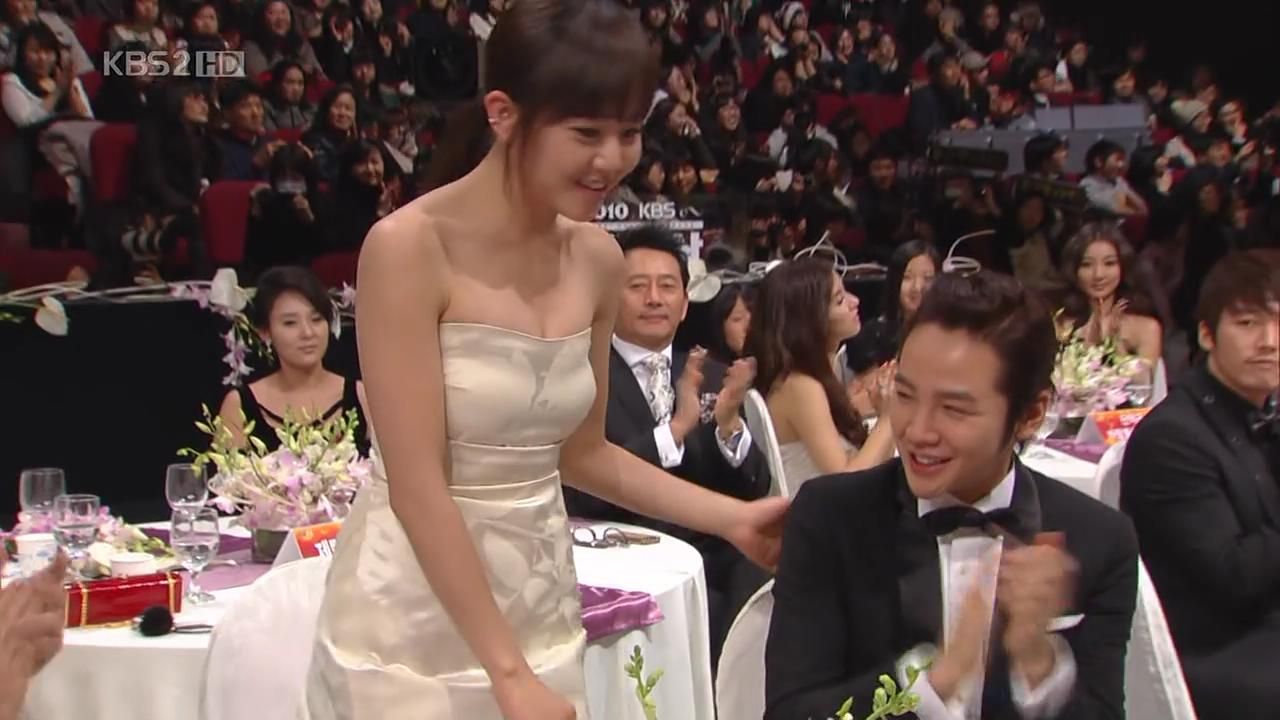 Geun Young gives her acceptance speech while her OTP stares at her with love in his eyes. Yup, I've given up being impartial. NO ONE stares at a professional colleague with that kind of look unless there are some personal feelings involved, IMHO.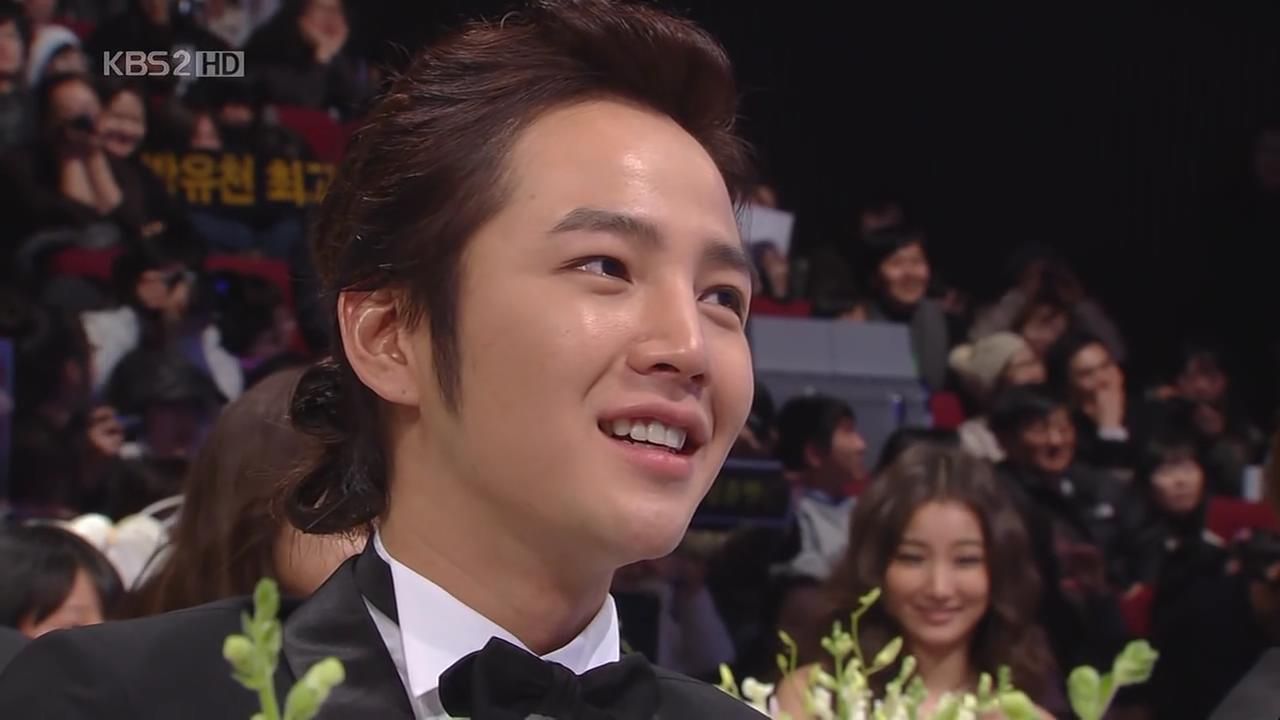 Seok claps for his girl, and then turns to share the joy with her CU on-screen daddy-in-law Kim Gab Soo.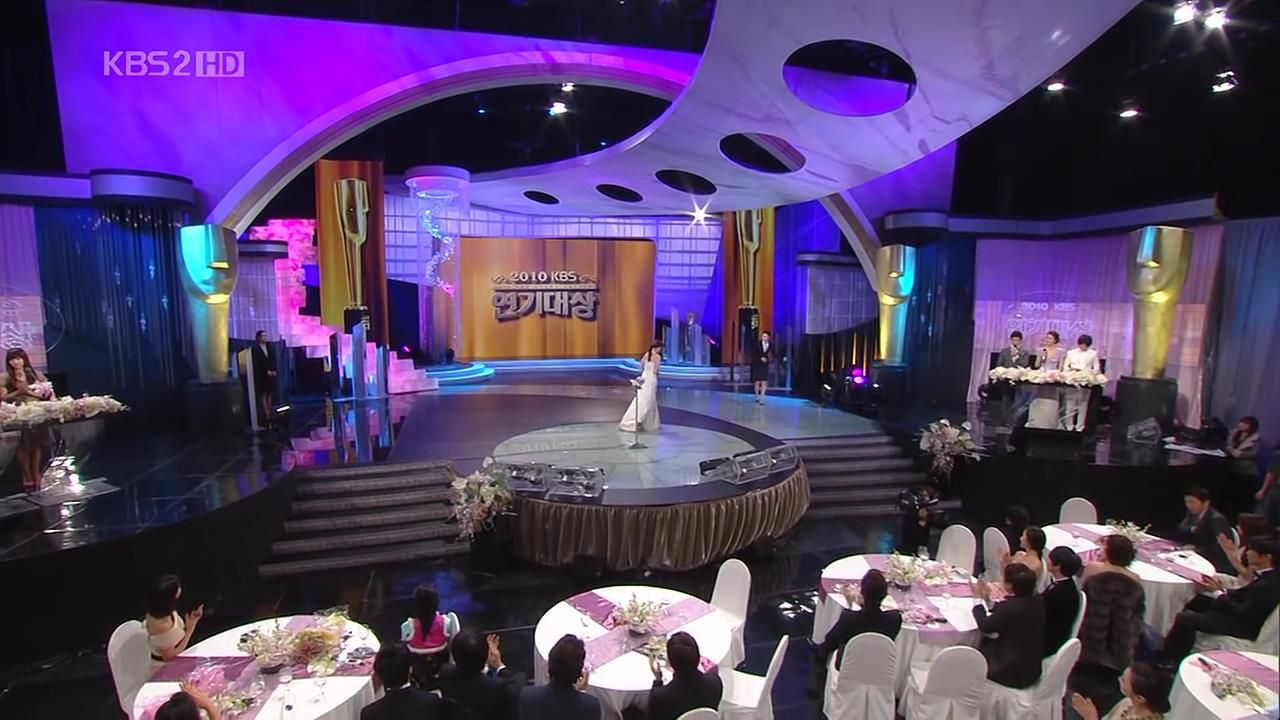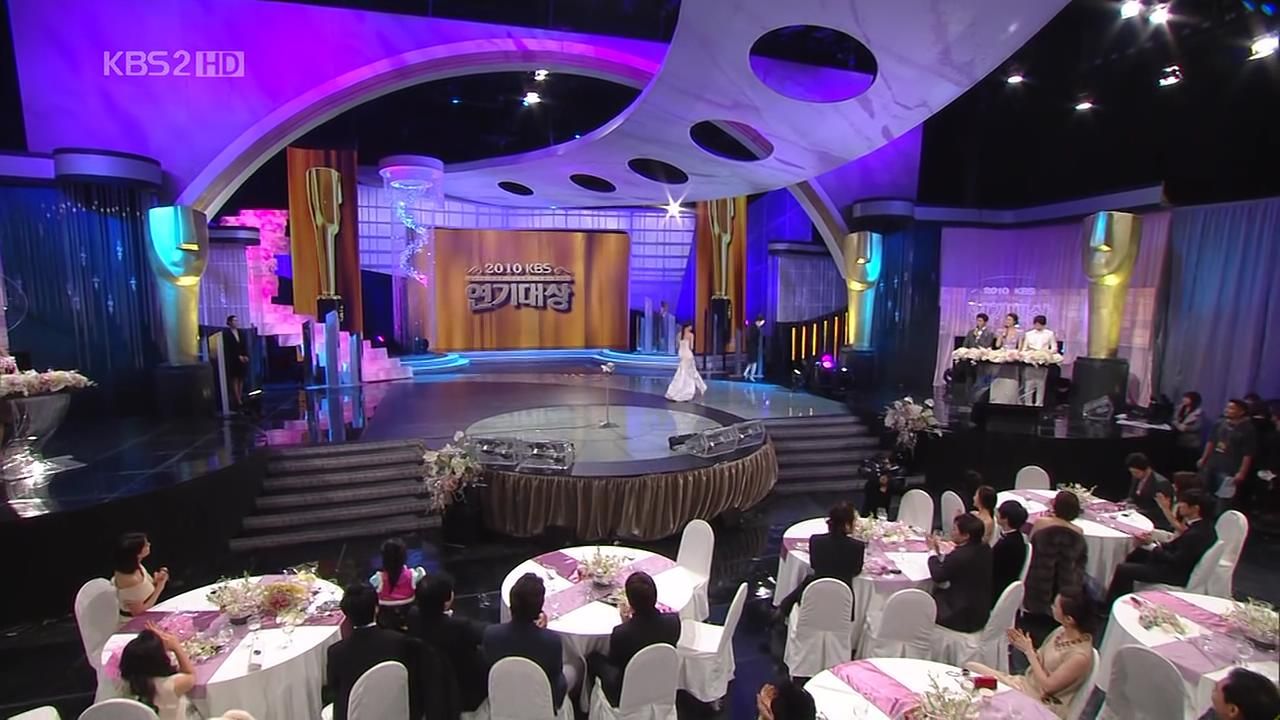 Seok gets called for the Netizens Award and he's all like WTH to Geun Young.
It's Seok's turn at the winner's podium, and Geun Young's turn to look on with a wistful and proud expression of her man.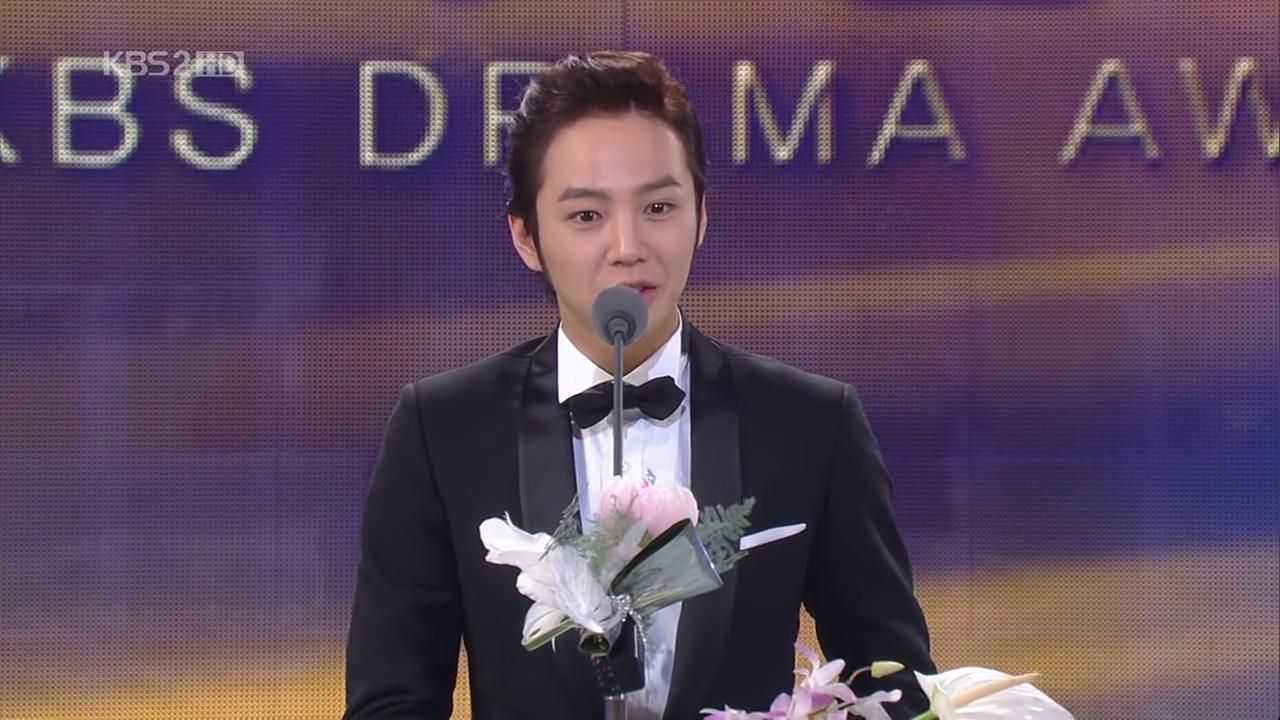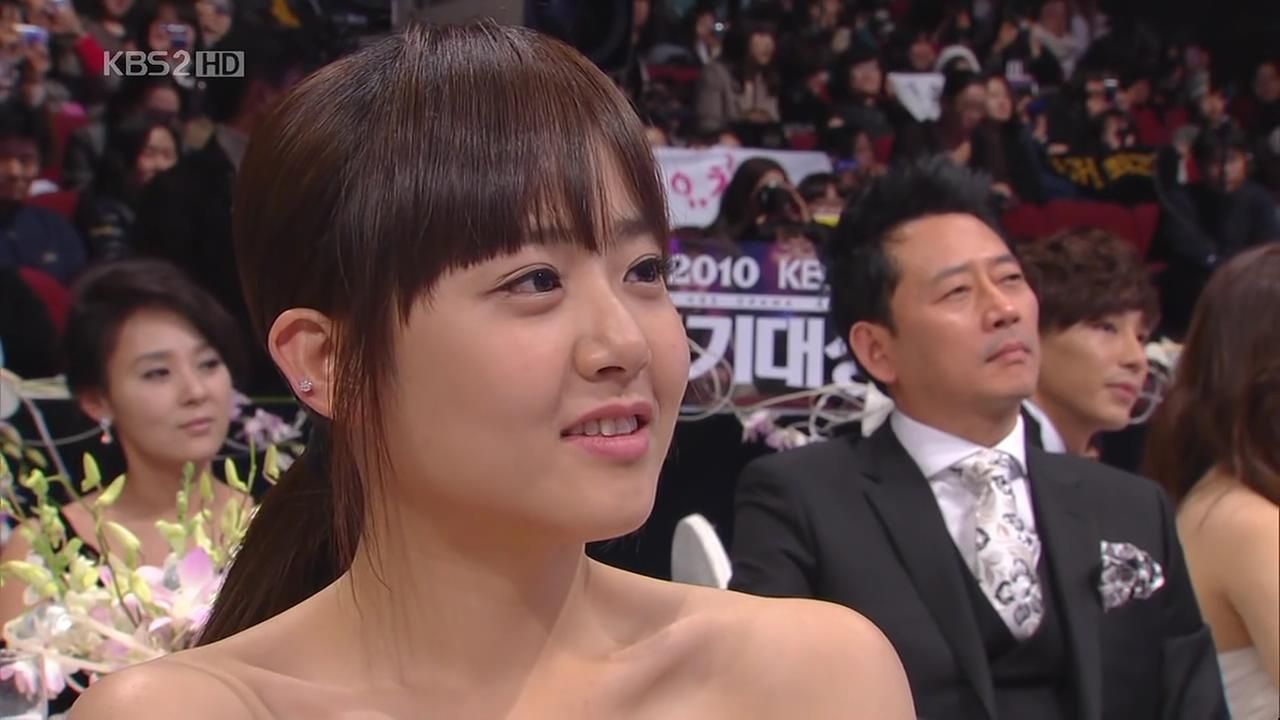 We all need to thank the dude perched with a camera aimed at Geun Young's face (and at capturing both of them throughout the night) for all these perfect shots of our sweeties.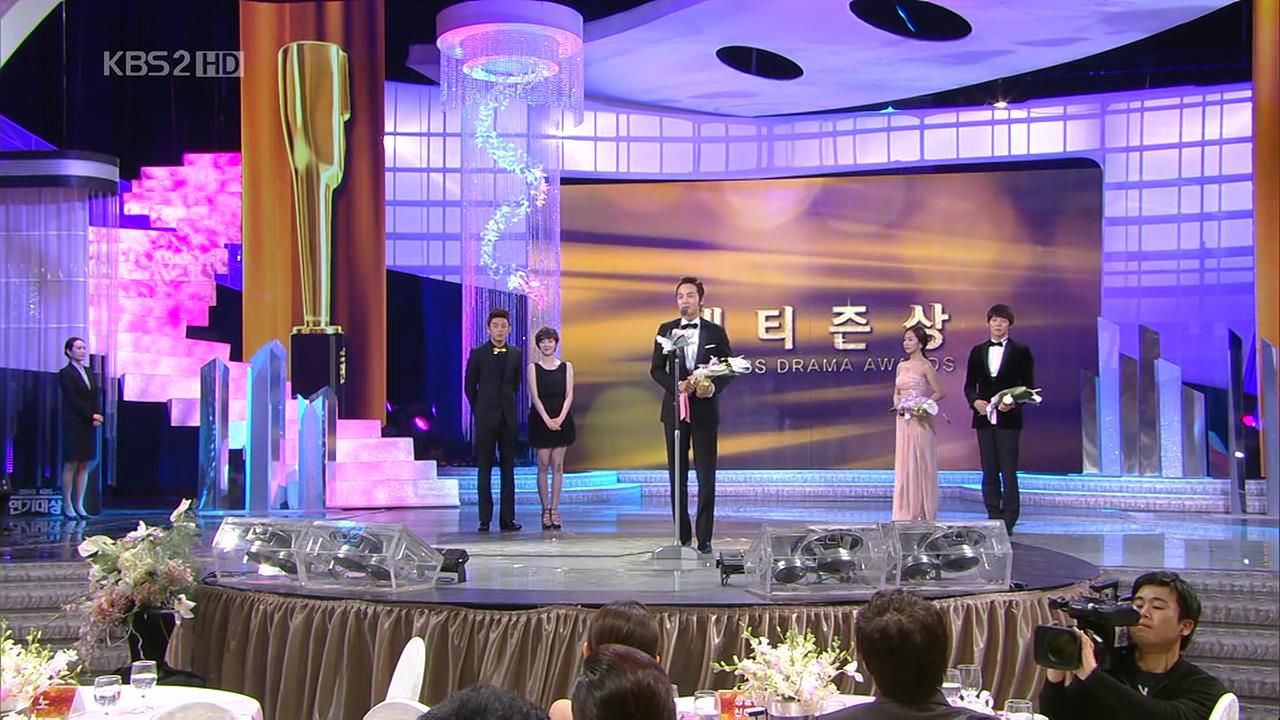 Rather than watching JYJ perform, our Geuns have only eyes and ears for each other.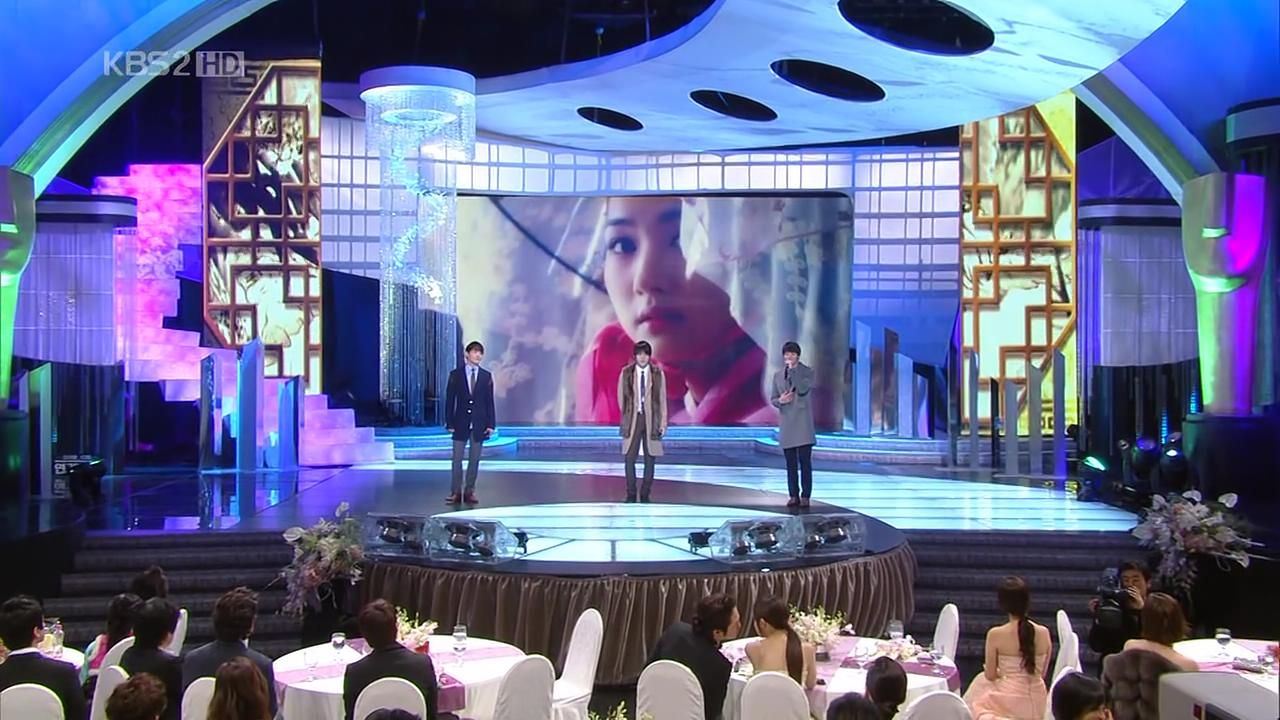 They even coordinate their expressions and gestures – we call this "husband and wife face".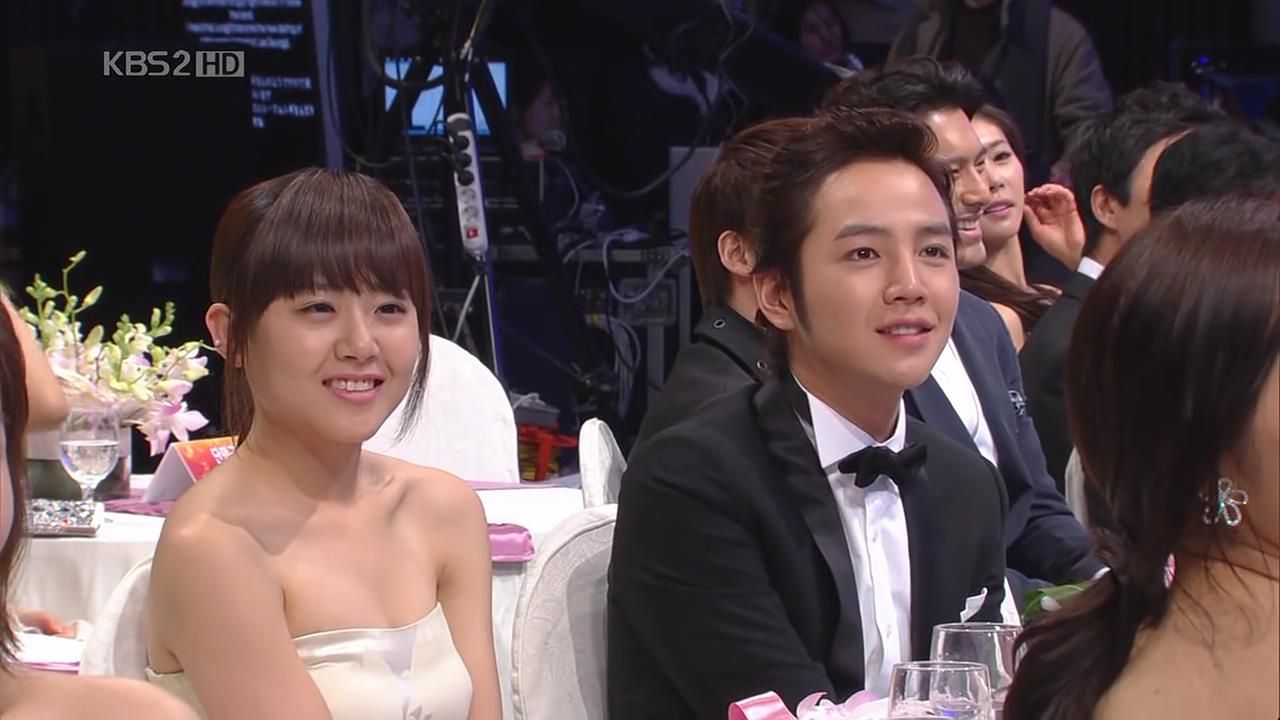 "Thank you all for coming to our wedding…."
What's so funny, Seok?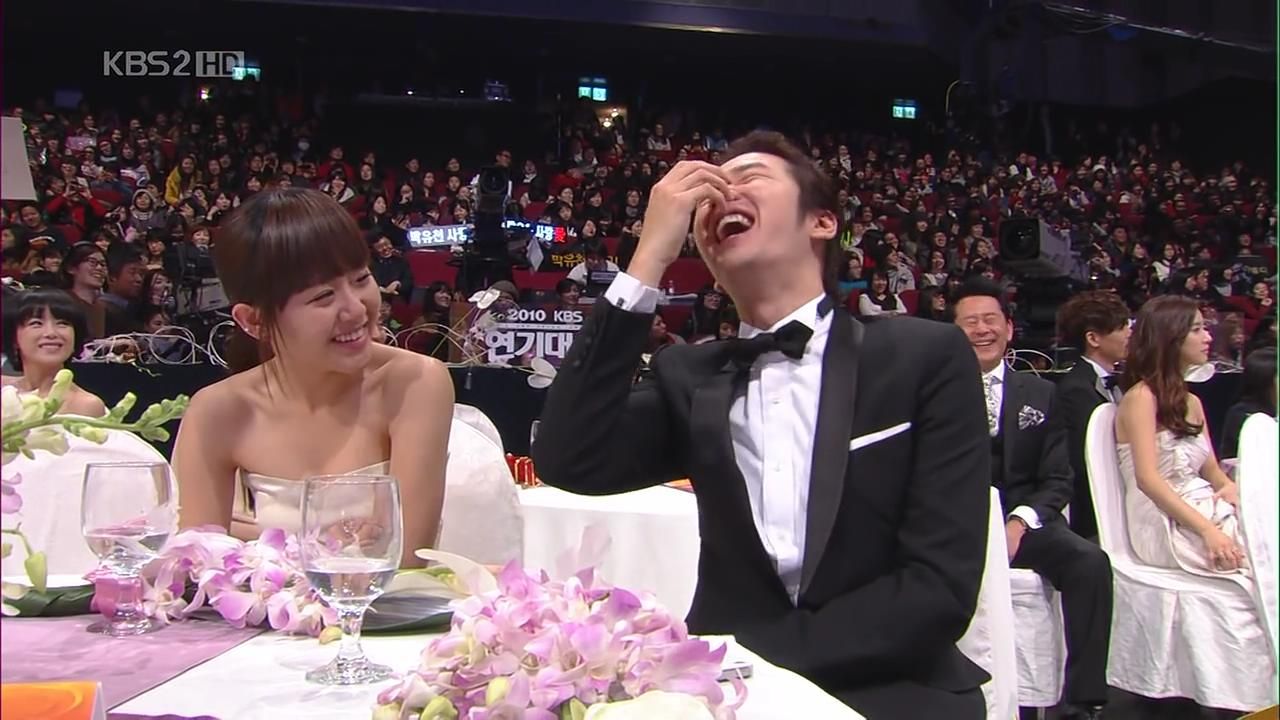 I will take good care of your onscreen daughter, oh daddy Gab Soo!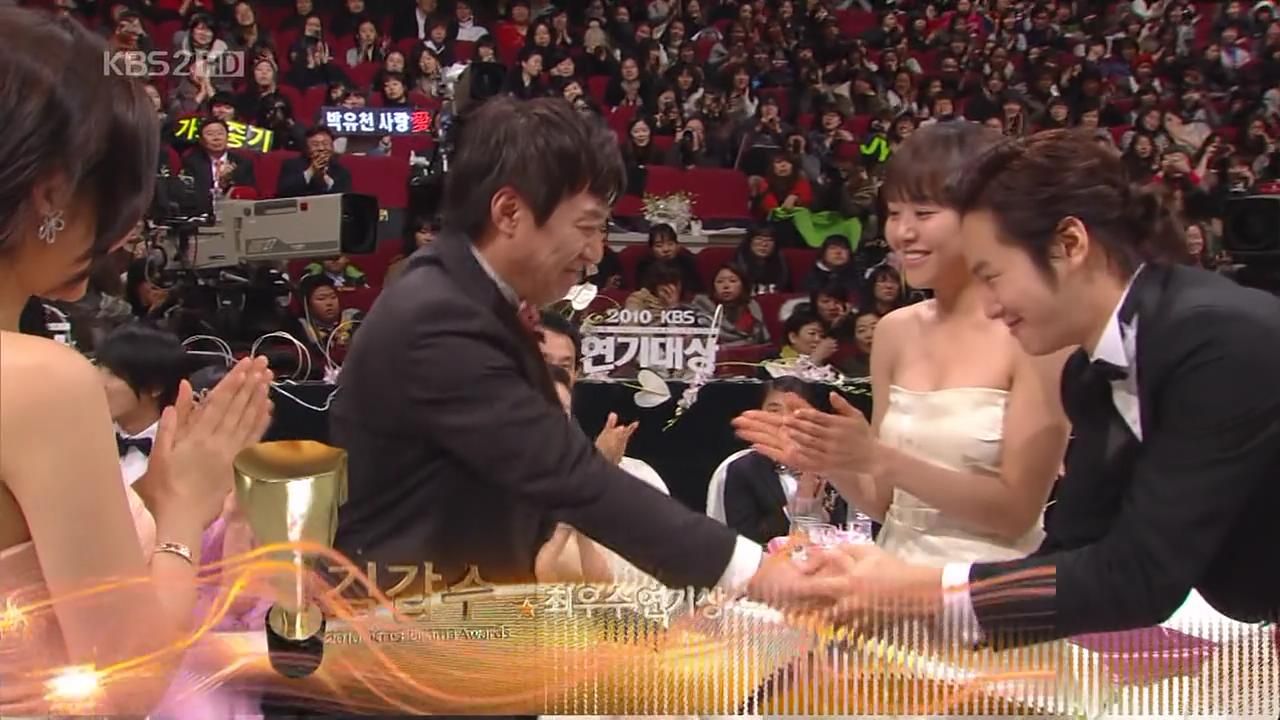 Geun Young wins her Best Actress award, and commence the unmitigated happiness between them. First comes the prolonged hand holding, and witness Geun Young using two hands to grasp his.
Now comes the hug seen around the world. Again, ain't no strictly just co-workers ever hugged each other like that I have ever seen.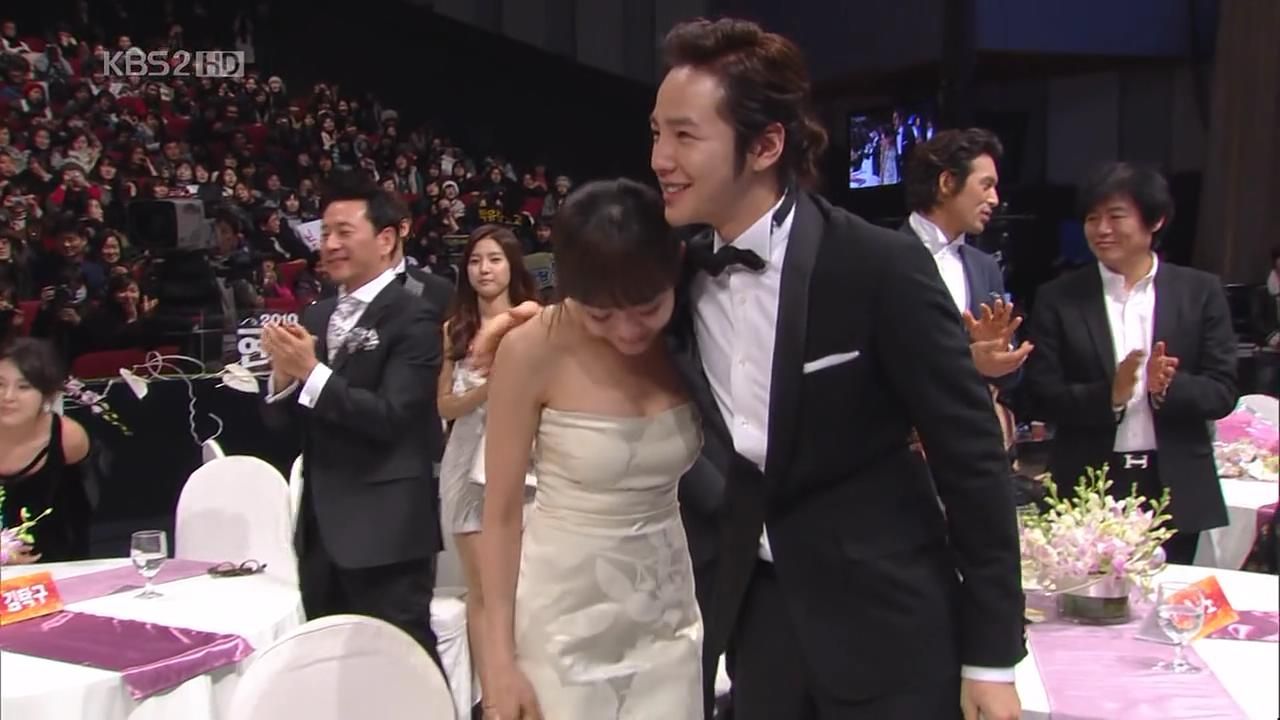 Seok looks on as Geun Young tearily accepts her award, and even cracks a joke on his own behalf that she didn't thank him. Oh Seok, she won for Cinderella Unni, if she thanked you, you two might as well announce that you are dating right then and there.
And we end the night with our Geun-Geuns respectfully offering their congrats to their sunbae Jang Hyuk for deservingly bagging the Daesang.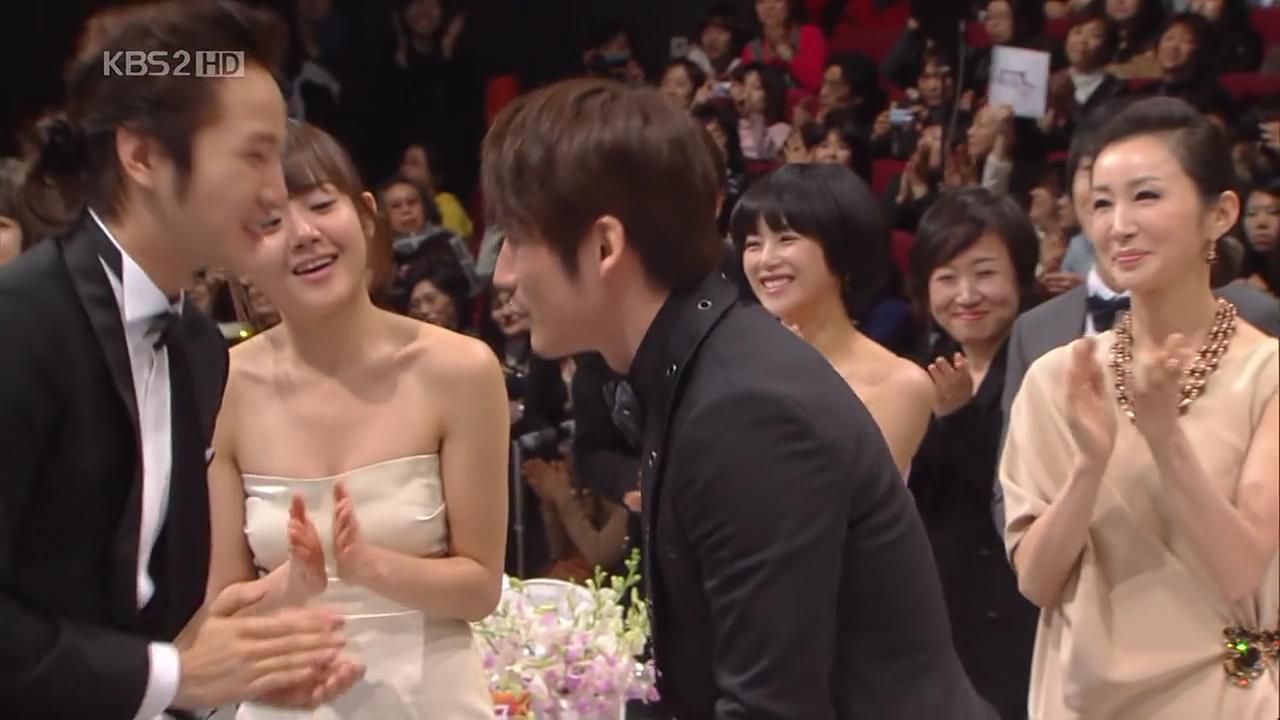 All the screencaps come from the KBS official broadcast of its 2010 Drama Awards, and not from the bevy of fancams out in force that night which have captured a myriad of additional images of our Geun-Geuns being exceedingly friendly with each other. The fact that the official cameras caught this much is already a wonder, and truly validates my personal perception that these two clearly have warmer feelings towards each other than your standard drama co-workers. I'm clearly just having a little bit of fun on Valentine's Day, in case anyone feels the need to tell me I am hallucinating.
Though people can debate whether M3 was all acting only, no one can tell me that their behavior at the KBS Drama Awards was anything less than how they interact with each other in real life. Doesn't mean they are dating, but it sure as heck leaves much room for speculation. And it's so much fun to speculate! I sincerely hope 2011 spawns another couple like this one, because it sure makes me feel giddly like I'm experiencing a new crush myself. With that – I wish you all a Happy Valentine's Day! (I hate this day, BTW, I'm the least romantic and sappy person in the world).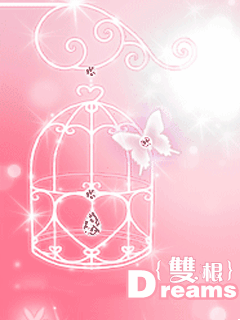 [Credits: GG gifs from Nian Hua and all screencaps from Baidu Geun-Geun bar]