The first half of 2011 has been surprisingly slim on sageuks. Other than The Duo (PIE!!! I promise I will finish you!) and King Geunchogo, it's been everything other than a walk on the period storytelling side. That's all about to change in the second half of the year, beginning with two new sageuks premiering in July.
The first to hit the airwaves will be the KBS star-crossed lovers/court intrigue sageuk The Princess's Man starring Park Shi Hoo and Moon Chae Won, both of whom are sageuk veterans and can definitely do this with aplomb. Rounding out the cast is Song Jong Ho and Hong Soo Hyun (who is currently starring as the delightfully bitchy So Ran in Lie to Me).
The drama held its script reading session last week (pictures above), and has already started filming this week based on the adorable pictures Park Shi Hoo tweeted of himself in costume and on the set of the drama (pictures below).
Apparently the entire Chuno set will be used, as well as the AMAZING Red One camera that was used to film Chuno, which is hands down the most visually glorious sageuk I have ever watched.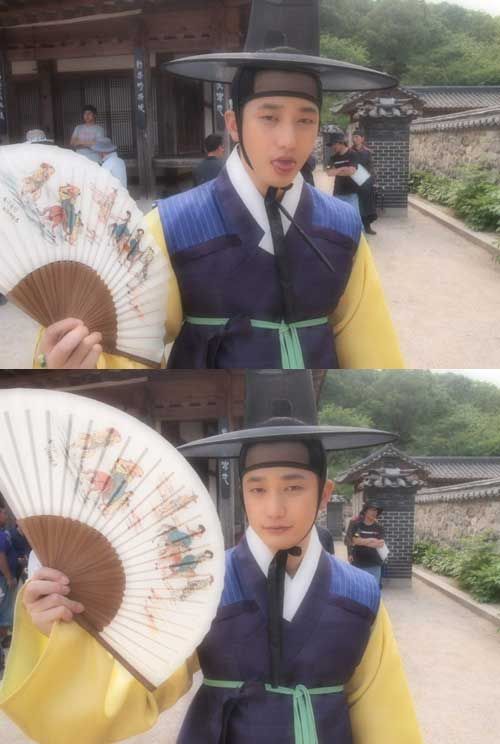 I think this is a very solid cast for a sageuk, with charismatic actors that aren't necessarily too much of a famous persona to suitability melt into the historical characters. Park Shi Hoo has chemistry with a plank of wood, and Moon Chae Won can even convince me she's a lesbian, much less smolder with a male co-star, so together I'm pretty sure they will have insane chemistry. Plus a story about two kids who fall in love when their fathers are each other's hated enemy just screams my name all over it. The Princess's Man will be a Wed-Thurs drama and premieres in July on KBS following the end of Romance Town.
[Credit: all pictures from Baidu The Princess' Man bar]