The more I see of the upcoming daily TW-drama Love, Now, the more it looks like a giant win is coming our way. The already palpable and darling chemistry between leads George Hu and Annie Chen, the whole "let's get married because I'm about to die" misunderstanding, and now SETTV has stacked the deck by releasing the second preview set to the latest single from singer-songwriter Yen-J's new album. Yen-J is easily one of my favorite Taiwanese singers and he's the real deal with his jazz music background. He's called the king of idol drama music scoring when at a young age he already won accolades for scoring all the background music to My Queen and Autumn's Concerto, among others. Then he upped the ante by having multiple songs from his first two kick ass albums used perfectly to elevate both Welcome Love with Joe Cheng and Drunken to Love You with Rainie Yang and Joseph Chang. Right now his song "Sneeze" is being played every week as the opening theme song in Miss Rose (and another song just got introduced in episode 12 of MR as well). As much as I love that drama that is not my favorite song off his new album. My favorite song is his second single "Temporary Boyfriend" so I was totally swooning when I heard it played over the preview for Love, Now. Watch the new LN previews below plus I've brought the download for Yen-J's new album.
Second preview for Love, Now:
George: If I told you it was love at first sight, I fell in love with you, would you believe me? Let me be a part of your life going forward, will you?
Third preview for Love, Now:
Annie: I believe there is someone waiting for me in this world. No matter how long, how far away, we will be destined to meet.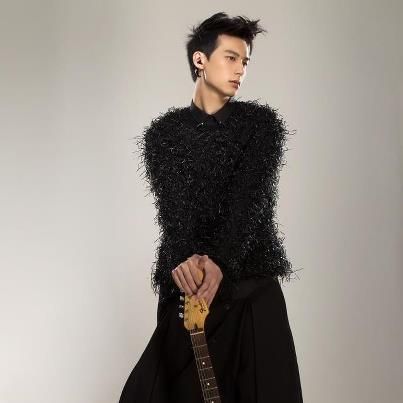 Yen-J's "Temporary Boyfriend" Official MV:
Click here to download Yen-J's awesome latest album Single Cell Organism
01.世界還不錯 – The World is Not Bad
02.我的射手座女友 – My Sagittarius Girlfriend
03.暫時的男朋友 – Temporary Boyfriend – theme song from Love, Now
04.獅子需要梯子 – Lion Needs a Ladder
05.打噴嚏 (過敏慢版) – Sneeze – opening theme song from Miss Rose
06.火上加油 – Fuel to the Fire
07.單細胞 – Single Cell Organism – side theme from Miss Rose (played in episode 12)
08.照樣 – The Same
09.吾在場證明 – No Present Evidence
10.悲觀樂觀 – Pessimism Optimism
11.是妳 Outro – Is You
12.打噴嚏 (發燒快版) – Sneeze (fast mix)