My interest in the upcoming 50-episode MBC tentpole sageuk Empress Ki (formerly known as Hwatu) has waned considerably since it was announced that Ha Ji Won and Joo Jin Mo would be starring as the leads. The first reason is based on logic and experience – this sucker is airing on MBC which has had an abysmal track record of producing quality sageuks this year. There was Horse Doctor better called Sleep Doctor since its the best sleep inducer, then Gu Family Book with its kindergarten writing, and lastly Goddess of Fire which combines both boredom and lame writing. This network is on a roll, a crap roll, and I do not trust it at this moment. Another reason for my hesitation is seeing that the PD was the dude who directed Dr. Jin. No denying that sageuk was ridiculous in concept but the execution was equally ham-fisted. This guy is going to direct a 50-episode serious sageuk? Oh vey. The writing team behind Empress Ki is the well-regarded tandem who did Giant, History of the Salaryman, and Incarnation of Money. I may not always love their works but they have patience when it comes to building a long running story. So my concern over the potential quality (or lack thereof) has dampened my enthusiasm, but another reason was the casting of Ji Chang Wook as the second male lead.
Ha Ji Won plays Empress Ki, Joo Jin Mo is King Chunghye of Goryeo, and Ji Chang Wook is the Yuan Emperor. Ji Chang Wook doesn't bug me but he's nowhere in the same league in terms of acting ability and onscreen charisma as the other two seasoned leads, and I really wanted this love triangle to have three equal legs. I don't like watching a story with a central love triangle where I actively feel nothing for one party. It sucks the air out of the excitement and makes me FF'd through half the scenes that involve the less compelling leg. I much prefer love triangles where I love both men – think Ha Ji Won in Damo with Lee Seo Jin (Naeuri!) and Kim Min Joon (Rebel Leader!), or Ha Ji Won in What Happened in Bali with the reserved So Ji Sub and outburst prone Jo In Sung. Whenever I re-watch those two awesome dramas, I switch ships often because the story has built up both possibilities with equal narrative weight and comparable levels of sizzling chemistry. Based on my previous reactions to watching Ji Chang Wook onscreen, I doubt I'll suddenly be wowed by him. But one never knows so here's to hoping he brings it for the sake of this production. MBC released the first script reading stills of the cast and it's definitely chock full of sageuk veterans up the wazoo. Check out more script reading stills as well as the first pictures of filming involving Ha Ji Won and Joo Jin Mo on a tiny bucket-like raft.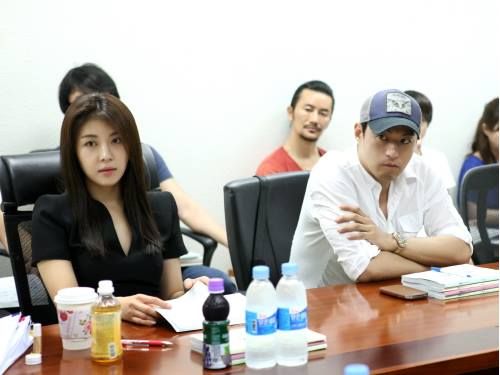 Of the supporting cast I absolutely love Jin Yi Han (he would have made a niiiice second male lead here after what he delivered in Conspiracy in the Court), Jung Woong In, Choi Moo Sung, Kwon Oh Joong and Lee Won Jung. A couple of lovely ladies are also part of the cast including Kim Min Jung (yay, a mini-Fashion 70's reunion with Joo Jin Mo) and Kim Seo Hyung.