Yoon Eun Hye has been in the news a lot recently which is good since it's all about her upcoming projects. More Yoon Eun Hye on my screen is much appreciated. I get she needs to rest and recharge but I'm still waiting for her to deliver an amazing movie or drama with a story that is as good as her acting deserves. She might be doing a one-two punch soon and hopefully the drama part of the confirmation will come in the next few days. Yoon Eun Hye is already confirmed to join the sprawling cast of the Ha Jung Woo acted and directed movie adaptation of the Chinese novel Chronicle of a Blood Merchant by famed humanist C-writer Yu Hua. The leading lady is the awesome Ha Ji Won while Yoon Eun Hye is doing a cameo role gratis due to her friendship with both Ha Jung Woo and Ha Ji Won. What's a good friend for, right?
Yoon Eun Hye is also seriously considering the leading lady role in the upcoming Summer drama Temptation which has already signed on leading man Kwon Sang Woo. If she accepts then she'll be playing Kwon Sang Woo's wife dealing with her husband handing over his body to a rich woman in exchange for the money he desperately needs to support his family. She's also recently opened a Christian-themed cafe but this cafe madam doesn't just sit around pouring coffee as this week she was also in Busan attending the Amway China Youth Awards because she's one of the brand's endorsement entertainers. I love her couture high fashion edgy print dress with the structured hip paired with sleek long hair, this is how to take a risk and pull it off because of her natural celebrity confidence and looks. I'm still blergh about that sofa cushion/old curtains Dolce & Gabbana dress she wore to the Missing You premiere.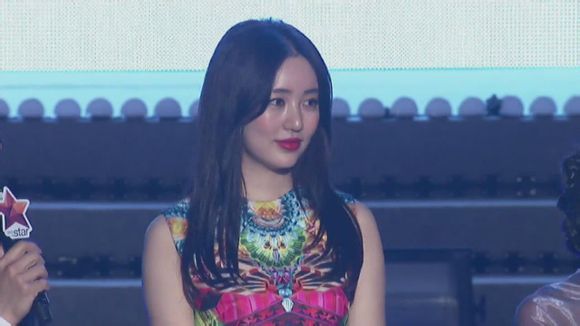 Chronicle of a Blood Merchant films this Summer and promises to be a great acting tour de force as the cast also includes Joo Jin Mo, Jo Jin Woong, Song Dong Il, Kim Young Ae, Jung Man Shik, Kim Sung Kyun, Kim Sung Ryung, and Jang Kwang. Ho baby is the talent on fire on that movie set.
Looks like Yoon Eun Hye was asked for her fashion advice by the MC at this event. I think her fashion style mostly hits it out of the park, and even if she fails at least it's memorably bad. I wouldn't wear this particular dress but she pulls it off (makes her waist enviably tiiiiiny) and the print is so eye-catching on stage along with her dramatic makeup.
The other Temptation leading lady candidate in Lee Mi Yeon ended up passing on the rich woman role so that's still up for grabs. It's not unusual for Yoon Eun Hye to pull over a project for a long time before deciding but this one needs to finalize the cast ASAP since it follows the currently crazy-balls Dr. Stranger on SBS Mon-Tues starting in July.