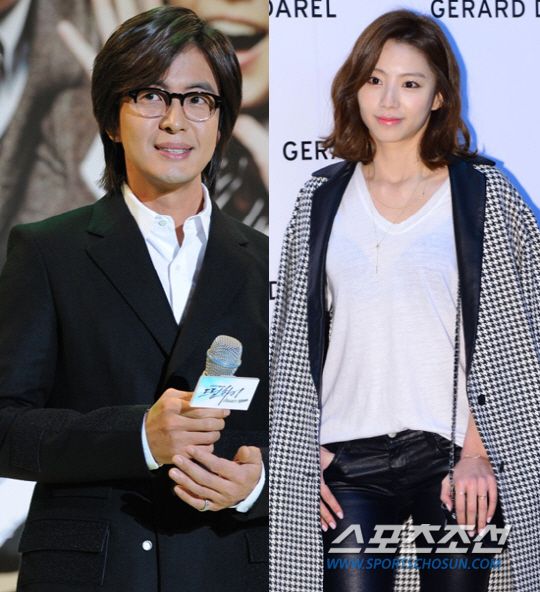 Well this K-ent dating news certainly takes the "come again?" and "buh?" double layer cake of confusion and surprise. Jumping right over the usual dating reveal, K-media is understandably abuzz over the out-of-the-blue news that actor turned entertainment company president Bae Yong Joon (forever Yonsama to his devoted female fans in Japan) will be marrying actress Park Soo Jin. She's not just much lower in the entertainment totem pole than him, she's also younger by thirteen years and recently joined his agency KeyEast last year.
The happy couple reportedly started dating in February of this year, a scant 3 months ago for those who like counting, which makes sense since all of last year Bae Yong Joon was dating a non-entertainment industry chaebol heiress though that relationship ended before he found love under the same agency roof with Park Soo Jin. The wedding is scheduled for later this year, and no comment from the couple on whether this is a plus 1 wedding or merely speeding up the schedule because Bae Yong Joon isn't getting any younger if he wants to settle down and have kids.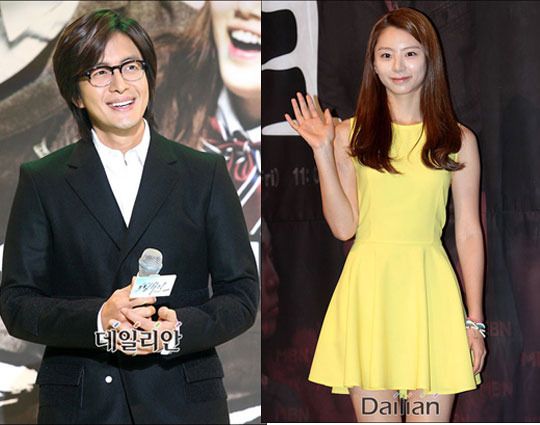 This coupling is so bizarre that hearing they are getting married on top of having been secret;y dating is like random and weird hooking up and having a love child. Park Soo Jin, forever a second female lead, is also unfortunately saddled with playing very bitchy unlikable second female leads. The heartbreaker noona in My Girlfriend is a Gumiho, the bullying ex-friend in Flower Boy Next Door, maybe it's her looks that hamper her acting career since it does kinda scream bitch face when in resting position (though much warmer when she smiles). I don't have any opinion on her since she could be the nicest gal in real life but onscreen she's painful to watch.
I have no commentary on Bae Yong Joon anymore, not since he's stopped acting a decade ago and transitioned to being the president of KeyEast. In his heyday of Hotelier and Winter Sonata, he was arguably THE biggest male lead in Hallyu dramas and movies, and while that distinction will remain in the books his era as an actor has passed. Congrats to the happy couple, even if it'll take me awhile to just wrap my mind around this news. At least the news is positive for Bae Yong Joon and not like a few days ago when he was stone-faced accompanying agency star Kim Hyun Joong to military enlistment. All in all, yay?