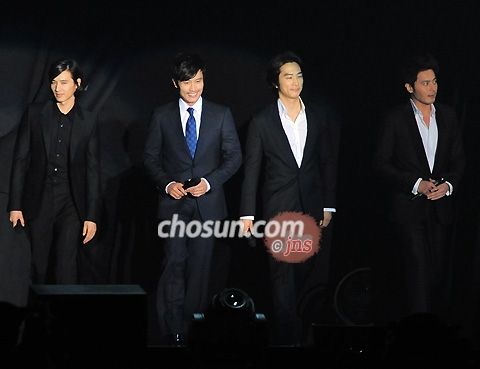 This is just a four-hot-guys picspam post. Nobody has a problem with that, right? When I read the news in the paper, sometime around November of 2009, that Lee Byung Hun, Jang Dong Gun, Song Seung Heon, and Won Bin, were going to hold fan-meeting/concerts in Tokyo in December of that same year, I had to rub my eyes to make sure I didn't just conjure up this event.
I didn't, and the event happened, to the eternal satisfaction of tens of thousands of obasans all over Japan. I wasn't blogging back then, but I've recently unearthed all the pictures I grabbed from that event, so I thought I might share it with you all.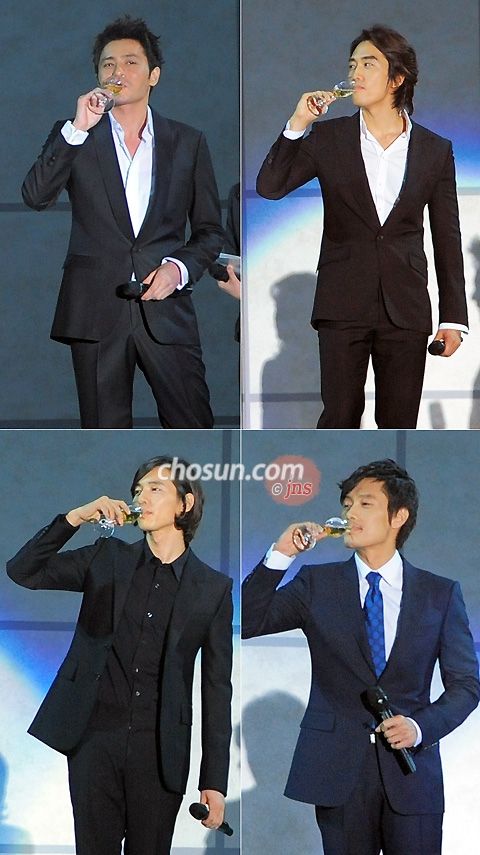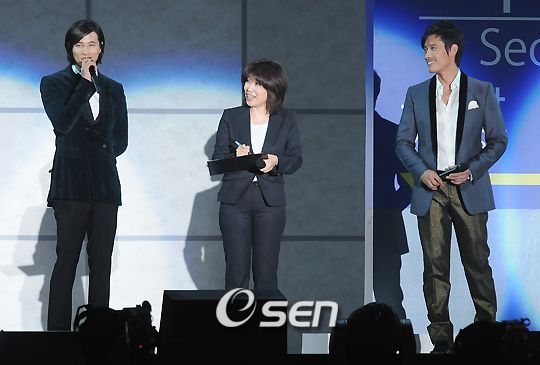 I found the post I wrote on Dramabeans OT when I delivered this news to everyone. I was clearly on some meds, or just really really happy. Below is my brand of ridiculousness:
All ye patient bosom drama buddies of mine, I have come bearing ridiculous news:
According to the World Journal, quoting Japan's Newsen Sports News (don't ask me why it's this source): On December 17, 2009, Lee Byung Hun, Jang Dong Gun, Song Seung Heon, and Won Bin will be performing two back-to-back concerts at the Tokyo Dome.
Performances include showing a short film by the director of April Snow, and the guys will sing, act in short plays/monologues, and participate in interviews.
According to the news, apparently these four guys are good friends, and have discussed doing something like this before (see my mock discussion below), and now they've set a date.
LBH: Yo, little bros of mine, how's it going these days? I'm sure all of you ran out and watched the first showing of G.I. Joe in Korea. I'll be more than happy to give you English lessons so you, too, can be cast in a major Hollywood blockbuster and have half your face covered the entire time.
JDG: Eh, no thanks, hyung, I'm about to star as the President of Korea, I think I'm set. Plus, pecs and ninja swords aren't exactly my thing. You may want to extend your offer to Rain?
SSH: Rain's got some ninja movie coming out soon, he's got one foot in the door already. I hear that they are casting for Kato, I wouldn't mind lessons. I heard that Kwan Sang Woo was in the running…..oh, it's been cast already with a Taiwanese idol, next time then. I've worked on my pecs for East of Eden and it's ready for the big screen.
WB: Sigh, I'm so bored, UNICEF work is only a few times a year, not much going on now that I've wrapped Mother. Oh, but I am working on growing a kick-ass mane of hair.
LBH: Well, my return to TV vehicle IRIS is airing soon, and once it wraps, I'm looking for something cool to do.
JDG: Yeah, me, too, maybe something in Japan, my girlfriend Ko So Young would love to go with me.
SSH: I hope the obasans have not forgotten about me, EoE is not exactly Japanese obasan catnip, plus, that Kim Bum may steal my thunder over there.

WB: Yawn, I'm up for whatever…..

LBH: Hey, how about we four getogether and put on a concert/performance in Tokyo? We can get really drunk beforehand, the performance will be a hoot, and we'll make off like rich bandits. It's easier than opening up menswear boutiques like Jung Woo Sung and Lee Jung Jae did. Oh, and don't tell JWS and LJJ about this, okay. I'm still kinda miffed that JWS stole a bit of my thunder in TGTBTW with his annihilate the entire Japanese on horseback with a rifle sequence. Formerly my #1 fan @ockoala is now completely obsessed with JWS. Speaking of which, I'm going to convince Son Ye Jin to make A Moment to Remember 2: She Remembers! with me as her memory therapist. Good plot, huh?

JDG, SSH, WB: Okay, hyung, we're in! Don't forget to bring the soju and a Korean-Japanese dictionary.
The End.
P.S. Regardless of the veracity of this project, I'm tempted for sure. I mean, four Hallyu kings in one dome! If they replaced JDG with Jung Woo Sung, I'd be booking my ticket to Tokyo THIS VERY SECOND. Alas, some Japanese obasans are going to be very very happy Christmas is coming early for them.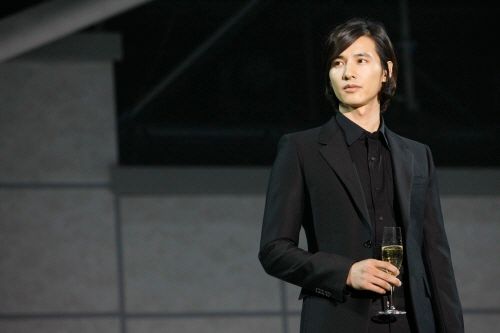 I wrote that little joke post above before the concerts took place, and I can't believe how right I was. It does appear from all photographic evidence that these four top-stars went to Japan to hang loose and drink (a lot). I'm still sad I couldn't go see them.