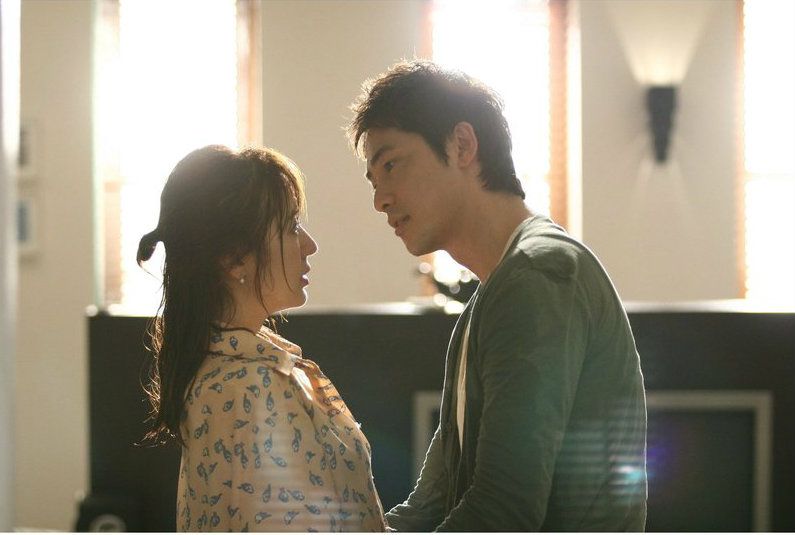 This post is really intended for folks who (1) loved Lie to Me (and likely watched alongside me during what was the craziest days ever here at the Playground) and/or (2) are HwanHye shippers. Chingus, I am here to announced that, courtesy of @HallyuYoonEunHye and the never before seen BTS videos of the filming of LTM, we can all relive the magical heady chemistry of Kang Ji Hwan and Yoon Eun Hye's first onscreen coupling. I watched the newest BTS videos below and immediately burst in shrieks of happiness, instantly transporting myself back to June 2011 when I was knee deep in LTM mania. For a drama with a story as silly as this one, I was nevertheless happily swept up into the tidal wave of romantic discovery between the two leads.
Looking back, I wish this was some weird Lars Von Trier deconstructed drama where the entire story consisted of the two leads without any side characters. That would leave the audience looking for an overarching substantive plot to not feel cheated of one, and allow those who loved it to feast on the very thing that sucked us in – the undeniable attraction between Hyun Ki Joon and Gong Ah Jung. Neither Ji Hwan nor Eun Hye have done another drama since LTM wrapped last year, and they are amazing actors who have great chemistry with almost all of their co-stars so I'm looking forward to their next small screen project. In the meantime, the drama gods must have pitied my poor shippy heart and given me (however late) more evidence that my amazing OTP really were more than just falling for each other onscreen. Better late than never, and I'm always game for more HwanHye goodness in any form.
All videos courtesy of @HallyuYoonEunHye.
Saying goodbye after completion of filming:
I…..I…..I just can't even. A person must be blind not to clearly see that there is something more going on. When Eun Hye is filming, Ji Hwan just sits there and watches her. When they hugged, it was a chest-to-chest embrace as opposed to the professional hugs where there is some minute distance between the torsos. They even did the swinging hand holding and slow hand release! Like their characters did in episode 13!!! I swear when I watched that part of me was screaming "they totally ad-libbed the gestures that went into that reluctant parting at the airport", and lo and behold, I feel validated. Everything about them scream together. Sigh, still so happy. If you watch the latter part of this video, where they are saying goodbye outside the airport, it's even more telling the way she runs to him, how he almost grabs her hand before they appear to realize they are being filmed and Eun Hye darts forward to hug someone else, and the myriad back pats and more back pats between them.
BTS of the hug scene in episode 12:
Still one of the best hugs I've ever seen onscreen between a couple. Even watching the BTS brings back all the fond memories. *wipes away tears*
Practicing for the Ice Cream song in episode 6:
Recording the Ice Cream song in the studio: