Kill Me Heal Me finally arrives this week after a production process akin to that recent news story of a family finding grandpa expired and was just about to bury him when he revived hale and hearty. I'm so ready for the fresh blood infusion so bring it on, 7 personalities and medical ethics boundary crossing and all! The cast attended the press conference this week looking collectively optimistic and determined, albeit not sartorially interesting. I'm also wondering why the two male leads appear dressed as twinsies?
Best part was seeing how comfortable leads Ji Sung and Hwang Jung Eum are together, both happy to do another drama and Hwang Jung Eum made a point of saying she was happy to be the green leaves to Ji Sung oppa's flower as this drama had the challenging male lead as the focus. The cast all concurred that they wanted to work together to bring the story to life and hopes the audience will connect with their hard work. Check out more press conference pics below where the cute comes from the beaming faces of the cast.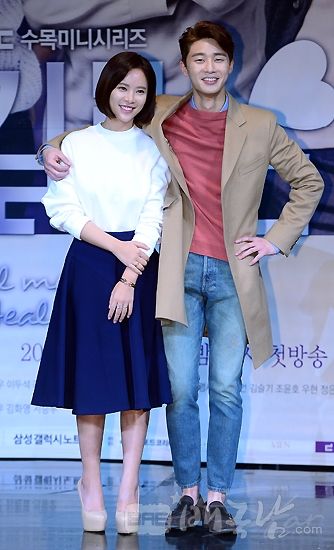 Whatever the drama ends up being, I'm already crazy adoring Ji Sung's hair in this gig. I also dig the guyliner on the leader of his split personality posse.
Preview for episode 1 of Kill Me Heal Me: