Jang Ok Jung, Live in Love owns my mind, heart, and soul. This is the trifecta of a drama hitting it out of the park, and as this drama's ratings continue to dip in Korea, my love for it continues to increase with each exquisite and exceptional new episode. This keeps getting better and better, and right now Lee Soon and Jang Ok Jung are on track to be frontrunners for my OTP of the year selection. Last year that win went to Lee Jae Ha and Kim Hang Ah in The King 2 Hearts, so Hearties know what standards I look for in compelling onscreen pairings. Lots of palpable attraction, a love that blossoms before our eyes, compelling angst keeping them apart so they can fight to be together, and a great complementary union that completes each other. So far these two are exhibiting signs of the first two, with plenty of foreshadowing at the latter two to come. Chatted with the Grumpiest Kitteh in Dramaverse today and while he tolerates my penchant fluff with the occasional dive into real quality stuff, his opinion on JOJ was "This keeps not sucking. Which is… good, I suppose." Coming from him, that is akin the average blogger saying this drama is the best thing since sliced bread.
Actually he wrote more about episode 4 at the Vault (click here to read) and explains thoughtfully what is making this drama work against all odds. I would describe it as a really well-written Regency Romance novel with compelling background political conflict. I think the Korean ahjummas don't want a revisionist look at a sympathetic Jang Ok Jung. Whereas the Western audiences slurped up a novel like Wicked (and a damn fun musical, to boot) which took a different look at the Wicked Witch of the West and turned her into the coolest heroine this side of the yellow brick road. It's all about willingness to experiment with perception and I for one was totally game to see this famous deadly love triangle from a different POV. So far it doesn't even seem like Queen In Hyun is going to be evil either, more like the two women will be caught in the cross-hairs of political gunfire from various sides and trying to remain loyal to their love and cause. This drama makes me swoon like no other drama in recent memory and I almost starting screaming at my screen when episode 4 ended without a preview for episode 5. This is going to be one hella long week.
Episode 4 recap:
Ok Jung falls over a cliff in the skirmish with attackers, leaving Prince Dongpyung screaming her name as she sinks into the water. Minister Min gets a report from his men that Prince Dongpyung was bringing random objects along and there was no weapons. Dongpyung has servants scouring the river for Ok Jung.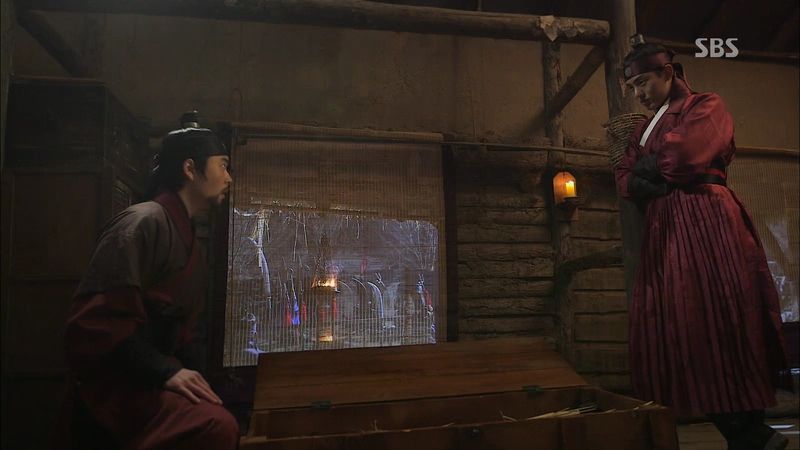 At the secret training camp for the Palace guards, head guard Hyun Moo is awoken by a sword to the throat. He battles his attacker until a candle shines on the face of Crown Prince Lee Soon. He immediately kneels and welcomes the Prince. Turns out Lee Soon brought the weapons with him.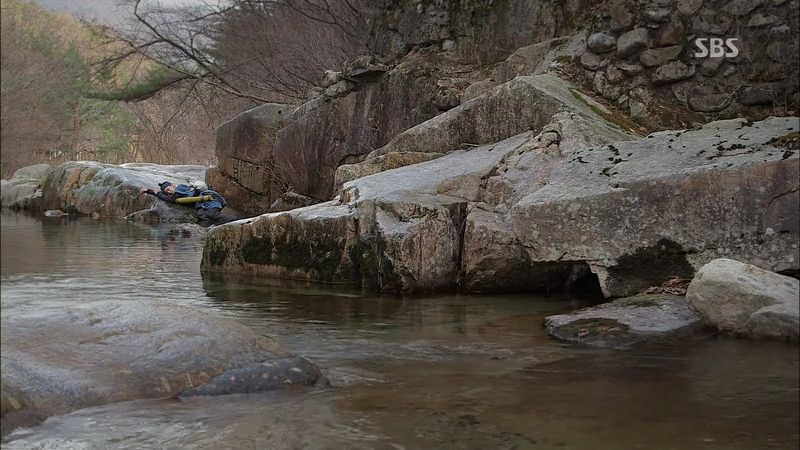 Ok Jung wakes up on the side of the river sleeping on a rock. I will take that leap of faith that she managed to get carried by the water to safety. As Ok Jung surveys her surroundings she suddenly hears what sounds like gun blasts.
Ok Jung follows the sounds and chances upon the secret training camp. Her fashion design instincts kick in and she sneaks in to sketch the soldiers training. Lee Soon is trying out a gun and Ok Jung bumps into something and makes noise, leading to her being discovered.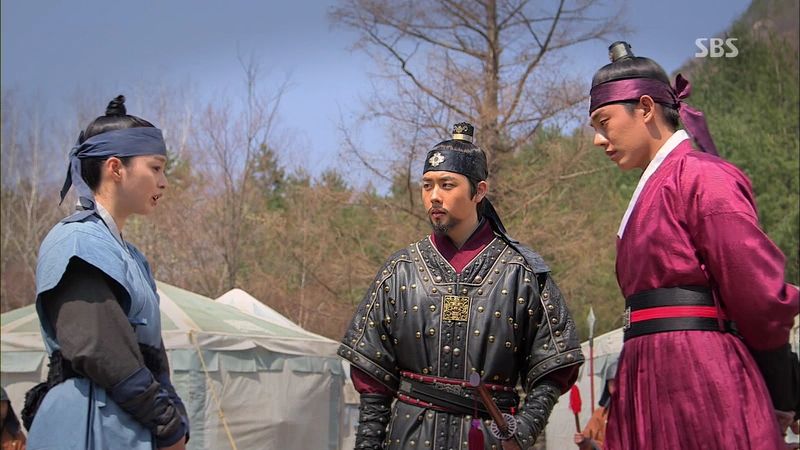 Ok Jung is dragged before Lee Soon and accused by Hyun Moo of being a spy, but Lee Soon recognizes her and asks what she is doing here. Ok Jung explains she's designing the new military uniform since the supply is now put to bid. Hyun Moo says that can't be true and Lee Soon confirms Ok Jung is right.
Ok Jung begs to be allowed to stay for a day to observe the soldiers. Hyun Moo is all "hells no!" but Lee Soon steps in and pulls him aside. Lee Soon says he knows Ok Jung and she's harmless and not a spy. He calls her a "crazy girl" and Hyun Moo wonders if he means crazy like she wears flowers in her hair.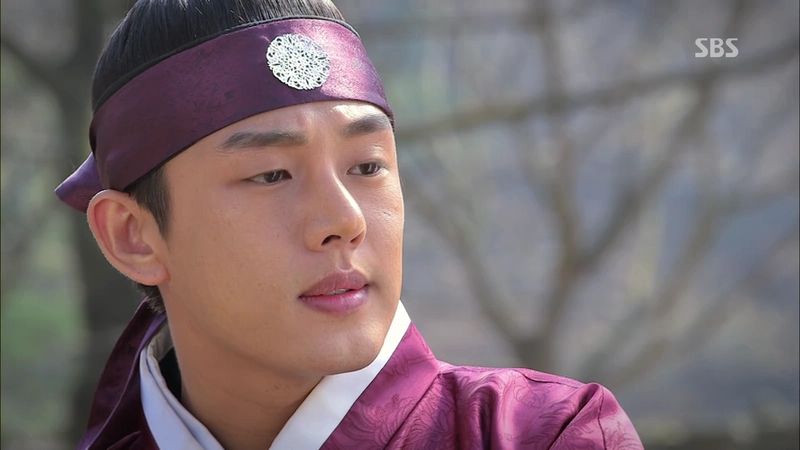 Lee Soon laughs that she's about that crazy, and if you give her cloth, scissors, needle and thread then she's so crazy she forgets about anything else around her. He quickly shuts up and tells Hyun Moo to let her stay. Hyun Moo wonders if Lee Soon might have a personal reason to let her stay and he quickly says no way.
After Hyun Moo walks away (but looking totally unconvinced – I love him already with his skeptical personality), Lee Soon breathes a sigh of relief. Hyun Moo brusquely allows Ok Jung to stay but she needs to never mention this place and her drawings will be inspected before she leaves.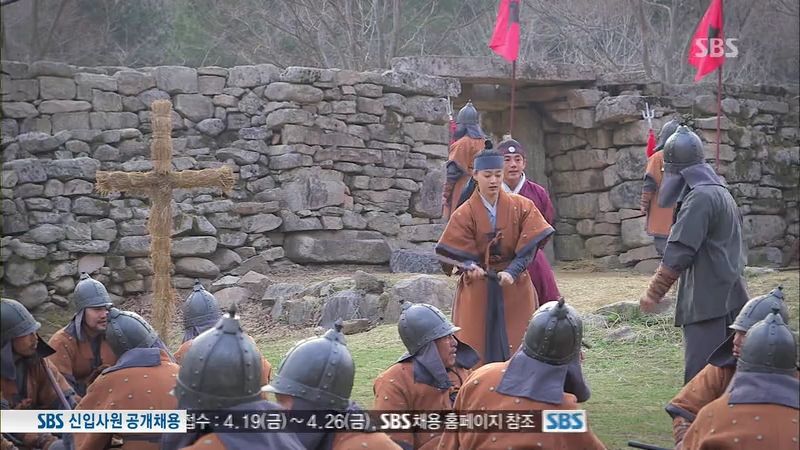 Ok Jung observes the soldiers and tries on a uniform and engages in sword practice. LOL, she's terrible.
Lee Soon thinks so and teases her about sucking, but then offers to show her. Ok Jung hilariously sends a wooden sword flying out of her hands as she makes a slashing motion and and it bonks a poor unsuspecting soldier on the head. Lee Soon calls her dangerous to the enemy for the wrong reasons though the enemy might still end up dead.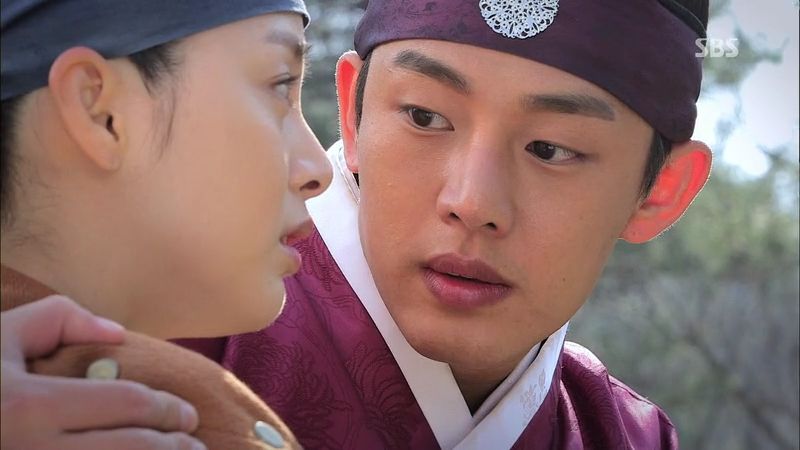 After Ok Jung gets the hang of swinging a sword, she asks to spar and Lee Soon personally practices with her. He goes easy on her but is serious enough, though at times he's totally just checking her out and enjoying the heck out of it. For someone who claims to have no interest in lurve, this guy has got stars in his eyes when he sees Ok Jung.
At the practice a gust of wind blows something in Ok Jung's eyes and she instinctively grabs Lee Soon's hand. She quickly lets go and he teases why so shy from a girl who touched him all over to take measurements. Touche. He invites Ok Jung to a hunt tomorrow to see soldiers in action.
As Lee Soon walks away, he pauses and clenches the hand that Ok Jung grabbed, and then rubs his ear with a smile. He is so smitten its adorable. Smitten, but not lost his mind in love. I really appreciate that.
At the hunt, Lee Soon leads the soldiers to track down the prey while Ok Jung continues to observe how the armor and uniforms move on horseback and in shooting arrows.
Lee Soon goes to the edge of the creek to find a man fishing there, and it is the hidden leader of the Noron faction Heo Jook. I have to make a correction, I thought Minister Kim (always with Minister Min) was the leader of the Noron faction but he's actually the #2 guy of the Soron faction behind Minister Min. Heo Jook recognizes Lee Soon and they exchange words, with Lee Soon telling him to prepare to return to the capital and back into politics.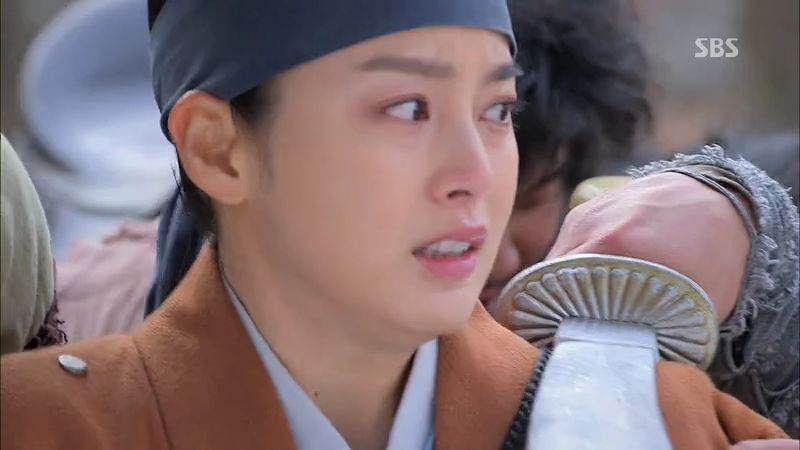 Ok Jung strays from the hunt and finds herself accosted by thieves. They steal her horse and try to abduct her as well, but Lee Soon hears her screaming and arrives in time.
The thieves hold their swords to Ok Jung's throat and thinks she must be a beloved lady for him to bring to a hunt. They want money for her return but Lee Soon grabs his arrow and refuses to bargain with trash like them.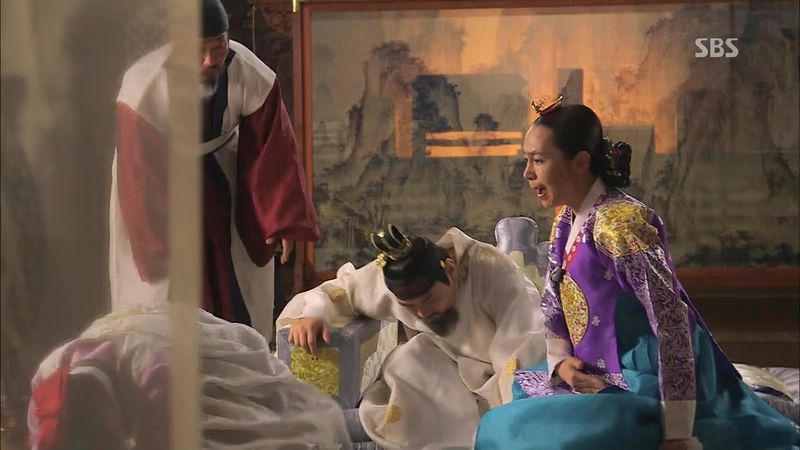 Back in the Palace, the King coughs up his medicine and then spits up blood. Oh noes!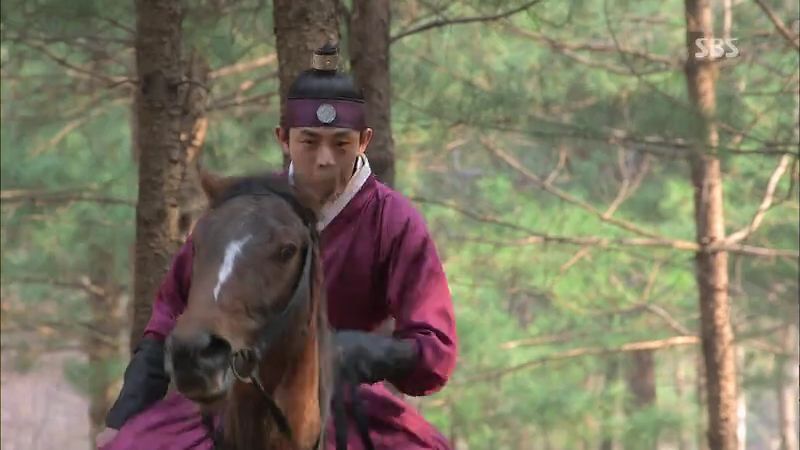 Ok Jung stares at Lee Soon in fear while the thieves tighten their swords around her neck and Lee Soon points his arrow straight at her. When he releases the arrow she shuts her eyes, and the arrow strikes the arm of the head thief. Lee Soon starts to fight the other two thieves while the head thief shoves Ok Jung on a horse and takes off with her. Lee Soon chases them down and grabs Ok Jung from the horse. The thief gets away but Ok Jung is so freaked out she scrambles aimlessly off Lee Soon's horse and bolts.
When Lee Soon manages to grab her, she's hysterical and fights him until he hugs her tightly and keeps saying that it's him. They break apart from the hug and Lee Soon teases that she sure cries a lot and isn't as fearless as she seems.
After Ok Jung calms down, she angrily turns and walks away which confuses Lee Soon who thinks she ought to thank him. Ok Jung twirls around and asks why he shot an arrow at her and she still needs to thank him? Lee Soon says he never does anything he isn't confident about and he knew he wouldn't hit her. Great reason, dude. Not.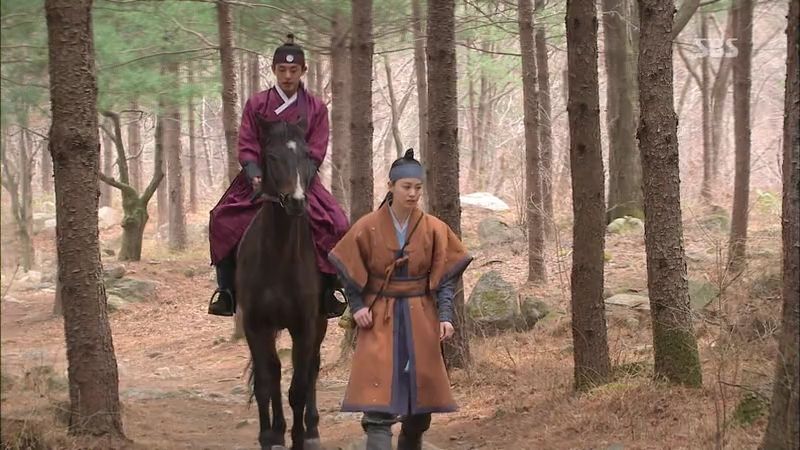 Ok Jung glares at him and turns to walk back to camp. Lee Soon follows behind on the horse and calls for her to get on while he walks. She ignores him so he gets off and helps steady her when she trips on a rock.
Lee Soon picks up Ok Jung in a princess carry and deposits her on the horse. He then leans down to put her legs in the stirrups. A Crown Prince who touches the dirty shoes of a woman? He just made being perfect a new standard.
They return to camp with her on the horse and him walking beside her so they don't have to "ride together". They are so lovely, sniffles.
Lee Soon asks Ok Jung if she's confident she can design a good military uniform. Initially Ok Jung says she doesn't know, then she confidently says she is sure that she can. He asks why she likes to make clothes? Ok Jung says it is her dream, it gives her joy that her clothes bring warmth to people and makes them beautiful in the eyes of their beloved. Lee Soon realizes he never thought of clothing that way.
Lee Soon wonders is all her dreams have come true and what will happen if her dreams don't come true? Ok Jung says not yet, she still has the most amazing clothes to make and she has a secret weapon in the palm of her hand, and that is her hope and conviction. She believes in her willpower so strongly that she knows she can make her dreams come true because she won't ever give up. Ok Jung turns around and asks Lee Soon his dream? Lee Soon says it is to eliminate poverty in this nation. Ok Jung wonders why he has a dream that the government can't even achieve. He wants to attempt something the country can't do, because his dreams are ambitious. She teases why he is here hunting instead of attempting his dream. He is here to clear his mind on worries, such as marrying someone he doesn't love. Ok Jung says then he might as well not get married if he isn't going to make the effort to love the woman he needs to marry, because in Joseon all high class marriages are made for reasons.
Lee Soon invites Ok Jung to watch the sunrise with him tomorrow. There is a place with a gorgeous view, and when he gets there he will tell her his dream, and who he really is. The King, his true love, a sunrise – those three things immediately bring me back to Yun Zhong Ge and I start silently crying just thinking about it ("a different sunrise, a different view, don't stop walking forward….."). Sorry for the digression, this drama just gives me so much FEELS.
Lee Soon is drinking with Hyun Moo and he's in a good mood. Ok Jung walks by and listens in on the conversation. Hyun Moo points out now is not the time to be admiring flowers (Ok Jung), to which Lee Soon says not to worry. Hyun Moo says she's hanging around a training ground and is obviously not a lady. Lee Soon says she's fun, the first girl who behaves the way she does around him. Hyun Moo tells him to have fun but don't go any further.
Lee Soon puts his hand on Hyun Moo's shoulder and says he's such a worrier still. He's someone who sees a crack on the wall and worries the wall will collapse. He assures Hyun Moo that he is from the highest position and only interested in women from the top noble class. He wouldn't be interested in a mere maid.
Ok Jung's face falls when she hears that and she hurries to her tent and clutches her hurting heart as tears fall. She misses the rest of the conversation, when Hyun Moo stares with skepticism at Lee Soon and points out that Lee Soon is placating him because he put his hand on his shoulder first before speaking.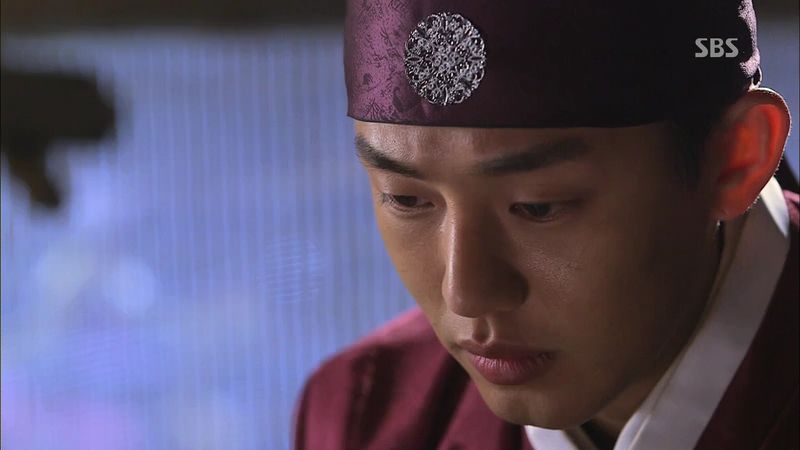 Lee Soon goes back to the tent and thinks about Ok Jung and looks resigned. Suddenly his trusty eunuch arrives to announce that King Hyeonjung is seriously ill and spit up blood. Lee Soon immediately rushes back to the Palace, looking sad about missing his date with Ok Jung tomorrow but not stopping to say goodbye. He asks Hyun Moo to pass a message to Ok Jung that for an important reason she cannot meet Lee Soon tomorrow and he apologizes.
Lee Soon arrives at his father's bedside and holds his hand. The King asks if the weapon inspection went well? God, this father-son love is killing me knowing King daddy is not long for his world. King Hyeonjong is happy to see his son. Also, Lee Soon gets a free pass for standing up Ok Jung anytime its for his dad or running the country stuff.
Ok Jung wakes up before sunrise the next morning and walks out only to find Hyun Moo waiting for her. He is not interested in inspecting her book and tells her to not keep "that man" in her heart. He does not pass her Lee Soon's message. Ok Jung says she met him a few times, why would she keep him in her heart. Hyun Moo says she is practical and tells her that he left already last night.
Prince Dongpyung and Hyang Ah are pacing in the studio with worry when Ok Jung returns. She apologizes for not sending word and lies that she spent a few days at the home of people who rescued her. Prince Dongpyung's heart is fairly in his eyes, with relief that she is safe, and guilt that he put her in harms way by bringing her along when he knew he would be followed. Hyang Ah takes Ok Jung inside to rest.
Prince Dongpyung meets with Lee Soon and they discuss how Lee Soon's trip was a success to deliver the weapons. Prince Dongpyung says he was attacked and a person dear to him went missing. He feels ashamed to see "that child" now because he knowingly put her in harms way. Lee Soon notices the normally jokey Prince Dongpyung looks very hurt inside.
Dongpyung changes the topic and brings up the upcoming second and final selection of the Crown Princess. He reminds Lee Soon that the Crown Princess will be his secret weapon. Lee Soon says it reminds him about a girl he knows who is so cocky that she believes herself to be her own secret weapon, which gets Prince Dongpyung curious but he won't reveal her name.
Ok Jung gets up from convalescing and starts sewing the military uniform. She finishes a design that has the word hope embroidered on it and steel plates inside to protect against gun attacks and she tried on while practicing swordsplay to see how it moves. This leads her to remember Lee Soon and she puts her hand on her heart.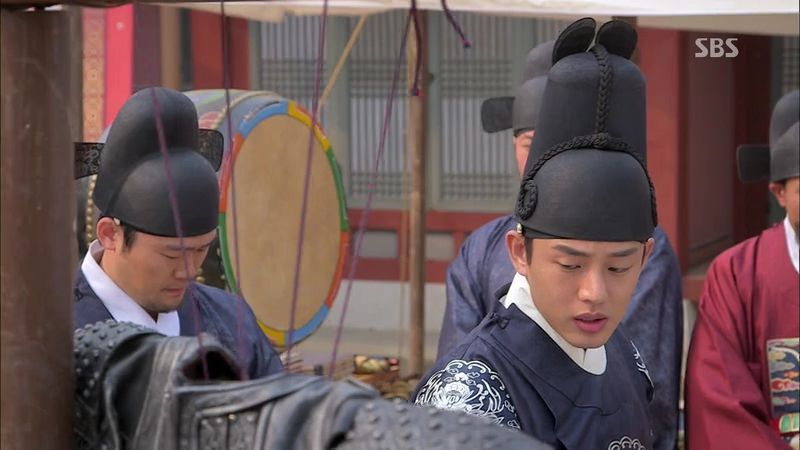 Lee Soon starts to assess the submitted military uniform designs. Some are too bulky, too long, too thin, but two of them make it to the finals including Ok Jung's design. Lee Soon sees the embroidered hope and knows its hers. He does test shots towards it and Ok Jung's design wins because it withstands the gun blast.
Hyang Ah paces while Ok Jung is confident that her design will win. It must win, too much is at stake.
Lee Soon happily informs the King and Queen that he has selected a winner for the new military uniforms, but his parents won't even look him in the eye. The Queen speaks up that she has selected the supplier for the uniforms, and then cuts to the chase that she's been receiving bribes from Minister Min for so long that if she cuts him off the military supply now he'll out her.
Lee Soon is devastated and furious at his mother while the King says with sadness and resignation that she is still the Queen and the mother of the nation. She cannot be publicly chastised for taking bribes so they have to capitulate. This is the fate of a royal family without actual power. Lee Soon is fairly trembling with rage and helplessness. He's probably thinking how can he change anything when his enemies have his parents by the balls?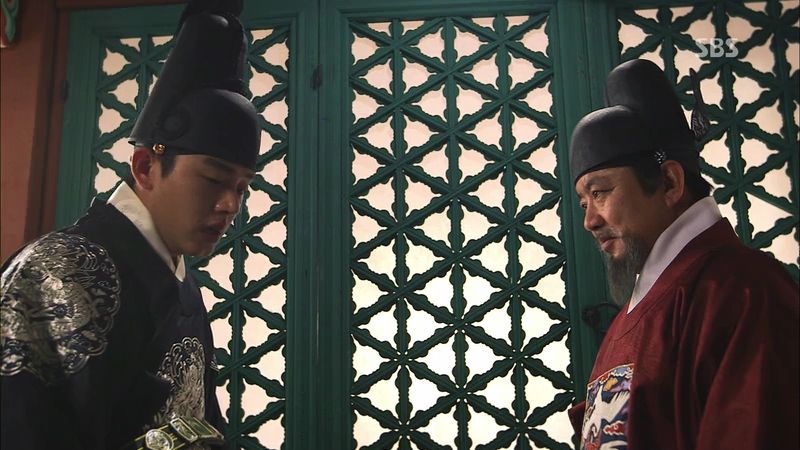 Lee Soon storms to confront Minister Min and demands to know how dare he threaten the royal family! Minister Min says the Crown Prince's most important value right now needs to be filial piety, he needs to make sure he is taking care of his parents. He cannot let the his mother and the mother of this nation be shamed, can he? And if he is the head of the beast that Lee Soon hates, then his mother the Queen is the body. Can he attack?
Minister Min then brings up the upcoming second selection for the Crown Princess. He is looking forward to it. Minister Min walks away cackling and Lee Soon looks totally worn down.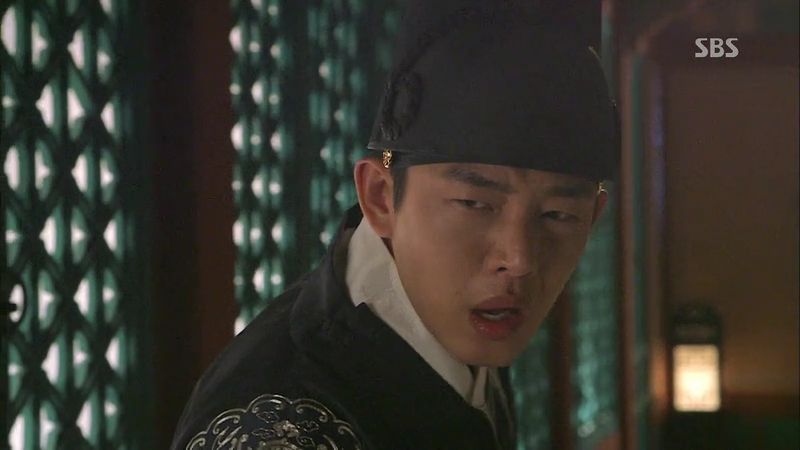 Also, crazy-face Kang Young Gul from Fashion King just made an appearance. Please go away, I hate you. Yoo Ah In, you are doing SO WELL. Please do not ever bring back that face. Lee Soon goes back to him room to toss a table and vent.
Jang Hyun informs Ok Jung they lost the military uniform bid, and it doesn't even matter if its unfair or rigged. That is how this world works. He tells Ok Jung to prepare to fulfill her side of the bargain. Ok Jung flashbacks to Prince Boksun checking her out.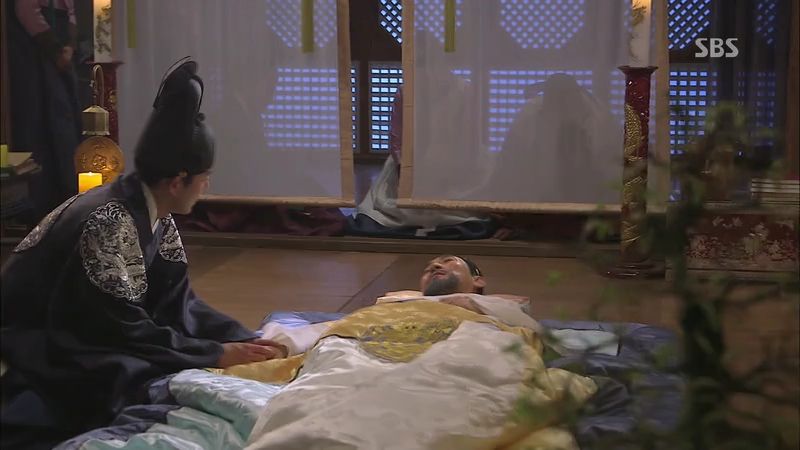 Lee Soon sits with his sick dad that night, holding his hand as usual and keeping him company. The King is happy that he is alive to see Lee Soon get married. Lee Soon asks his dad with sadness and resignation "I'm not going to be able to be with the woman I love, right?" The King says yes, just like him. He loved a woman a long time ago but he had to send her far away because he was too weak to protect her. All he wanted then was to live with the woman he loved for the rest of his life.
The Queen is a woman he married for power and control, and that is the sacrifice this job requires. The King prays that his son will not walk in his footsteps. Both father and son look so so sad. The King says he's tired and wants to sleep now, and asks Lee Soon to sit beside him until he falls asleep. Lee Soon holds his dad's hand and gently rubs it. T___T Later he sits in his room and thinks about the word "hope" and sighs.
Minister Min and Minister Kim meet privately and Minister Min puts the pressure down on his number 2 man. He wants all the ladies to voluntary quit the Crown Princess selection so In Hyun is the only candidate left. He suggests that its best for all the ladies since if this selection goes to the final and third selection, the woman not chosen among the two finalists can never get married and has to live a solitary life in the Palace corner. Damn, that does suck. Since his In Hyun is the front runner, the rest ought to quit and they can still get married. Minister Kim is strong-armed into it and agrees to go talk with all the other ministers.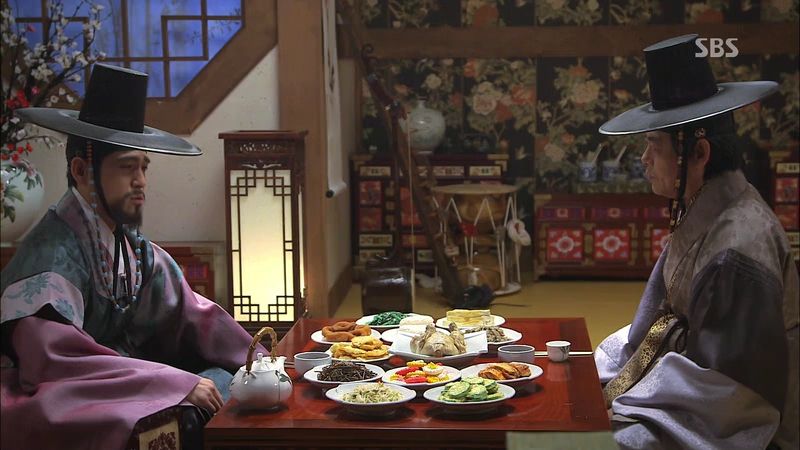 This is overheard by a gisaeng who immediately reports it to Prince Boksun and Jang Hyun. They agree that Minister Min cannot win the position of father-in-law to the future King. Prince Boksun thinks there is nothing they can do, Minister Min's daughters fits all the criteria and there is no reason to disqualify her. Jang Hyun suggests…..murder? The glint in his eye is scaaaaary.
Jang Hyun follows In Hyun through the market place. He happens to run into Minister Min, who uses this opportunity to continue to insult and degrade Jang Hyun, who takes it with a smile on the outside as he seethes inside.
Jang Hyun orders his henchman to sneak a herbal medicine into In Hyun's mother's treatment that is poisonous. Oh damn, this man does not play fair or nice.
In Hyun brews the medicine and feeds it to her sick mother, who hurries her daughter to prepare for the second selection today.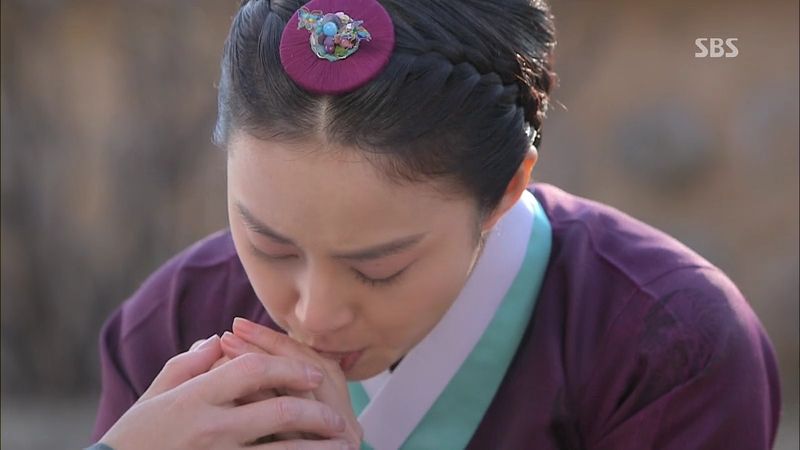 Ok Jung goes to visit her mother and as she walks through the village, she passes by Lee Soon who is going somewhere. They do not see each other because both are walking purposefully towards their destination. Ok Jung reaches the house where her mother is a slave and sees the lady mistreating her mother again. Ok Jung notices her mom has cut her hand on broken ceramic and reaches out to suck the blood from her finger.
Ok Jung sits down with her mom and asks if she wants to go to the Qing dynasty with her? Mom doesn't want to run anymore, she is most afraid of not seeing her children be safe. Ok Jung has made up her mind and tells her mom to be ready to leave and have a courageous heart. This time she vows they won't get caught.
Minister Min rushes into his wife's room but she's already dead. He looks stunned and screams that she can't die just like that. Not sure if he's sad she's dead, or sad she died on the auspicious day their daughter is about to be selected Crown Princess. He orders the house locked down and this information kept from leaking.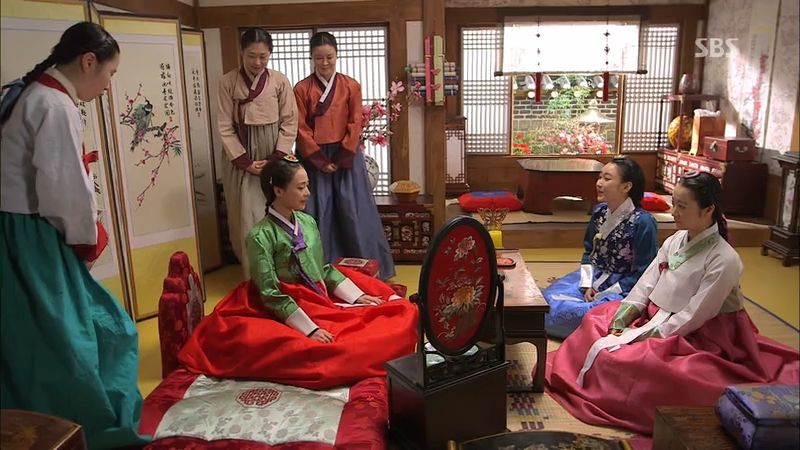 In Hyun is getting ready to leave for the selection when her maid comes rushing in to reveal the sudden death of her mother. The other ladies whisper that the Crown Princess must have two living parents, this means In Hyun is disqualified. In Hyun could care less and breaks down, rushing to see her mom but is prevented by her dad.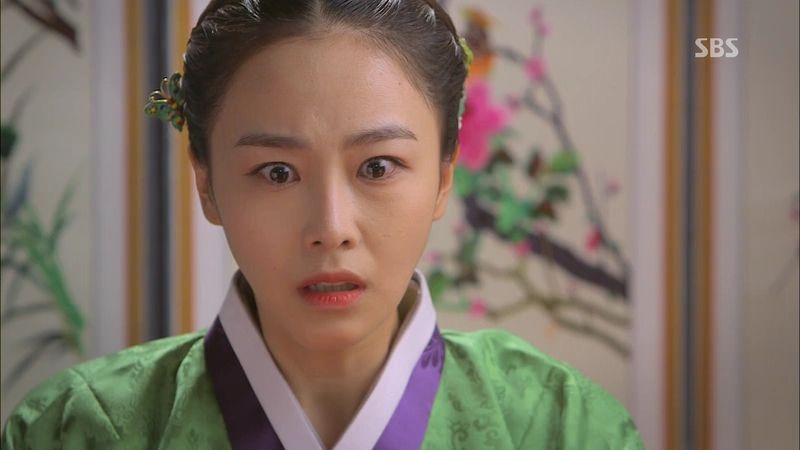 Minister Min orders her to the selection, revealing that he's arranged it so all the other ladies will not show up and she will become the Crown Princess. In Hyun looks absolutely stricken. Has this man no heart?
Minister Min goes to see the Queen and tries to get the second selection ceremony cancelled since In Hyun is the only candidate left and will be selected anyway. He doesn't reveal his wife died. The Queen says the ceremony is important and the Crown Prince will show to make his "selection" which needs to be symbolically preserved so it looks like he at least had a choice.
Jang Hyun and Prince Boksun are pleased with the turn of events. Jang Hyun smirks that while one can't always make things happen, one can always prevent things from happening. Prince Boksun suggests that its time for Jang Hyun to unearth his hidden secret weapon.
The moment of the second selection arrives and the Queens approach the dais. The curtain is lifted and there is only In Hyun standing there. Lee Soon is called in to make his "choice" with Minister Min watching intently from the sidelines.
Lee Soon approaches and says that since there is just one candidate, he brought along another one. Everyone gasps and there is Minister Kim arriving with In Kyung in tow. In Kyung walks forward and goes to stand beside In Hyun who looks stricken. I actually feel really REALLY bad for In Hyun right now. Girl did not want to be here in the first place.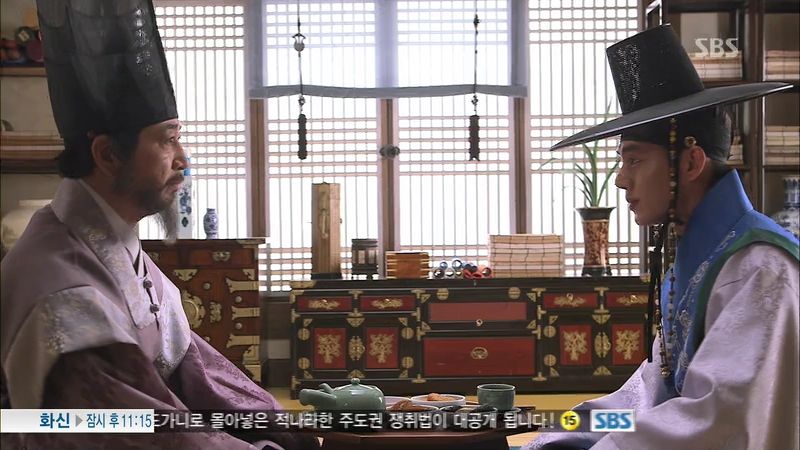 Flashback to Lee Soon's visit in town, he went to see Minister Kim. He suggests Minister Kim shouldn't always play second fiddle to Minister Min. Minister Kim is no fool and asks if Lee Soon is trying to split the Minister alliance up? Lee Soon says he is merely exchanging a ferret for a lion, and that's to his advantage, and being the father-in-law to the future King is to Minister Kim's advantage.
In Kyung is eavesdropping and she rushes into the room to voice her own choice to become the Crown Princess. She reveals that she has a crush on Lee Soon, who hears this but could care less, it works in his favor and he's not sentimental about it.
Back to the second selection, Lee Soon walks towards the two ladies and purposely stands in front of In Hyun. He locks eyes with her and smiles, his hand reaching for hers. She looks hopeful and smiles back.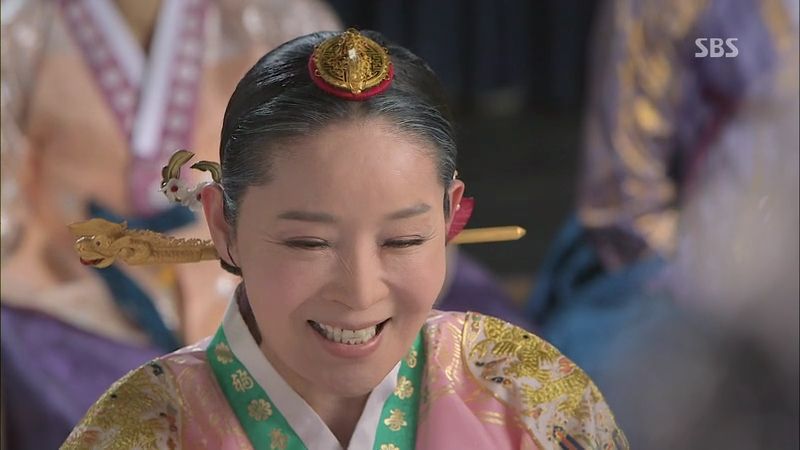 Which is when Lee Soon abruptly reaches for In Kyung's hand and declares that he has made his choice! The Queen stands up and yells at him while the Dowager Queen cackles with glee at how unexpected life can be. She actually had her eye on In Kyung and congratulates the Crown Prince on finding his Crown Princess. In Hyun stands there in despair and shock.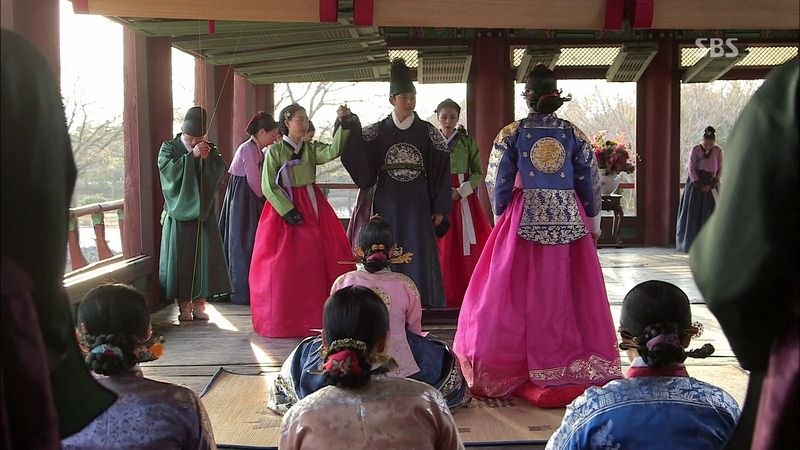 Minister Min steps forward a few steps and seethes, thinking inside that this is not the end of it. Lee Soon stares back and thinks that he's just picking the lesser of two evils here and he knows this is not the end of it. Lee Soon raises In Kyung's hand high and announces that she is his Crown Princess.
On the other side of town, Ok Jung stumbles out from her meeting with her mom and starts to cry by the side of the road, likely at the journey ahead to the Qing dynasty and the danger behind her with Jang Hyun demanding she become Prince Boksun's woman.
Thoughts of Mine:
I have one pressing question I need to get out of the way first – where is Hyun Chi Soo? Where is Jae Hee's character? I don't need to see him because so far the drama is doing a bang up job of keeping me interested for every second of every frame. But because its already so good, I want to see Jae Hee because I can just imagine how much better its going to get when Ok Jung's Chi Soo orabeoni comes back into the picture. I'm totally on the OTP ship and its pretty dang late for me to jump ships, but I think his character is going to be as interesting and integral to the story line as Prince Dongpyung. I'm going to jump faaaar ahead to the end – we all know historical Jang Ok Jung dies by the King's decree for allegedly poisoning Queen In Hyun. Obviously that is not how this version will portray it, but the end of the drama does need to show Ok Jung somehow "dead". Will the drama pull a The Princess's Man and have her be dead to the world but secretly alive somewhere in a commoner identity? Perhaps that is how the second males leads swoop in to save the day, because King Sukong cannot protect Ok Jung anymore, he sacrifices their love and sends her away with one of the two guys while telling the world she's dead. Or maybe she really dies in this version as well. If that happens I am already readying boxes of tissues. This drama is going to be a weepfest ala Damo or Conspiracy in the Court. I just know it. And its going to hurt so good we'll all be numb afterwards with satisfaction having experienced it all.
So far I absolutely love every single character, yes, even the baddies because they are so interesting. I can't decide who is worse, Minister Min or Jang Hyun, probably both, though now one has lost a daughter and the other a wife. Prince Boksun seems sleazy and power hungry, yet I can't forgot how he loved Hong Joo and tried desperately to save her but couldn't. Everyone has a grudge or a stake to maintain, and that makes the political power plays so unpredictable and fascinating. You don't want Lee Soon to get rid of the villains one by one, because he probably needs them around to balance each other out. This is a story with no rainbows and unicorns happy ending, so that is also why Ok Jung and Lee Soon's love story already grabs me by the gut. Lee Soon is locked into his role in life, born the Crown Prince and destined to be the King. He can't abandon it all, so the only happiness he can hope for is to meet and marry the woman he loves. Even if he can't make her Queen, she can still be his consort and live with him in the Palace. Does Ok Jung deserve more? I think she deserves the world, to be a fashion designer and to free her mother from slavery and find her lost brother. But can she achieve that all on willpower and hope alone? No way, which is why she also must make sacrifices. So as the two of them try to make their dreams come true and happen to find a true love with each other, all I can wish for is that this drama shows us plenty of happy times between them so that I can walk away with the memory of watching an unforgettable love story. Much like I felt with Bu Bu Jing Xin. I laughed initially when I heard JOJ producers comparing this project with BBJX, but now I'm more and more convinced the two dramas are going to have the same affect on me.