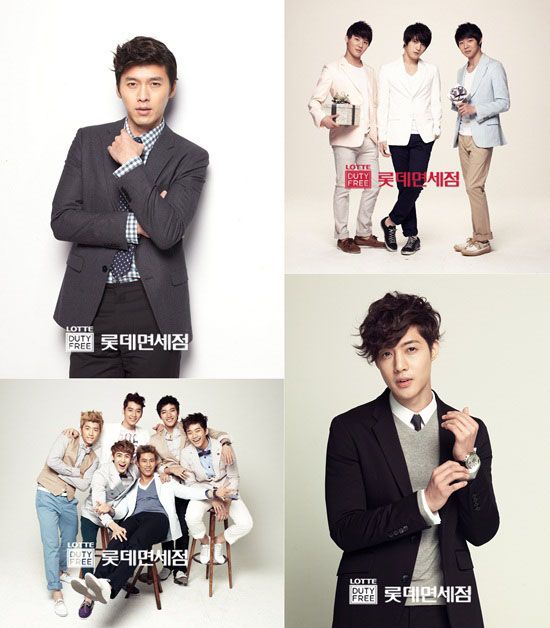 Lotte Duty Free added some fresh new faces to its already bulging line-up of spokespersons. Supposedly the concept is to add new Hallyu to the existing Hallyu stars, but I'm not quite sure if being selected is an honor since collectively these are the worst ads I have seen in ages.
Everyone looks dull and posed, and some actually look dreadfully weird and awkward. Did you hire a blind stylist and an one-eyed photographer to shoot these pictures, Lotte Duty Free? Gimme some of my fave stars back, you turned them into wax figures of wackiness.
Who's brilliant idea was it to turn Jang Geun Seok into a butler? Come here so I can give you a wedgie.
While the picture on the right is serviceable, albeit pretty dull, the picture on the left…..I can't even. Oh lord, Hyun Joong, sweetie, who did this to you! Come, let noona give you a hug, and fix your hair, and rescue you from the clutches of these evil people.
The boys of 2PM, who are following in the footsteps of their JYJ brethren to become Lotte Duty Free boys, but hot dang it, what the heck did you do to your hair, Taecyeon? It's 2011, not 2001, please throw away the hair bleach, and the broom head has been out of vogue for a thousand and one years.
Of the batch of new stars added to the Lotte Duty Free roster, Hyun Bin looks the best in his ads, which really means he looks the least worst. I'm sad I'm using double negatives to describe these pictures, but none of them do any of these guys justice. Binnie actually looks like some random salary man, which is all sorts a waste of his gorgeous face.
These newly added guys join Rain, Choi Ji Woo, Song Seung Heon, and JYJ to represent this brand.