Writing great friendships in drama are really hard to accomplish. Most of the time it comes off as contrived, or scripted, and even worse, as unrealistic. Who talks with their friends like that? So when a rare drama friendship comes along that just works, I really cherish it. With that said, friendships needn't be between the same sexes, and oftentimes can be dramatic as long as it comes across as relatable. I need to understand and appreciate why these two (or three) people stay friends. Below are just a few drama friendships that really struck a chord with me, and remained memorable even after the drama faded into a distant recollection.
Friends, Our Legend: All the various friendships in this drama truly lived up to it's namesake. It was legendary and mindblowing.
Pi Zi and Ying Xiong in Black & White: Oh, just the best bromance ever in any drama, any country.
Hyun Tae and Nan Hee in 9 Ends 2 Outs: It took them so long to become a couple because their platonic friendship was just so precious to them to risk ruining it.
Sang Doo and Min Suk in Sang Doo, Let's Go to School: Beyond the drama having an unforgettable love story for the ages, the leading man and the second male lead built up a bromance in months what some friends can't achieve in decades.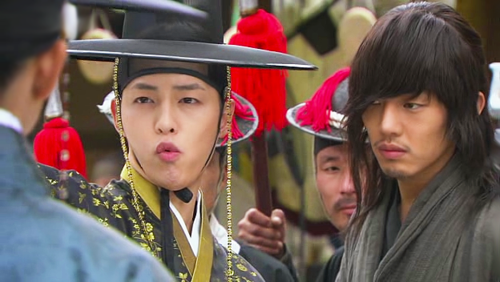 Yong Ha and Jae Shin in Sungkyunkwan Scandal: Cut their hair, give them a holster with a gun, and shove them into the 21st century, these two Joseon era boys would grow up to be Pi Zi and Ying Xiong. They were the highlight of that drama for me.
Shin Young, Da Jung, and Boo Ki in Still Marry Me/The Woman Who Still Wants to Marry: The friends with completely disparate personalities and perspectives on life and love, but an innate understanding that friendship isn't predicated on similarity but rather on sincerity. They were always there for each other.