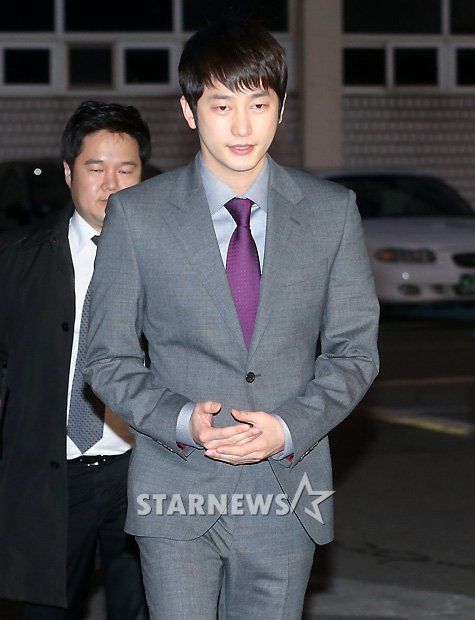 This is probably my last post on the Park Shi Hoo rape case in the near term until the police investigation wraps up, which the Western Police Station has stated that it will do in the next two months. Once it wraps up the investigation, its findings will be transferred to the Seoul prosecutor's office and the prosecutor assigned to this case will decide whether the evidence is strong enough to charge Park Shi Hoo with rape. If he isn't charged, then the matter pretty much ends there. If he is charged, expect this media circus to ramp back up again. I think the news will be relatively quiet while the police finally digs deep into its investigation, since by now every alphabet even tangentially involved in this case has been trotted out to give an interview or release "new" information. This is a relatively difficult case to sift through – the physical evidence has limited value since Park Shi Hoo already admitted he slept with A. He said it was consensual, she said he raped her while she was asleep (the first time) and then raped again when they woke up the next morning. Even if she has vaginal bruising that doesn't necessarily mean rape since its possible to have consensual sex on the aggressive side (which K claims it was based on what Park Shi Hoo told him). Park Shi Hoo, K, and A all took lie detector tests which purportedly stick with each of their own stories, so that doesn't help much since the stories are at odds with each other. All the ancillary text messages released involving A, B, and K add color to the before and after events (A made plans with K, after the alleged rape A and B discuss punishing Park Shi Hoo and/or getting a settlement from him), but in no way prove there was a rape or disprove there was a rape because A entrapped Park Shi Hoo. This is what I call a circumstantial case and hopefully the police will have much more information than what the public has been provided and maybe that information will be enough to either charge Park Shi Hoo or declare his innocence. I say this because if the prosecutor decides there simply isn't enough evidence to charge Park Shi Hoo without fully exonerating him, that becomes a double-edged sword in my opinion. It just means there wasn't enough evidence to prove rape, it does not definitively mean Park Shi Hoo didn't rape A. That is the worst outcome since Park Shi Hoo's reputation remains tainted while A can't get any closure either.
I've heard about A's identity since the news broke but to date the Korean media has not identified her, despite the blogs and other forums doing so. If you read that she's been outed, that is not true. She's been outed by fans of Park Shi Hoo, but as an alleged rape victim her identity is still being guarded by the police and the Korean media as required by law. She has also not outed herself, as she can do, so I won't identify her. I can say that she's quite pretty and definitely looks as young if not younger than her 22 years of age (Korean age which makes her 21 years old in Western culture). I really don't know if Park Shi Hoo raped A, or they both got so drunk that night that they had drunken sex and she woke up remembering none of it and calling it rape. My only opinion based on Park Shi Hoo's own words (that he slept with a young girl he just met that night after they both liked each other) is that I think he's sleazy. He may not be a rapist, but no one will ever convince me he's a gentleman.
Sleeping with such a young girl on the first night they met when he should know better is what I'm judging him on. I don't have a problem with one night stands or even sleeping together on a first date, especially if two people are fully-aware consenting adults. Frolic away and be happy, who am I to judge? But in this case, he's a good 14 years older than her and if she was as drunk as K and Park Shi Hoo claim she was (vomiting in the elevator and in the condo), then he ought to have the decency to let her sleep and not engage in sexual activity. Even if it was consensual, if A was as drunk as even Park Shi Hoo and K claimed, then a decent guy wouldn't take her saying yes to sex as the equivalent of fully aware consent. Even if Park Shi Hoo were to claim she initiated it, then a considerate and upstanding oppa would tell the girl to go put on some clothes and sleep off her drunken ardor. Especially since Park Shi Hoo claimed he really made a connection with A that night – if so then why not date her and then sleep together when she's not totally hungover after just vomiting her drunk head off earlier?
Park Shi Hoo gave another interview this week where he claimed to have lost 10 kg and can barely eat or function. His family and friends are so worried they have pushed him to seek psychiatric help. He claims to be staying strong so that he can clear his name. Oddly enough, his popularity doesn't seem to have waned in some areas, though that could also be a rubber necking factor where folks are just curious about his scandal. This has caused a hold on his latest drama Cheongdamdong Alice from getting scooped up for overseas airing, though his recently released movie Confessions of Murder has opened in overseas markets. If he were a US actor, I'd say he can easily bounce back if he's not indicted. In the US, celebrities have bounced back from way worse scandals. But in Korea he might become persona non grata on the small screen no matter what happens. Drama actors are required to project a very wholesome image, much more so than movie actors who allow themselves to take risks in projects that might be more risque. Whatever happens, this will probably go down as one of the most shocking scandals to hit South Korean entertainment in the last 10 years.