It's Kim Soo Hyun's turn to take a solo bow for upcoming KBS drama Producer, after the production released solo stills of Cha Tae Hyun and Gong Hyo Jin last week. So far everyone looks good, and by good I mean looking perfectly suited for their character. Kim Soo Hyun actually looks younger than his age for once, he's 27 year old this year but his character looks straight out of college. He's going to be the newbie producer to the veterans, with Cha Tae Hyun producing 1 Day 2 Nights and Gong Hyo Jin being the PD for Music Bank.
Kim Soo Hyun's newbie doesn't come by the producer gig naturally, his character was originally in law school studying to become a prosecutor when he abandoned that career path to become a producer for the sake of loving a woman. I'm loving the return of dorky lovelorn Kim Soo Hyun, his character in this drama totally reminds me of when Sam Dong in Dream High went to music high school for Hye Mi, but in this case swap out producing TV shows for becoming a top idol.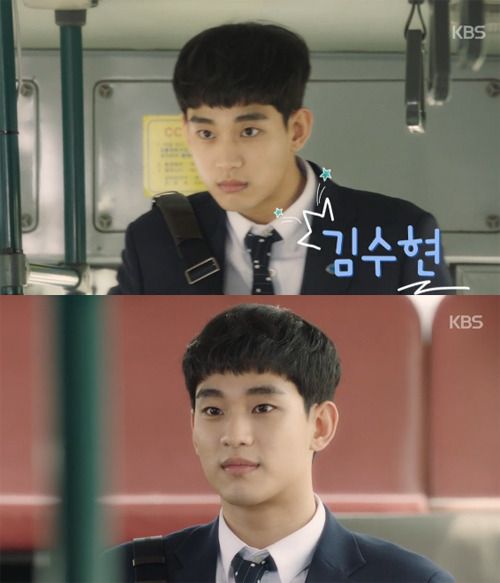 Even though I find Kim Soo Hyun's layered mushroom cap hairdo utterly atrocious in Producer, as it should be, I still love seeing it because I appreciate when a drama hair correctly showcases a character. It's not so ridiculous as to go overboard but it definitely implies his character isn't all that fashion conscious or savvy. I'm one of those who hated his hairstyle for You From Another Star, a quibble unrelated to whether I liked that character or his acting. That hairstyle was supposed to be fashionable but instead looked like a black squirrel's tail fanned out and plopped over his entire forehead. Here his hairdo is dorky and it's supposed to be dorky and makes me excited to see Kim Soo Hyun act to his heart's content this dorky character rather than be stuck trying to capture the cool just because he's so famous now.